Todos Somos Ayotzinapa! Thousands in 30+ Countries Demand Justice for 43 Disappeared Students in Mexico
November 24, 2014 | Revolution Newspaper | revcom.us
November 20 was a Global Day of Action for Ayotzinapa—the case surrounding the coordinated assault by police and narcotics gangs on teacher training college students in Mexico's southwest state of Guerrero, which resulted in the deaths of six people and the disappearance of 43 students. This date, the anniversary of the start of the 1910 revolution—an event institutionalized and commemorated by official parades—was marked this year by powerful demonstrations and strikes across Mexico and significant solidarity actions in more than 30 countries.
Ayotzinapa is the popular name for the rural teachers training college in Guerrero. Its students come from very poor peasant and/or indigenous families. The rural teachers colleges in general, and Ayotzinapa in particular, are known for their tradition of instilling radical ideals and militant struggle, stemming from their founding in the early years after the 1910 Mexican Revolution, which overthrew the reign of a U.S.-imposed dictator in Mexico and enacted limited agrarian and constitutional reforms.
Two months ago, on September 26, buses carrying students from Ayotzinapa were ambushed and fired upon by police. Three students and three passersby were shot dead and dozens wounded on the spot, and 43 students were taken away in patrol cars, never to be seen since.
On November 20, tens of thousands of marchers snaked through the streets of Mexico City, one of the world's largest metropolises, and overflowed the central plaza, which holds 100,000 people.
At midday, one contingent of 400 attempted to march to and close the Benito Juárez International Airport but was blocked by police. After the protesters retreated, they were completely surrounded and then attacked by police, with many wounded and arrested. Residents of the neighborhood of working and unemployed people and basic masses, where this was taking place, stepped out to demand that police stop the attack and release the marchers.
Late into the evening, after the end of the main march, furious demonstrators continued to face off against federal police in front of the National Palace, even after 50 truckloads of police beat and tear-gassed large numbers of marchers and arrested dozens. The police and mainstream press attempted to blame this repression on the violent actions of a small group they described as "anarchists." But one widely shared photo shows police attacking the head of Mexico's Children's Rights Network, who later reported that his whole family was beaten, including a three-year-old child.
Tens of thousands of college students shut down campuses in dozens of Mexican cities, supported by thousands of teachers. In a number of cities, telephone workers stopped work in solidarity. In several states, youths seized highway toll booths, as has become a frequent tactic; travelers were allowed through free of charge and/or asked to make small contributions to the struggle. In the southernmost state of Chiapas, where in 1994 a guerrilla uprising temporarily seized large swaths of territory, thousands marched in spite of police repression. Five thousand marched in the eastern state of Veracruz.
Vigils, marches, and die-ins around the world ranged from London and Madrid to as far away as India, South Korea, and Australia—many at Mexican consulates but also at universities. In the U.S., actions at Mexican consulates mobilized much larger numbers of immigrants than have been seen for years, including many hundreds in New York, Los Angeles, and Chicago. There were also dozens of actions at colleges and universities across the U.S.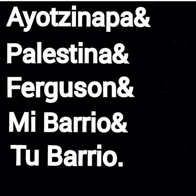 Volunteers Needed... for revcom.us and Revolution
If you like this article, subscribe, donate to and sustain Revolution newspaper.