Week of Outrage Coast-to-Coast
December 15, 2014 | Revolution Newspaper | revcom.us
On December 7, the Stop Mass Incarceration Network (SMIN) held Emergency Mass Meetings in cities around the U.S. to develop plans to continue and build the movement against police brutality and murder—to take things higher. Meetings took place in New York, the San Francisco Bay Area, Chicago, St. Louis/Ferguson, Los Angeles, and New Haven, Connecticut.
Throughout the past several days, revcom.us has posted news of events that have taken place during this Week of Outrage. The following is a fuller wrap up of actions during the Week of Outrage that revcom.us/Revolution received reports about. We encourage readers to send reports of Week of Outrage protests and events to revolution.reports@yahoo.com.
Day1—Monday, December 8
New York Press Conference. The Stop Mass Incarceration Network kicked off the Week of Outrage with a press conference announcing the week of activities in solidarity with and to continue the protests that had erupted nationwide after grand juries refused to indict the cop murderers of Michael Brown and Eric Garner.
Carl Dix, co-founder of SMIN, was joined outside City Hall by Elena Cohen, president of the New York Chapter of the National Lawyers Guild, artist and NYC Revolution Club member Jamel Mims, as well as parents of victims of police murder, Juanita Young and Nicholas Heyward Sr.
Carl Dix said: "Our message is very simple. Since the 'normal routine' of America has always included murder of Black and Latino people by law enforcement, this week that normal routine must be disrupted."
Die-in at Barclays Center, Brooklyn. Lots of media were at Barclays Center to cover the New York Nets-Cleveland Cavaliers basketball game because two persons from the British royal family were attending. Cavaliers star player LeBron James and a number of other players on both teams took the floor for warm-ups wearing "I Can't Breathe" T-shirts. James later spoke to the press about his support for the movement against police murder and support for the families who are victims of police murder. Meanwhile, outside, despite bitter cold and a very heavy and aggressive police presence, well over 1,000 people protested—staging a powerful die-in. Crossing to the arena plaza, voices resounded off the architecture. "Black Lives Matter!" and "I Can't Breathe!" were signature chants that were strongly interspersed with "Indict, Convict, Send the Killer Cops to Jail; the Whole Damn System Is Guilty as Hell!"
Day 2—Tuesday, December 9
New York Flash Mob. Artists organized a flash mob of over 100 people at Grand Central Terminal, in the center of the major transportation hub where many commuters take their trains to the suburbs. Protesters used a combination of theater and dance, solo artists, and well-rehearsed crowd participation to re-enact Eric Garner's last minutes of life. This became a focal point, drawing crowds for almost two hours, and received major media coverage.
Students and faculty at University of Chicago Law wear black to protest Ferguson decision.
Religious leaders sing spirituals outside City Hall in New York City as part of the Week of Outrage.
California interstate shut down. For the second night in a row, protesters shut down Interstate 80 in Berkeley. One protester told CNN, "We are out here because the system has made it obvious that Black lives do not matter, and us as a people are not OK with that." Fifty people were arrested for blocking the freeway. Protesters also blocked a train from moving in Berkeley by sitting on the track.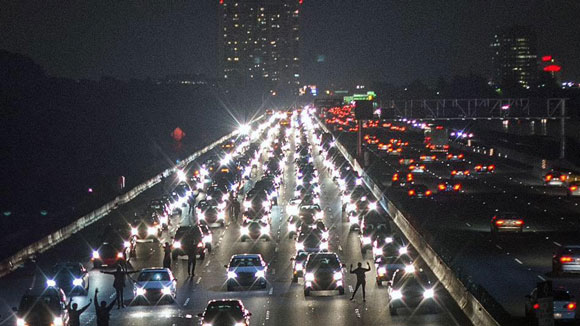 Nashville die-in protesting the grand jury decisions
Chesterfield County, Virginia. A group of Meadowbrook High School students organized a "Hands Up" demonstration outside their school. The demonstration, which lasted about 15 minutes, took place between classes.
London
Day 3—Wednesday, December 10
NYC die-in at Macy's. A nonviolent civil resistance die-in was held at Macy's massive flagship department store. The day's action weaved through the Christmas-shopping sidewalks and tourist attractions amid cold rain and snowfall. Many among the pedestrians joined in chanting "I Can't Breathe, I Can't Breathe!" as this protest chant was sent pealing off the buildings and amid busy traffic.
110 Freeway shut down in Los Angeles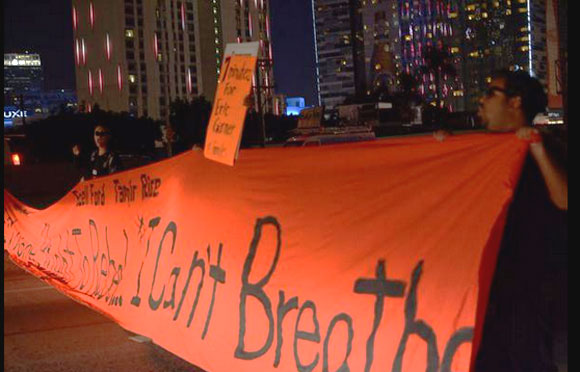 Artists at Grand Central Station.
"WhiteCoats4BlackLives." Medical students, joined by some medical professionals, staged protests at over 70 medical schools around the U.S., denouncing police violence and other forms of systemic violence against people of color as a health emergency. Protests took place at many of the most prestigious schools in the U.S., including Columbia University in New York City, Johns Hopkins in Baltimore, and Case Western Reserve in Cleveland. These protests involved at least 1,000 people and were endorsed by Students for a National Health Program, a group with 19,000 members.
Eric Holder Halted. Interruption of Eric Holder's speech
Day 4—Thursday, December 11
Returning to Scene of the Crime in Staten Island. Protesters returned to the scene of the crime in Staten Island—to where a NYPD cop choked Eric Garner to death. Daughter Erica Garner organized a vigil and a die-in to call for an end to authorized law-enforcement brutality in the name of her late father. Protesters, including members of SMIN, stood in the cold on Bay Street in St. George, remembering Eric Garner with a solemn vigil and then took off on a march that snaked down Bay Street and Victory Boulevard in Tompkinsville, now a place of pilgrimage in the fight against police brutality, lined with burning votive candles and flowers. Erica Garner lay down in the very spot where her father was killed in July and then more than 50 also lay down in a die-in.
Erica Garner at the site of murder talking and being interviewed
Bryant Square NYC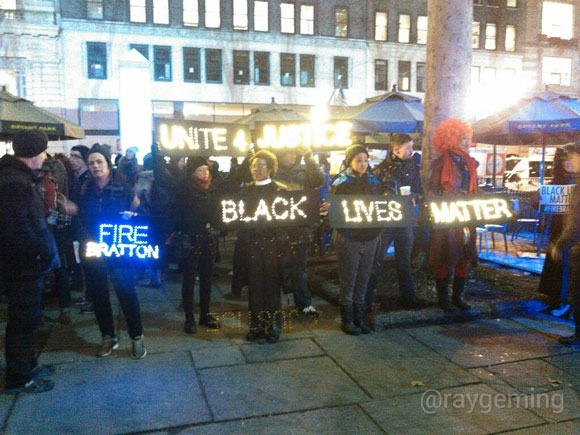 #BlackLivesMatter Trinity United Church Protest
Dozens arrested in mass die-in in London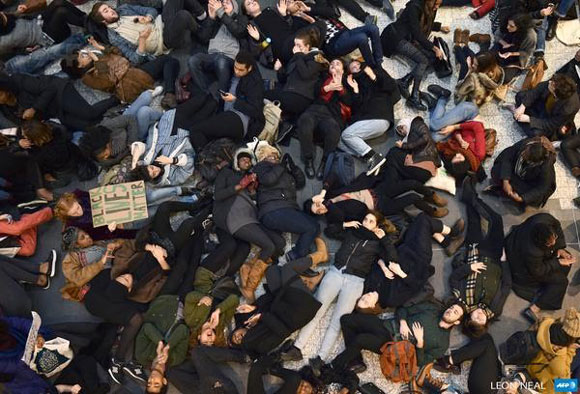 Bay Area Educators Against Police Brutality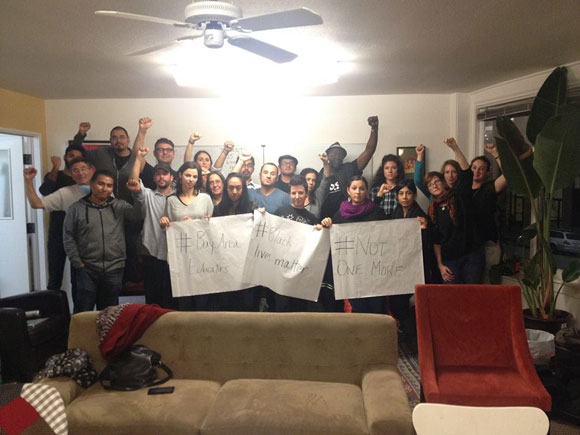 Day 5—Friday, December 12
Harlem Die-In. The sidewalk and street in front of the famous Apollo Theater was the site for a 5 pm die-in in which 150 people participated. Then at 6 pm, a block away at the State Office Building, people from the die-in and others joined the Revolution Club and SMIN for a speakout during which testimonials were heard from those whose families are caught in the nightmare of life under NYPD terror. The speakout was followed by a rally and march—with whistles blowing all along the way—to the well-hated 26th precinct in West Harlem where more testimonials were defiantly and bravely made right up in the face of the precinct!
New York City Teachers joined nationwide protests against the grand jury decisions in the police killings of Michael Brown and Eric Garner, gathering outside a police precinct in Harlem.
Rockford, Illinois, in solidarity with #MikeBrown #ericgarner #ferguson #ICantBreathe
The whole world is watching, Times Square #icantbreathe #ericgarner #akaigurley #shutitdownnyc #handsupdontshoot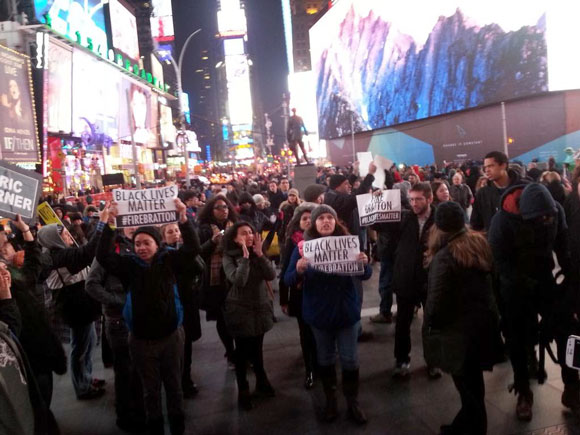 Die-in in front of Harpo's in Ferguson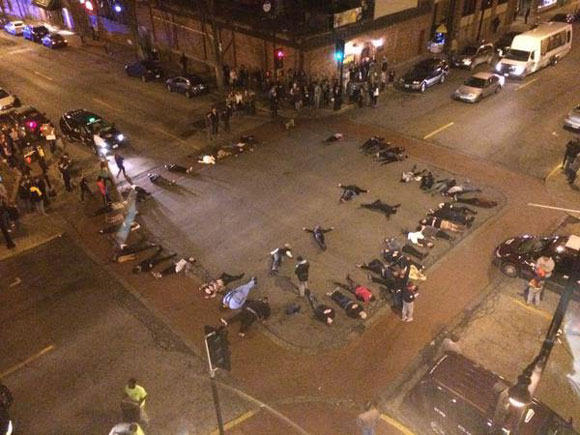 Jackson State University (Mississippi)
Volunteers Needed... for revcom.us and Revolution
If you like this article, subscribe, donate to and sustain Revolution newspaper.