Community Meeting Defends Revolution Books
January 19, 2015 | Revolution Newspaper | revcom.us
In response to a series of threats and attacks on Revolution Books in New York, a meeting was held at the store on Wednesday, January 14, bringing together friends of Revolution Books, community neighbors, and volunteer staff.
Store manager Clark Kissinger opened the meeting by describing the physical, phone, and Internet attacks. On New Year's Eve a man entered Revolution Books, ripped the "Danger: Police in Area" poster by artist Dread Scott out of the store's front window, tried to tear it in half, then ran off. Later, someone dumped an outdoor book table into the street. A reactionary cop blog has posted comments about Revolution Books' store window like: "If I'm in the neighborhood I'm gonna throw a rock," "If someone smashes the window and steals the sign, who they gonna call?" and "Where are the phucking drone strikes when you need one the most."
The store has also received threatening phone calls, emails, and hostile visitors. Threatening comments have been posted to the store's Facebook page. Fabricated "reviews" of Revolution Books have been posted on Yelp such as "This place is horrible. While there, the owner was shouting all kinds of racial slurs to a customer. Then I saw a huge rat running around inside the store..." Some of these "reviewers" and commenters have NYPD emblems on their Facebook pages and actually identify themselves as cops.
While most of these recent (and still on-going) attacks have focused on the artwork against police murders in the store's front window, Kissinger spoke to the larger context in which these attacks are occurring. He pointed out that this bookstore is where people can find, engage, debate about the whole world—why it is this way, the deeply felt need for fundamental change and where people can find and meet the movement for revolution, the Revolutionary Communist Party, and the work of Bob Avakian. In fact, these attacks on Revolution Books are occurring within a much larger national pattern of attacks orchestrated by openly fascist forces with high connections that are directed against front-line fighters in the battle against police repression, the Revolutionary Communist Party, and its leader Bob Avakian (see "The Ominous Attacks Against the RCP and Bob Avakian")
Kissinger said that Revolution Books has been standing in support of current upsurge against police murder as a critical part of being at the center of a movement for revolution and that the store was the co-sponsor of the major dialogue between Bob Avakian and Cornel West, "Revolution and Religion: The Emancipation of Humanity and the Role of Religion," attended by 1,900 people, including buses and vans from Ferguson, Chicago, and Texas. All of this has raised a frightening specter to the powers-that-be of a serious revolutionary program connecting with those at the bottom of society "who catch the hardest hell every day."
In this context, Kissinger pointed out that such attacks have the function of both unleashing official and unofficial violence in society to go after any forms of resistance as well as creating public opinion to support official acts of repression by the government. He called for actively meeting these attacks with stepped-up resistance and "more revolution."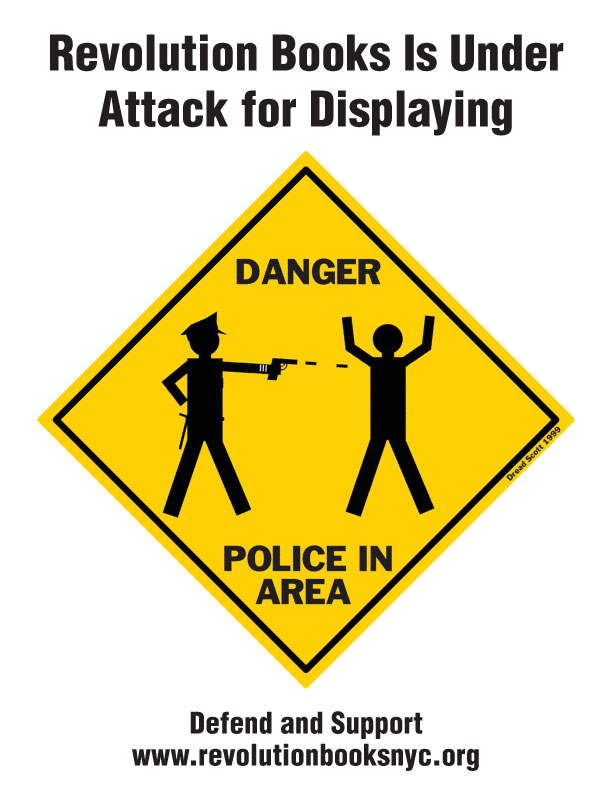 Download PDF for print | JPG for web
Dread Scott, whose artwork has become the focus of the current attacks on the store, explained to the meeting that the work was created in 1999 in response to the police murder of Amadou Diallo in New York City. "Unfortunately, it has become increasingly relevant since then." Dread emphasized the importance of Revolution Books and its refusal to be intimidated by pro-police harassment. He added that the store is a precious resource because it is a conduit for people to connect with a way out of what is happening in society and how he had been influenced by reading the work of Bob Avakian for 30 years.
Those attending the meeting at Revolution Books came because they were outraged to hear about the attacks and threats on the store and disturbed that this was not more widely known. People were anxious to strategize and create a major political offensive to gather many more people into the defense of the store—its right to express itself freely and its right to function without police threats and harassment.
The meeting took up four important steps in response to the attacks on the bookstore. First is to contact and solicit support from authors, civil liberties activists and organizations, artists and well-known public figures in support of Revolution Books, both for the store's right to display artwork critical of the police as well as its right to exist and function as a valuable and unique revolutionary bookstore.
Second is to establish a "rapid response network," a phone/contact tree of people who will respond to any immediate need for a show of support at the store or in the media.
Third is a media and social media campaign to bring these threats and attacks into the light of day and call on people throughout the city and beyond to support and defend Revolution Books.
Fourth will be a fund drive to raise the money needed to not only keep the store in existence but also to expand its impact in society.
Revolution Books has produced an image (available on the store's website) for people and other stores to post physically and online in defense of Revolution Books' right to display Dread's work, and a working group from the meeting will be getting it out through social media.
* * *
Some statements of support for Revolution Books
From Jim Fouratt, an early member of the Gay Liberation Front and a participant in the Stonewall insurrection:
"REALITY CHECK: What is wrong with putting this image in the window of a political bookstore. When is free speech trampled on let alone the erase of reality when a threat is made, a rock thrown, a poster ripped from the window and crumbled up and spat upon? The numbers of people of color killed by uniformed officers in the last period of time can not be erased except when people stop talking about it. Revbooks is not silent ... nor should you or I regardless of how you feel about the poster. Reality Check."
From John Penley, Long-Time Lower East Side activist, anarchist and photographer:
"I know it is politically correct for Anarchists to attack the RCP and Bob Avakian but I won't do it because they have done years of organizing around Police Brutality (a lot of people have no idea how effective they have been at it), I have known and worked with RCPers in little towns in the South where almost no one was doing anything the least bit radical, I don't mind working with Commies and often go to their demos, they gave much support to the Tompkins Square Park revolt, Dr. Cornel West is a longtime friend of the party and often appears at their events and I have mucho respect for him and his judgment ... I criticize [Avakian] for too much cult of the personality, but his writing and analysis on things is often right on the money, but also their bookstores sell radical books of all types including Anarchist ones and many of my friends have been able to sell their work and make a little money because of the bookstores. I appreciate the fact that the RCP gives free subscriptions to the paper to prisoners (I hope you still do it); I know about it and got one in 1984 when I was locked up in federal prison for demonstrating against nuclear weapons at the Savannah River Site in SC. Anyway you Anarchist friends probably disagree but I as usual am honest and think attacking them is not helpful now as the right is orchestrating a campaign against them and I think that should show something to all."
From Fran Luck, executive producer of "Joy of Resistance: Multicultural Feminist Radio" at WBAI, on Yelp:
"This is a wonderful store where you can buy books on peoples' movements that are taking place all over the world, histories of how past movements have organized (so we can learn from them how to do it), posters, T-shirts, buttons and more. The staff is warm and friendly and the, prices for all items are very reasonable. Plus, on many evenings excellent talks and films are presented at the bookstore, for a pay-what-you-can-afford donation. A real treasure in New York City. Once you visit, you'll want to come back."
Harlem's Revolution Reading Circle—which is led by NYC Revolution Club—read together the article in revcom.us about the recent attack on RB. Someone from the meeting called in a brief statement of support:
"We can't let anything happen to Revolution Books or to the leadership it provides. This is no game, it's real. We are moving forward, not going around in circles. We want RB to know that we have their back."
Volunteers Needed... for revcom.us and Revolution
If you like this article, subscribe, donate to and sustain Revolution newspaper.