APRIL 14 SHUT IT DOWN!
Demonstrations
April 14 2015 | Revolution Newspaper | revcom.us
New York

Union Sq. Park, New York. #ShutDownA14 #sos #saconscene @mtsacjour

Cornel West addressing the crowd at Union Square in New York City. Instagram/jailsactioncoalition

Setting out from Union Square. @JamesFTinternet

Starting on the march in NYC, A14

Blow the Whistle New York City 12:23 pm. Photo: @MathisOdell

UnionSquare in NYC on A14. Photo: emylesjr@Instagram
Here in NYC with @Carl_Dix & @CornelWest at #ShutDownA14 march against police murder pic.twitter.com/0FAiE27XQ1

— Residente C13/ RC13 (@Calle13Oficial) April 14, 2015

A packed Union Sq. Park. New York. #ShutDownA14 #sos #saconscene #sosnyc @mtsacjour

Eve Ensler hugging Hawa Bah whose son Mohamed was killed by Police. #ShutDownA14 now!

New York: Cornel West & Carl Dix with arms around parents of victims. Photo: @JailsAction

#BLKSocialJ: RT @BorisRorer: SHUTTING SHIT DOWN! Keep Your Eyes On The Prize Brooklyn #ShutDownA14 #BlackLivesMatter. Photo: @BorisRorer
#ShutDownA14 on the Brooklyn Bridge!
Credit: James FromTheInternet
---
Chicago, Illinois

Hundreds of people take the streets of #Chicago in #protest of police violence #ShutDownA14 #stopPolicebrutality. Photo: @kelly_wenzel

At the rally at the Richard J Daley Center, Chicago. Photo: Instagram

Die in on Chicago's Michigan Ave in front of the Marriott. Photo: @StopMassIncChi
Chicago Metra Train Station 8AM A14 Freedom Song
This video is of this morning's disruption of "business as usual" at the Ogilvie Metra commuter station. The singer gave beautiful voice to the "I Cant' Breathe" song. Commuters looked stunned out of their morning drill, and people were doubling back to get leaflets. Even the security guard who told us we had to leave from inside the station said that she personally has lost friends to police brutality and she felt our cause.
Greensboro, North Carolina

Rally in Greensboro, North Carolina on A14. Photo: smin_nc@twitter

Greensboro, North Carolina on A14. Photo: North Carolina SMIN
---
Atlanta, Georgia

Atlanta 12:23 pm. Photo: @AFelipeCR

Atlanta: protest for #ShutDownA14 blocked off an on-ramp by Georgia State University. Photo: @daltonm17
---
Los Angeles, California

Nearly a thousand people joined the protest, here at the site where Afrika was murdered by the police. #ShutDownA14 NO MORE! IT STOPS TODAY! WE REFUSE 2 LIVE THIS WAY! Photo: @revclub_la

At LAPD Headquarters in Los Angeles. Photo: @revclub_la

Dozens of protesters determined to keep shutting it down on A14 to STOP police murder stayed in the LA Downtown area through rush hour. Twenty of them sat down in a very busy intersection downtown stopping the blue line metro train, backing up street and freeway traffic for over an hour. The LAPD has threatened them with felony charges, high bail and keeping them locked up through Thursday. This is intolerable! Call to demand their immediate release and for all charges to be dropped! Call LA Central Division 213.486.6606. In addition, four UCLA students stopped traffic on the 405 Freeway offramp earlier today. Call Century Regional Detention Center at 323.568.4000 and West Hollywood Sherriff's at 310.855.8850 to demand their immediate release with all charges dropped.
Photo: Los Angeles—blocking the train. @Jayron26
---
Oakland, California
Shit got shut down in Oakland on April 14! The day began with a speak-out at Oscar Grant Corner in the heart of downtown and ended with a major disruption of traffic on a key Bay Area freeway.

April 14 protesters pushed through a line of police and took over the lobby area of Oakland City Hall for a half hour chanting "Indict, convict, send the killer cops to jail, whole damn system is guilty as hell," names of victims of police murder, with "presente!" They carried posters of Stolen Lives. At the same time a number of people from Black Lives Matter took over the rotunda area of city hall for 15 minutes.
---
Houston, Texas

Houston on A14. Photo: Special to revcom.us

Houston on A14. Photo: Special to revcom.us
---
Ferguson, Missouri
Video: Special to revcom.us

Ferguson, intersection of Canfield and West Florrisant. Photo: Special to Revolution

Ferguson, Canfield and West Florrisant. Photo: Special to Revolution

Ferguson, marching to the police station. Photo: Special to Revolution
---
San Francisco Bay Area

A14 Rally at City Hall in San Francisco. Photo: kathrynsnyder@Instagram

#BlackLivesMatter protesters here to "shut down" SF City Hall over @SFPD racist text messages and more. Photo: @FitzTheReporter

#bart #BlackLivesMatter @24th st and Mission, San Francisco. Photo: @StarkKev
---
Cleveland, Ohio

Cleveland, blocking intersection A14.

Cleveland, police used horses against demonstrators

Cleveland, families of people murdered by police.

Cleveland march.
---
Springfield, Massachusetts:
"We are no longer going to sit back and watch our black and brown children get killed"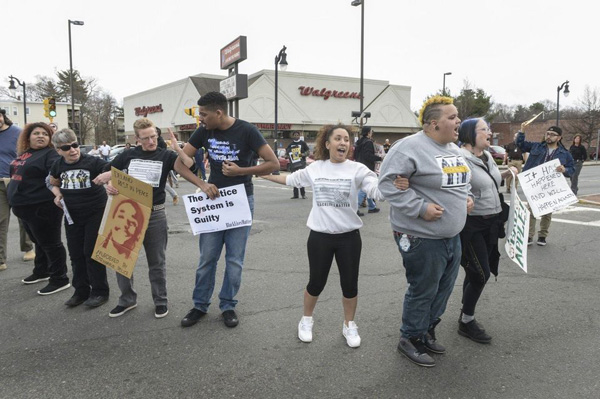 Several dozen activists took to the streets of Springfield, MA to protest on April 14, blocking traffic. Signs included "Prisons are slavery, police are the slave trade" and "Black Lives Matter - Shut It Down." Over a dozen were arrested.
Over a dozen protesters were arrested.
From mainstream news coverage of the protest: "One protester explains, 'The mayor needs to be here, see this, be arm-in-arm with us and standing up with this to let the system know we are no longer going to sit back and watch our black and brown children get killed.'"
[Interviewer:] "You saw a lot of people with you that got arrested, what did that mean?"
[Protester:] "That's why we did it, that's how much it means to us, that's why put our lives on the line. This means so much to us, we're fighting to survive."
Photo: Michael S. Gordon | mgordon@repub.com
---
Pasco, Washington
At the Sacajawea Memorial in Pasco, Washington

---
Trenton, New Jersey

Trenton, New Jersey on A14. Photo: babbiedunnington@Instagram
Stockton, California

Beautiful # ppl getting outof cars & joining us! #ShutDownA14 #Stockton - we r the people w/the power. Photo: @alyssa011968
---
Seattle, Washington

Crowd of around 75 anti-police brutality protesters blocking intersection near Seattle's Westlake. Photo: BrandiKruse@Twitter
---
Portland, Oregon

On the Hawthorn Bridge, Portland OR. Photo: @itsmikebivins
---
Detroit, Michigan

Detroit, April 14. Photo: Vanu Styles
---
---
Volunteers Needed... for revcom.us and Revolution
If you like this article, subscribe, donate to and sustain Revolution newspaper.