Huzzah! Why I Gave to Revolution Books
May 18, 2015 | Revolution Newspaper | revcom.us
The following is a reflection from a young member of the NYC Revolution Club about why she donated to the campaign to Save & Move Revolution Books. Revolution Books will be forced to close the doors of its current location on May 31 and must raise $150,000 to re-open in Harlem.
Recently, supporters of the Revolutionary Communist Party, and youth in the Revolution Club organized people to attend Nirbhaya (at the Lynne Redgrave Theater)—a play about a young woman, Jyoti Singh Pandey, who was brutally gang raped the night of December 16, 2012, and the massive outpourings of protest this sparked in India and across the globe. It was a heart wrenching, beautiful play with immense power.
The second time I saw the play, I observed that our group stood out. We were together a group of all kinds of folks. Folks who have just hit the streets in Baltimore, curious about the possibilities of making revolution, burning with questions about why the world is the way that it is, and how we can change it. Folks of all ages, gender identities, races, socioeconomic statuses, sexualities—if a college board were to see us, surely they'd call us diverse, take a photo and put it on their website to sell their university (ew!)—it was truly an incredible mix of people from all walks of life, with many experiences and here we are sitting together to watch this play. With different accents, dialects, with a love of the people and hatred of their oppression—I noticed that folks attend events like this in groups—but groups unlike this one—groups of say, Black women, or white women, as it may relate to them. Homogeneous groups. When do people get together with a mixed group of people like this? So that their thoughts may be challenged, so that all experiences are reflected, and not just experiences, but ideas, ideas that may reflect those experiences or ideas that get to the root of why we, this rainbow group sitting in this theatre, have different experiences of oppression and how we can end it all.
In college I went to many events, events at anarchist bookstores, events at lesbian and gay centers, events that engaged ideas of social justice and NONE of them had an audience like the grouping that sat together that evening in Nirbhaya. NONE of them brought together the kind of audience that is frequently in the house at a Revolution Books event. This is rare. This is so precious, and special. This is what the world could be like. This is what the Revolutionary Communist Party fights for.
And why? Why do they fight for this? Not just because yes, when you see a group of folks coming together to talk about oppression it may give you the warm fuzzies, as it does me, but the RCP just won't let it end there, no. It is not a part of their principles to give up, and "be a knife in the backs of the people" and so they never give up on people. They never gave up on me and have treated me with incredible decency, respect, and dare I say love—like a fucking human being. And leaders in the RCP treat all people like that because again it's informed by theory; not to say that they are not nice people or caring, but it is precisely because they care they've dug beyond the surface to truly understand the world and how to change it, which informs their being, if you will, or rather their acting on what they know to be true. And at the helm of this leadership is the Chairman of the Revolutionary Communist Party, Bob Avakian (BA), whose understanding of how this world works is the very reason why he has never given up on the possibility and necessity of making a revolution. It is this understanding that precedes the actions of the leadership in the RCP—knowing full well that in order to make a revolution all kinds of people who want to be free of their chains MUST and CAN be led. It is this need that also makes it a necessity for all kinds of folks to understand what the problem is and what the solution is, while digging into the work of BA to end the horror that is capitalism-imperialism. Whether or not people agree with BA is not a determining factor in how the RCP works with people—in fact many folks, who don't agree that humanity needs communism, have and continue to work with this party. We mustn't take this for granted anymore.
Let's fight for the work of BA to be known widely across this country and the world. Let's fight against the lies and slanders against the RCP. And that can only be a reality if we FIGHT to re-open this bookstore, and, yes, make the bookstore an even more amazing space for people! Yes, I use the word "fight," because this struggle takes hard work. It will make you uncomfortable, and scared, but it will also bestow on you the greatest responsibility of all—the responsibility to free all of humanity and what can be more important than that?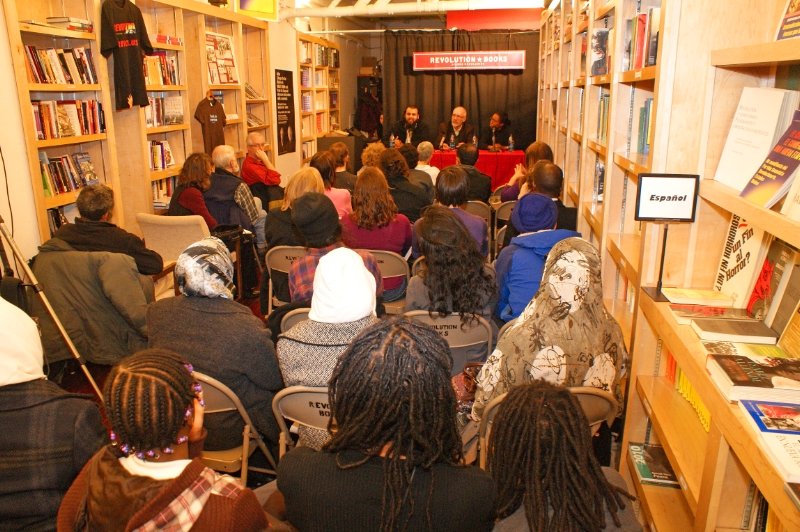 A program at Revolution Books, New York.
It's not an accident or some fairy tale that such a mix of people came together on one evening—it took work, it took a fight, with no ego involved—no intention of moving up in the ranks of social movements, begging for the "cool" look-at-how-intersectional-this-movement-is scraps. What can be more important than giving your money to that? We give, give, give to all kinds of crap all of the time, and I say this with no judgment because indeed we do have to live in this horrible exploitative world alongside our burning to change it. But, instead of say buying cage-free chickens here or there, or buying American made clothing, or local vegetables in an attempt to be free or under the illusion that those choices will free us you can really DO something with your money! You can sustain a bookstore that is a part of a movement of ending all of oppression and in doing so opens its doors to anyone and everyone who wants to lift their head, raise their fist, and, yes, put on their reading glasses and critical thinking hat. This is the MOST important thing you can do with your money and this is why I gave to Revolution Books! And I did dig deep because I know just how tragic it would be if New York City lost Rev Books, and how tragic it would be in the movement for revolution if this space were lost! Because until we reach a day where money is obsolete, where the exchange of goods for money is a thing of the past, where Rev Books is never being threatened to close, then we CAN and MUST fight like hell for this bookstore, just as they have fought like hell for you, and continue to fight (and critically think) like hell for all of humanity. Give, give, give. Sustain for $5 a month (or if you can give, give more!) and become a friend of the store. It felt amazing to know I was giving my money to something bigger than myself. Make an investment in the future of humanity and help save Revolution Books!
Volunteers Needed... for revcom.us and Revolution
If you like this article, subscribe, donate to and sustain Revolution newspaper.