The Stories and Anger Poured Forth...
National Actions to Stop the Assault on Abortion Rights, A Report from NYC
by Sunsara Taylor | July 3, 2015 | Revolution Newspaper | revcom.us
The controversy began even before we set up. As we pulled on bloodstained pants to represent the countless women who have died for lack of legal abortions and unpacked our bright orange "Abortion On Demand and Without Apology!" signs, an older Black man began screaming that we were "murderers." In moments we were thick into debate in front of a growing crowd, with people joining in on both sides. As the man condemned women for having sex if they don't want babies, I broke down the science behind the fact that fetuses are not babies, abortion is not murder and women are not incubators. I flipped the script on him by making clear that the real crime is forcing women to have children against their will, that is a form of enslavement.
We were at Union Square in New York City on July 1, as part of nationwide protests being held in Seattle, San Francisco, Los Angeles, Houston, Cleveland, Maui, and DC. The day had been chosen because it was when three fascist anti-abortion laws had been scheduled to go into effect – one which would close 10 more abortion clinics in Texas (in addition to more than 20 which have recently been closed), one which would have closed 2 of the 6 clinics in Tennessee, and one which would have criminalized the most common abortion procedure used after 12 weeks of pregnancy in Kansas. As it turned out, all of these laws were temporarily blocked by judges, but the protest was still essential because the emergency facing women's right to abortion is still extreme and intensifying.
As our argument escalated, a young South Asian couple agreed to hold pictures of women who died for lack of safe, legal abortions. A young Black man joined us in putting on a pair of bloodstained pants, taking a big stack of fliers, and handing them out to others who stopped. A young white couple did the same.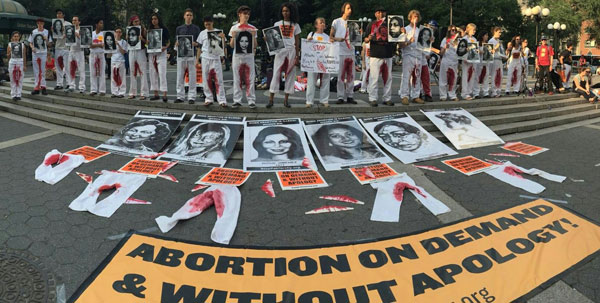 Photo: Special to revcom.us
Soon, two young emcees called the rally to order. Huge enlargements of the faces of women who have died from illegal abortions were laid out, along with signs and banners reading "Abortion On Demand and Without Apology." Volunteers were directed to put on the bloody pants and stand shoulder-to-shoulder holding smaller images of the women. The emcees read the stories of the women whose faces were being held, and laid out the emergency confronting abortion rights: six states have only one abortion clinic left; 330 laws have been introduced already this year to further restrict abortion, and more than 50 of those laws already have been passed; eight abortion doctors and workers have been murdered; dozens and dozens of clinics have been forced to close. They broke down how the fight over abortion has never been about babies, it has always been about controlling women. Denying abortion and birth control to women reduces them to breeders, forecloses women's lives and dreams, and turns what should be a beautiful thing – having a child when one truly wants one – into a dehumanizing nightmare.

Photos: Bud Korotzer
The crowd swelled. The number of people stepping forward to put on the bloody pants and join the protest/living installation also grew. Who were these people stepping forward?
One was a young man from the Dominican Republic who had just been walking through the park when he stopped to stare at the display. He told me the story of a dear friend back home who discovered a growth in her foot early in her first pregnancy. Because the Dominican Republic is so deeply opposed to abortion, doctors refused to even give her the necessary x-rays and other tests to find out what was wrong, claiming they might put the fetus at risk. When she was finally able to get the tests after giving birth, the doctors found that she had a very advanced cancer. It was too far along and she died, leaving behind a grieving family, friends, and a child with no mother. The young man teared up as he spoke. Without hesitation, he pulled on a pair of the bloody pants and went to represent for all the women like his friend.
Two were an older white couple who also had just been passing through. The woman said she remembered when abortion was illegal and asked how she could sign up. About ten minutes later, I noticed that both she and her husband were now standing in the line-up with posters and that he had decided to pull on a pair of the bloody pants.
Quite a few were LGBT who had heard about the protest at the Dyke March and Pride Parade over the weekend where Stop Patriarchy had organized a boisterous contingent. A Latina lesbian wore a home-made shirt that read, "I had two abortions and God was cool with it." She wore the bloody pants and later, during the speak-out, stepped forward to share her story. "It's time to come out of all the closets," she insisted, clarifying that she hadn't even realized she had been in the closet about her abortions, about how much shame is put on women, until recently.
A young Puerto Rican woman had met Stop Patriarchy about ten days before during the outreach of Take Patriarchy by Storm (a summer of bold pop-up protests, dramatic street theater, and mobilizing people to fight against patriarchy in all its forms). She had already started running with the group, coming out to hear my speech last week, joining the outreach up in Harlem, and then spending hours the day before helping spray-paint almost 100 pairs of bloody pants. She surprised everyone, including herself, by stepping to the microphone during the speak-out to tell the world that she had an abortion when she was 12 years old and she had no regrets. She just graduated high school and never would have been able to do that with a baby. She was shaking when she was done, but the crowd gave her enormous applause.
Photos: revcom.us
A white woman from Virginia had been in town and learned about this protest at the Dyke March. She slept in her car in order to stick around for it and was so happy that she had. After the protest we strategized about how to bring this fight back to where she is from. She was especially excited about the plans for a major student day against patriarchy in the fall and thought she could get some of her "hippie friends" to take part.
A young white trans woman silently held the main banner for hours. When we opened the mic up, she shared the story of a female friend whose abusive boyfriend pressured her to have the baby when she had initially wanted an abortion. The abuse stopped during the pregnancy, but resumed almost immediately after the baby was born. Now, with the baby, she was doubly trapped. Depressed, terrified, and seeing no way out, his friend killed herself.
A Black youth from the projects in Harlem who works with the Revolution Club at first felt awkward putting on the bloody pants and instead stood on the sidelines handing out fliers. He was talking to a group of young Black men when he noticed how many others were putting on the pants and decided, finally, to join in. Once he did, without being asked, first one and then another and then another of the young Black men he'd been talking with stepped forward to do the same.
A young Black woman had changed her plans to be at the protest and wore a look of defiance and intense seriousness throughout the time she stood wearing the bloody pants. She had gotten an abortion when she was a homeless teenager living in her car. She said she couldn't even imagine what her life would've been like if she'd been forced to have a child at that time.
Story after story, these experiences poured out. Some were shared on the mic, others in private. Many were matter-of-fact, no drama stories about needing an abortion and getting one without shame or regret. A shocking number were stories that concentrated the extreme oppression this country is built on and enforces, against women in so many different ways as well as against Black people, immigrants, and against those for whom survival is an everyday struggle, like the stories that included domestic abuse, intense poverty, and mountains of religious shame.
Probably the biggest reaction by those who saw the protest and even among those who joined in was complete surprise at how serious the attacks on abortion are. People just don't know how difficult it is for women in so much of this country to get an abortion, they don't know that laws are being passed constantly to make this even harder and they don't recognize how much shame is put on women. Some folks cursed at us, called us murderers, or pointedly refused to take the fliers. But throughout the protest, hundreds stopped and listened. The majority voiced their support in some way. Some were less clear about abortion, but many of these folks stayed and heard the stories and speeches. There was a tremendous amount of learning going on and a lot of thinking being changed in very important ways.
The other big change going on was that the broad sentiment of support for women's reproductive freedom and against all forms of women's enslavement was being drawn to the surface and given organized expression right on the spot. The power of the truth being spoken and the visual manifestation of people fighting this oppression forced people to take notice. It provoked them to listen and to consider things anew. It also inspired them and modeled something different and very attractive. Also very key: there was a meaningful way for people to step forward right on the spot and be part of this force. There were 100 pairs of bloody pants to put on, signs to take up, and stacks of fliers to pass out. There was a mic open to share their stories. And there was a whole core of people with Stop Patriarchy and the Revolution Club who had a plan and were oriented towards involving and organizing people into this movement on the spot. This was extremely important.

Sunsara Taylor. Photo: revcom.us
During my speech, I tore into the lie that we live in a country of "freedom," including for women. Pervasive violence and degradation confronts women in every aspect of their lives and no one should put up with it. I connected the fight for women's liberation to the fight to end all oppression – police murder, environmental destruction, wars for empire, and more – and to the need for an actual revolution. I called on people to get into this revolution and into the leadership of Bob Avakian who has insisted for decades that, "You cannot break all the chains except one," that the fight for women's liberation is indispensable to the fight to end all oppression. And I called on people to join in with the movement to end patriarchy right now and all summer, to strengthen the organized force of people standing up to turn the tide in the war on women now.
Left: Fran Luck, host of Joy of Resistance MultiCultural Feminist Radio. Right: Nellie Bailey, of the Harlem Tenants Council. Below left: Carl Dix, of the Revolutionary Communist Party. Photos: revcom.us; Photo below right: Special to revcom.us
Fran Luck, host of Joy of Resistance MultiCultural Feminist Radio, gave deep appreciation to Stop Patriarchy during her speech and then highlighted the case of Purvi Patel, a woman who is now serving a 20-year prison sentence in Indiana for the "crime" of allegedly inducing her own abortion. Nellie Bailey, of the Harlem Tenants Council, connected the fight for abortion rights up with the fight against police murder. She took on in particular the poisonous anti-abortion billboards that had spread the lie that, "The most dangerous place for a black baby is in his mother's womb," counter-posing that in reality the most dangerous place for a Black child was in the "womb of America" where they constantly get gunned down by police. Carl Dix, of the Revolutionary Communist Party, also spoke, emphasizing that the fight for women's liberation is everyone's fight, bringing alive the need to get organized for revolution, and urging everyone to join in the major mobilizations planned for the fall against police terror.
At the end, we called on everyone who had gathered to listen to step forward and join those wearing the bloody pants on the steps. Organizers announced upcoming plans to be out all summer, shaking things up and challenging women's oppression throughout the city and across the country. They invited people to join them in Mississippi during the first week of August where only one abortion clinic remains in the entire state. Then, together, we lifted up the huge enlargements of the faces of women who had died from illegal abortions and threw our fists in the air. In unison we pledged to build this fight going forward, to never be silent, to refuse to put up with any form of women's enslavement--and we called on everyone to sign up to stay connected to StopPatriarchy.org.
Volunteers Needed... for revcom.us and Revolution
If you like this article, subscribe, donate to and sustain Revolution newspaper.