Southern California Kick-Off:
#RiseUpOctober to STOP Police Terror Launched With Spirit and Determination
August 3, 2015 | Revolution Newspaper | revcom.us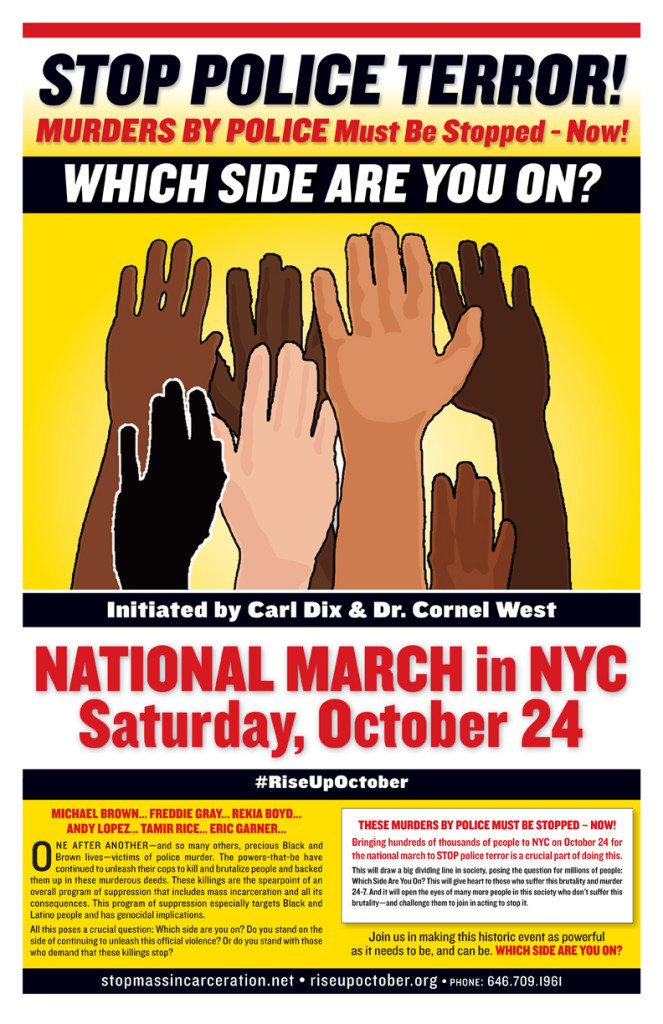 On August 1 , about 75 people from all over Southern California and beyond came together with spirit and determination to contribute everything possible to make #RiseUpOctober to Stop Police Terror in New York City a powerful declaration that the police murder of Black, Latino, and other poor and oppressed people has got to stop—NOW!
The launch meeting had been called by the Stop Mass Incarceration Network; they were joined by family members of at least 4 victims of wanton police murder—Ezell Ford; Johnny Ray Anderson; Ernesto Flores; and David Silva. The family members spoke passionately of the devastation of having loved ones murdered by police, and why October 22-24 is so important. People of all different nationalities and ages came, some making the trip from Bakersfield; San Bernardino; and Antelope Valley, where a SMIN chapter has been built. There were families whose loved ones had been brutally beaten by the police; organizers of homeless people; and seasoned fighters against police brutality and mass incarceration. There were people whose determination to fight injustice is faith-based, including Reverend Wulf of the United University Church, one of the leaders of SMIN in Los Angeles; alongside supporters the Revolutionary Communist Party and Bob Avakian. And supporters of Revolution Books.
Revolution Club members with their  BA Speaks: REVOLUTION—NOTHING LESS! T-shirts brought their experience and enthusiasm to the meeting. College students came from several campuses; and others who'd learned of the Call only days before through social media came to it with their "sleeves rolled up."
The afternoon began with a warm welcome by Reverend Buie of Holman Methodist Church, where the meeting took place. He spoke of being one of the few growing up in the South Bronx who escaped being incarcerated, and of a cousin who didn't escape. And he encouraged this newly forming coalition to "Keep up the good work—and don't give up!"
The overall orientation for Rise Up October and for the meeting was provided by showing the video of the talks given by Carl Dix and Cornel West at the original launch meeting in New York City on June 30..There were short presentations given by those leading the gathering; and the agenda for the rest of the day was passed out for everyone to have. Then people stood up and joined in repeating parts of the official Call for October as it was being read aloud.
Family members of several victims of police murder organized themselves for a picture to send the message of their unity in the fight to end this epidemic of police brutality and mass incarceration of our youth. Photo: Special to revcom.us/Revolution
Before breaking into subgroups, two of the family members of people murdered by police spoke—Chris Silva, whose brother was beaten to death by police outside a hospital in Bakersfield, told how his brother was killed, and why he felt Rise Up October was crucial. And then Yohana Flores, daughter of Ernesto Flores, described the horror of making a phone call asking for help for her father, who was having a mental breakdown, only to have the sheriffs come and shoot her father 45 times, 12 times to the head.
Each of the subgroups first wrangled with why October 24th in New York City? Why this movement must powerfully advance and leap forward, or surely it will be set back? and why "Which Side Are You On?" has to reach and challenge millions of people across the country. Then they got down to making plans. One committee focused on how this growing movement could raise money for all the costs of the campaign, as well as getting buses to send hundreds of people to New York City. A group of students made plans to take reach students and others at the summer concerts and venues, then take it to UCLA and other campuses when they open.
Reverend Wulf led the committee that focused on outreach to different church leaders—and to their congregations. A committee that included young artists made plans for visual art projects and spoken word, open-mike events—and for making stencils that people can take and use themselves to get #Rise Up October wherever people turn. A rapid-response network was planned by another subgroup to respond quickly in the wake of every new police crime. And the family members met to talk about how their voices could be most powerfully heard, and felt—in the media; and speaking out to other sections of society on campuses, in churches, and more.
When the committees reported to the whole group at the end, it was inspiring to hear how much creativity and initiative had been unleashed. Just before ending, the brother of Johnny Ray Anderson, murdered by police in Hawaiian Gardens, only July 5th, told passionately about how devastated he was by the police killing of his only brother—and his deep appreciation for the work of SMIN organizers who came to him right afterwards and made it possible for him to see a way to fight for justice for his brother, as a part of fighting to put an end to this whole epidemic of police terror. He made the point that through watching the statements by Carl Dix and Cornel West, it substantiated what he had been wrestling with—that this system is the problem, and it's for "them," and not for "us."
At this point everyone was led in the chant—"Hands Up—Don't Shoot!" Plans were announced for August 9th—the first year anniversary of the murder of Michael Brown—and of the rebellion that sent a shock wave waking up millions and inspiring a nationwide struggle for justice long overdue.
People left with bags full of Calls and palm cards for Rise Up October, flyers for the August 9th anniversary of Michael Brown's murder, and their eyes set on October 22—24 . Afterwards, outside the church, family members of several of the victims of police murder organized themselves for a picture that would send the message of their unity in the fight to end this epidemic of police brutality and mass incarceration of our youth.
Volunteers Needed... for revcom.us and Revolution
If you like this article, subscribe, donate to and sustain Revolution newspaper.