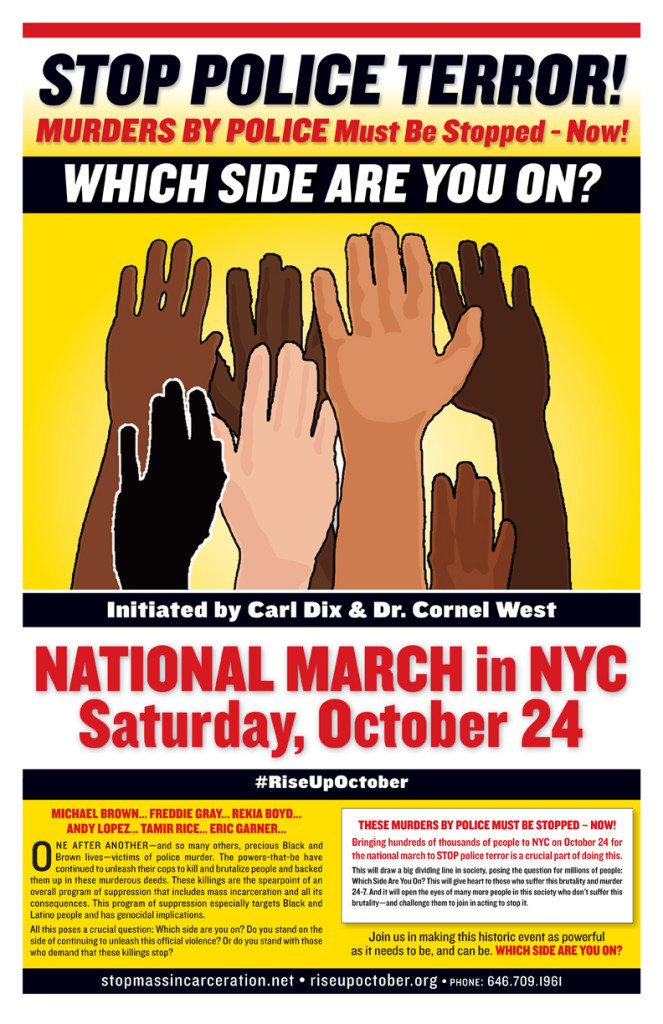 Chicago, August 5: Which Side Are You On?/Rise Up October National Speaking Tour Holds Press Conference Outside Police HQ
Updated August 7, 2015 | Revolution Newspaper | revcom.us
The following is a short report about the press conference. Read a fuller account of the press conference here.
On Wednesday, August 5, the Which Side Are You On?/Rise Up October National Tour held a press conference at the Chicago Police Department headquarters at 35th and Michigan Streets. This tour is aimed at reaching thousands with the word of Which Side Are You On?/Rise Up October in New York City against police terror and murder and organizing many people to build for and be in New York City on October 24. (For more on Rise Up October go here.) The national tour hit the ground in Cleveland a couple of weeks ago—and will be in Chicago till August 7, when it heads to Ferguson for the events marking one year since the police murder of Michael Brown and the uprising that followed.
At the Chicago press conference, Carl Dix—representative of the Revolutionary Communist Party and co-founder with Cornel West of the Stop Mass Incarceration Network—was joined by people whose loved ones were killed by police, and others. Speaking at the conference were Carl Dix; Mertilla Jones, grandmother of seven-year-old Aiyana Stanley-Jones, murdered by Detroit police in 2010; Andrea Irwin and Sharon Irwin, mother and grandmother of Tony Robinson, murdered by Madison, Wisconsin police; Latoya Howell, mother of Justice Howell, murdered by Zion, Illinois police; Joshua Lopez, nephew of John Collado, murdered by NYPD; Hannibal Saleem Ali, uncle of Anjustine Hunter, murdered by Memphis, Tennessee police; Raymond Richards of Brothers Standing Together; and Rev. Gregg Greer, from the Southern Christian Leadership Conference (SCLC) and president of Freedom First International. An excerpt was read from a statement sent to the press conference from Ted Jennings, PhD, professor of Biblical and Philosophical Theology at Chicago Theological Seminary.
Carl Dix said about the Rise Up October: "We're going to be involving thousands upon thousands of people, manifesting in New York City, delivering a message to the country, and to the whole world, that this green light to cops who brutalize and murder is unacceptable. It must be stopped, and we're going to be acting to stop it." (The quotes from Carl Dix and other participants are from the coverage at ProgressIllinois.com. See video of press conference at right.)
Andrea Irwin—whose unarmed 19-year-old son, Tony Robinson, was shot and killed by a Madison cop in March—said: "My son needed help. He didn't need gunshots. We need justice. These police officers think it's OK to open fire on these people, take their lives and go on with theirs, they need to know that they have to be held accountable for their actions."
ProgressIllinois.com also quoted Mertilla Jones, grandmother of 7-year-old Aiyana Stanley-Jones who was killed by Detroit police during a raid at her home in 2010: "I'm (here) all the way from Detroit trying to spread Aiyana's story. I refuse to let her memory die, because she didn't die, she was murdered… We gotta take a stand. There's power in numbers. More people need to get up, get out and be about progress toward stopping police brutality."
Also quoted by ProgressIllinois.com was Cynthia Lane, whose 19-year-old son, Roshad McIntosh, was murdered by Chicago police almost a year ago last August: "I'm gonna keep fighting until I get justice for my son, because they killed him for no reason. I'm not gonna stop until I get justice, because there were too many people out there that…witnessed that my son did not have a gun, as the police said. They shot him while his hands were up. He begged for his life, and they still shot and killed him."
Check back for further updates from the Chicago leg of the Which Side Are You On?/Rise Up October National Tour.
Which Side Are You On?/Rise Up October National Speaking Tour in front of the Chicago Police Department Headquarters, August 5. Photo: Special to Revolution/revcom.us.
Volunteers Needed... for revcom.us and Revolution
If you like this article, subscribe, donate to and sustain Revolution newspaper.