STOP Police Terror! Which Side Are You On?
National March in NYC October 24 #RiseUpOctober
Get organized. Come to New York. Families of those murdered by police...people from the neighborhoods...people from the faith communities...college and high school students. Come one, come all. Be part of standing up and saying no more! Change history.
August 24, 2015 | Revolution Newspaper | revcom.us
What Is the Political Aim of October 22-24?
The Stop Mass Incarceration Network puts it like this: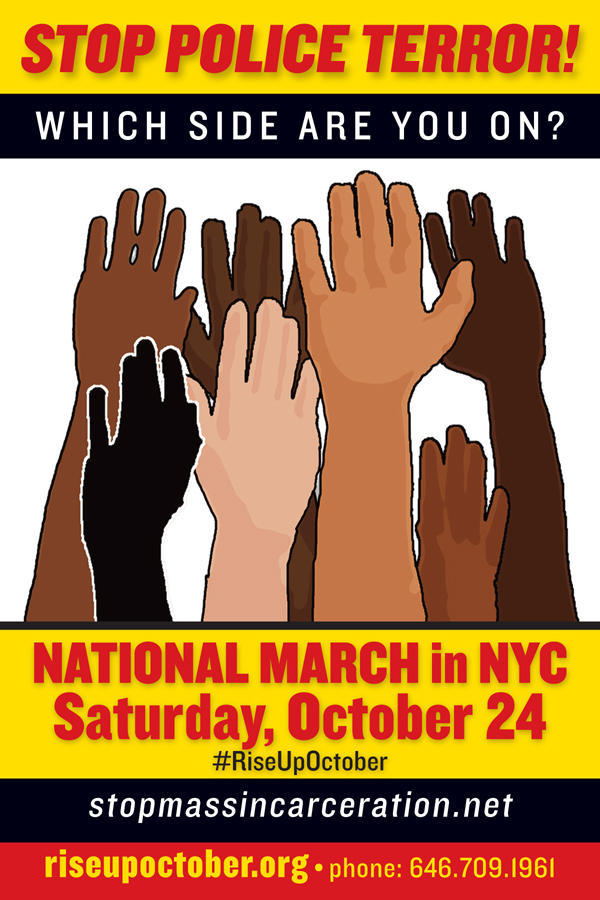 "The situation is this: thousands of people have risen in the last year to demand that the police stop their wanton and repeated killings of Black and Latino people. But the police, backed up from on high, have continued this onslaught and lashed back harder. This is a plague, this is the spearpoint of a genocide.
"Yet way too many people still sit on the sidelines.
"In the face of this relentless terror, Rise Up October has called for militant and mass mobilization on October 22 to 24, focused in New York City, to STOP this. These actions aim to mobilize many more thousands of people, from all walks of life, much more actively into this fight, to powerfully insist through their actions on those days that these murders must simply stop, NOW."
* * *
Carl Dix and Dr. Cornel West put out the Call for #RiseUpOctober, saying, in part:
"History has shown that no significant change has been won without mass determined resistance.
"We refuse to be derailed by promises of reform that are merely that: promises. We refuse to be intimidated by government repression or by threats from forces of open and unrepentant racism and fascism. We will respond to the urgency of the political situation by mobilizing hundreds of thousands of people to take to the streets to say these horrors must stop.
"We aim to amplify the many forms of resistance against police murder and mass incarceration. More important, we aim to change the whole social landscape, to the point where a growing section of people all over who take ever-increasing initiative and make it unmistakably clear that they refuse to live in a society that sanctions this outrage, and where those who do NOT feel this way are put on the defensive."
This Call has been signed by hundreds. Among them:
Members of families of 56 people killed by police in the U.S.

Gbenga Akinnagbe, actor
Edward Asner, actor
Noam Chomsky, Professor (ret.), MIT*
James Cone, Union Theological Seminary
Kimberlé Crenshaw, professor, UCLA & Columbia University School of Law*
Bernardine Dohrn, Clinical Prof (ret) Northwestern Univ School of Law
Eve Ensler, V-Day; author, playwright: The Vagina Monologues
Carl Hart, Professor, Columbia University*
Immortal Technique
Jamal Joseph, Artistic Director New Heritage Theatre Group, Professor, Columbia University*
Rabbi Michael Lerner, Editor, Tikkun
jessica Care moore
Boots Riley, The Coup
Cindy Sheehan, mother of Casey Sheehan, killed in unjust U.S. war on Iraq, 2004
Lynne Stewart & Ralph Poynter, lynnstewart.org
Alice Walker

Dozens of members and leaders of Christian, Muslim & Jewish faith communities

*Institutions for identification only
Sign the Call here
* * *
Leaders of this movement on why you should be in NYC for #RiseUpOctober:
Cornel West and Carl Dix
Carl Dix: "We have to draw a huge dividing line in society over these outrages and challenge people with the question: Which side are you on? There is no room for neutrality here. There is no middle ground. You are either standing with the people who are acting to STOP these attacks or you are OK with racists in and out of uniform murdering Black people. We have to turn society upside down over this by mobilizing a huge march in New York City to STOP police terror."
Dr. Cornel West in an August 18 letter to colleagues: "I'm going to do everything I can to make this historic march as powerful as it can be, and needs to be. I ask you to join me in doing that, and I pose to you a simple question: Which Side Are You On?"
* * *
Message to the RUO meeting from Airicka Gordon-Taylor, the cousin of Emmett Till:
 I am with you all, I am in alignment and in alliance with you all. It is striking that Sandra Bland's funeral was on Emmett's birthday.
Family members of those killed by police around the U.S. urge you to come to #RiseUpOctober:
Nicholas Heyward Jr.
Nicholas Heyward, Sr., father of 13-year-old Nicholas Heyward Jr., murdered by NYPD, September 27, 1994 speaking at the June launch meeting of #RiseUpOctober:
"October 24 is a very important day for me and should be for you also. I felt that it's time long, long ago that we should have risen up to let the authorities know, and those who are supposed to be in charge, to let them know that we are not going to tolerate this type of nonsense any longer, killing of innocent unarmed people. Reach out to other people and tell them they all need to get involved. This is some serious, serious stuff. We are all in this together and stand together."
* * *
Justus Howell
Latoya Howell, mother of 17-year-old Justus Howell, murdered by Zion, Illinois police, April 4, 2015 at the Chicago press conference launching #RiseUpOctober
"Don't wait behind a television or a computer and wait for someone to give you their victimized story. Stand up now and choose a side. Come out and support because without numbers we have nothing. We need more than just sympathy. Sympathy just gives more bloodshed. We need to stand and stop police brutality."
* * *
Aiyana Stanley-Jones
Mertilla Jones, grandmother of seven-year-old Aiyana Stanley-Jones, murdered by Detroit police, May 16, 2010 at the Chicago press conference launching #RiseUpOctober
"Y'all need to get up and take a stand because there is power in numbers. Don't just be on the wayside, 'oh that's a good thing they are doing.' No, hell no! Get up and do something about it."
Volunteers Needed... for revcom.us and Revolution
If you like this article, subscribe, donate to and sustain Revolution newspaper.