From Bringing Forward Another Way:
Bob Avakian on the Two "Historically Outmodeds"
December 4, 2015 | Revolution Newspaper | revcom.us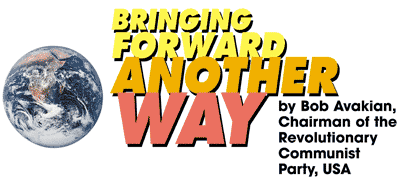 Bringing Foward Another Way is an edited version of a talk by Bob Avakian, Chairman of the Revolutionary Communist Party, USA, to a group of Party supporters, in 2006. It is must reading for a serious understanding of what the U.S. "war on terror" is really about and how to bring forward a positive force in the world in opposition to both Western imperialism and Islamic Jihad.
The following is from Bob Avakian's work Bringing Forward Another Way, March-September 2007.
What we see in contention here with Jihad on the one hand and McWorld/McCrusade on the other hand, are historically outmoded strata among colonized and oppressed humanity up against historically outmoded ruling strata of the imperialist system. These two reactionary poles reinforce each other, even while opposing each other. If you side with either of these "outmodeds," you end up strengthening both.
While this is a very important formulation and is crucial to understanding much of the dynamics driving things in the world in this period, at the same time we do have to be clear about which of these "historically outmodeds" has done the greater damage and poses the greater threat to humanity: It is the historically outmoded ruling strata of the imperialist system, and in particular the U.S. imperialists...
It is interesting, I recently heard about a comment that someone made relating to this, which I do think is correct and getting at something important. In relation to these "two historically outmodeds," they made the point: "You could say that the Islamic fundamentalist forces in the world would be largely dormant if it weren't for what the U.S. and its allies have done and are doing in the world—but you cannot say the opposite." There is profound truth captured in that statement.
Volunteers Needed... for revcom.us and Revolution
If you like this article, subscribe, donate to and sustain Revolution newspaper.