A Gripping Evening at Revolution Books: Yaa Gyasi Reading and in Conversation with Andy Zee
August 22, 2016 | Revolution Newspaper | revcom.us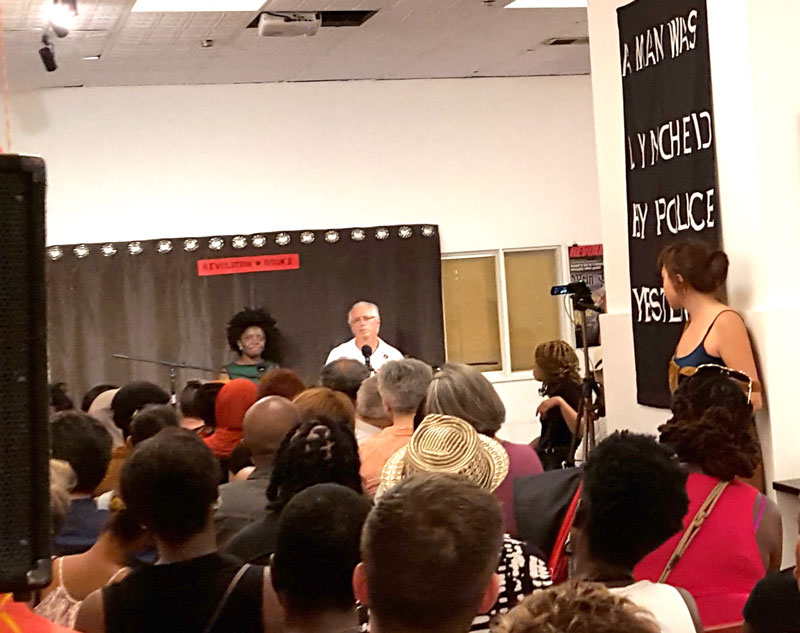 After Yaa Gyasi's reading from her book Homegoing, Yaa Gyasi and Andy Zee held a conversation with the audience.
It was a very special night at Revolution Books on August 19.  Yaa Gyasi read from her powerful and acclaimed novel Homegoing, followed by a conversation with Revolution Books spokesperson Andy Zee and then with the audience. 
90 people came out. They were friends of Revolution Books, people from the publishing world, African immigrants, members of 4 different book clubs, and others. People got word of the program having gotten flyers at places like the Brooklyn Museum's First Saturday program, at a city park Jazzmobile concert, and through social media. It was a packed house, and the audience spilled out into chairs set up on the sidewalk under a canopy to hear the conversation piped outside. Hand fans were passed out to people inside—it was hot!
The program took place in the last few days of the critical fundraising for Revolution Books NYC to stay open and to grow as the political, intellectual, and cultural center for the movement for an actual revolution. In mid-July, RB launched a $25,000 crowd-funding campaign to restock the shelves with cutting edge books and to make essential improvements like installing air-conditioning, a stage and signage.
Andy Zee welcomed people to the program and to Revolution Books.  RB is where people find the books and engagement about why the world is the way it is, the underlying history of this society, and indeed the world, and the brutal truth of present-day reality…and the way out of this madness.  And at the heart of this is the new communism, the new synthesis, developed by Bob Avakian—central to which is a qualitative breakthrough in a more scientific way to understand reality and to radically change it through revolution to emancipate humanity the world over.  As Andy would later point out, Revolution Books is not just a place to find political theory, history, and connection to a movement to fight for this new world, but also RB is a place to find novels, poetry, plays and art because all of this imagination and experience goes into deepening our understanding of reality, and of the world we want to create. He said that Homegoing is not just a wonderful novel, but an important one.  
REVOLUTION BOOKS NYC
The political, intellectual, and cultural center for the movement for an actual revolution
Indiegogo crowd funding campaign!
$25,000 in 30 Days, The Time Is Now!
Your contribution will fund:  
Thousands of important new books • Bold signage on the street. • A stage for cutting-edge events. • New air-conditioning.
Yaa read from a beautiful and wrenching chapter that focused on the slave Ness, that included Ness hearing from her mother about her experience as a small child on the "big boat" of the middle passage from Africa to the Americas, and then goes to Ness's life of unremitting brutality on the plantation.  Yaa's voice dug deep in the room and out onto Malcolm X Blvd—riveting to hear, with many in the audience moved to tears. 
Then the conversation in the room, deep and deeply felt, was on…. How do you, as a writer, confront what happened to the people we came down from, and how do we all confront it and not be filled with despair and hopelessness? How do you really feel the horror of the lash and worse the denial of your humanity, and not compartmentalize? How do you get through the day knowing your family went through this?
Yaa spoke about her background; about the writer's craft; about returning to Africa and researching this history, including aspects that are not often explored, like the practice of slavery in Africa; about her influences.
"Story" and Real History
People thanked Yaa for opening a door to the history that most often isn't talked about so intimately, that has been known in family after family but not spoken about in its stark reality. Woven through the evening was the exploration of why story-telling that is not literally true matters, in getting to deeper truths. This was something Yaa got into especially in response to a question from someone who discussed how difficult it was for her family to discuss the unbearable reality of sharecropping. As this woman spoke, she broke into sobs, explaining that her grandfather had in fact been a sharecropper, with all the terror of that near-slavery in the Jim Crow south. 
Andy followed Yaa and returned to why a scientific method and approach—revolutionary political theory to know and change the world—is essential, and is at the heart of Revolution Books.  The new synthesis developed by BA comprehends the import of art, of imagination.  You need the "distorting" of "story"--exactly to capture vital layers of lived experience and inner life that deepen our understanding. The historical novel can imagine experience that cannot be known today, but in so doing, it should illuminate the larger truth of the history it tells. 
And, you also need the factually accurate history and scientific theory, the analysis of the roots of slavery, this "peculiar institution" that is at the foundation of American wealth, to understand the system that underlies this, and where we are today—and what to do about it, drawing from and recommending to the audience Communism and Jeffersonian Democracy, by Bob Avakian. Andy then got into why resistance and rebellion and courage, while essential, are not in and of themselves enough—giving the example of the experience of the African liberation movements of the 1950s, '60s, and '70s. These movements were not guided by a thoroughly scientific understanding of the nature of imperialism and the all-the-way communist revolution needed to put an end to exploitation, oppression, and domination by imperialism. And these movements that came to power did not break the chains of the old system, with many of its features replicated in new ways. Today these are oppressive class-divided societies where many have lost hope. This is a bitter lesson to learn from.
Andy invited the audience to become part of the process that goes on at Revolution Books: read Homegoing and the other incredible novels on the shelves; read the powerful scholarship on slavery of recent years; and read Communism and Jeffersonian Democracy and find the scientific approach to understanding the world and how it got this way—and how it could be radically different—with the real revolution and the new communism BA has developed and is leading.
People felt the pain brought down through Ness's descendants in Homegoing who end up in modern-day America…and the ways this is still lived with horrific consequence from Milwaukee, to Ferguson, to Baltimore, and more. Yaa Gyasi: slavery is an "open wound that has festered for hundreds of years, and it's visceral and palpable."
This was an evening that revealed in its own special way what the new communism opens up.
Volunteers Needed... for revcom.us and Revolution
If you like this article, subscribe, donate to and sustain Revolution newspaper.