Letters from the Hellholes of America's Prisons—on Science & Revolution... An Interview with Ardea Skybreak, and Getting into Bob Avakian
September 12, 2016 | Revolution Newspaper | revcom.us
On Science & Revolution... An Interview with Ardea Skybreak, and getting into Bob Avakian: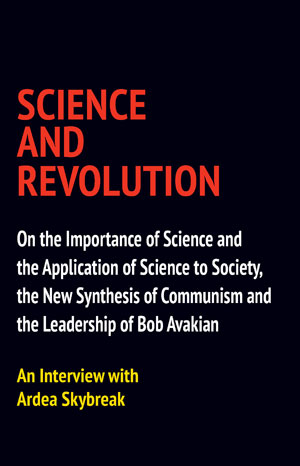 Prisoner & Ex-Prisoner Write:
"It's imperative that this book get out far and wide, just like BAsics"
"What makes BA so important is that he's out the gates now..."
On getting into Bob Avakian:
To prisoners: Write to us! Revolutionary voices coming from America's hellholes carry real weight and influence many.
Get this book into the
hands of prisoners!
Here's how. The publisher has a special offer: Buy one paperback for yourself from Insight Press, and buy a second book at 50% off for a prisoner and it will be sent directly to a prisoner. Total price for this offer is $25.50, plus $5.00 for shipping.
Contact Insight Press
info@insight-press.com
773-329-1699
Volunteers Needed... for revcom.us and Revolution
If you like this article, subscribe, donate to and sustain Revolution newspaper.