Native Americans Fight Modern-Day Genocide:
Standing Up at Standing Rock
Updated September 19, 2016 | Revolution Newspaper | revcom.us

March from Standing Rock protest encampment to Dakota Access Pipeline construction site. (Courtesy: The Red Nation and KIVA)
See interview with Native American activist below.
Update, September 19: Following the government's September 9 intervention (see below), construction of the Dakota Access Pipeline (DAPL) has been temporarily halted on federal land near the Standing Rock Sioux Reservation. However, pipeline construction continues in other areas—and the pipeline's owners, Energy Partners, has vowed to complete it. Since then, the fight to stop the DAPL has continued and broadened. This weekend more than 3,500 people took part in the protest encampment at Standing Rock. On September 13, thousands took part in support actions for Standing Rock in over 200 cities across the U.S. as well as in Canada and England. The next day, more than 20 people were arrested near New Salem, North Dakota, some 70 miles northwest of Standing Rock, for blocking pipeline construction.
The Standing Rock Sioux tribe of North Dakota has been battling for two years to stop the construction of an oil pipeline near their reservation. The pipeline threatens their water, land, and irreplaceable historical and cultural sites—literally threatening to destroy the Standing Rock Sioux as a people.
The Standing Rock Sioux are a small tribe—8,250 live on the reservation near where the Cannonball and Missouri Rivers meet. And they're up against long odds and powerful forces: America's long history of genocide, and now a juggernaut of big financial institutions and energy companies, backed by the government, the legal system, and the armed enforcers of the state.
But the people of Standing Rock have truth and the interests of humanity on their side, and they've refused to give up. Instead, they have fought courageously, standing firm, and reaching out widely for support. In the last few months, their battle has become a national and international issue. It has thrown a spotlight on the history of America's genocide against Native Americans and how that horror continues in new guises today. More Native American tribes, some 200, have come together than ever before around Standing Rock. Thousands of Native people as well as environmentalists and activists have come to the protest encampment there to stop the pipeline. The hashtag #NoDAPL has been spreading on social media.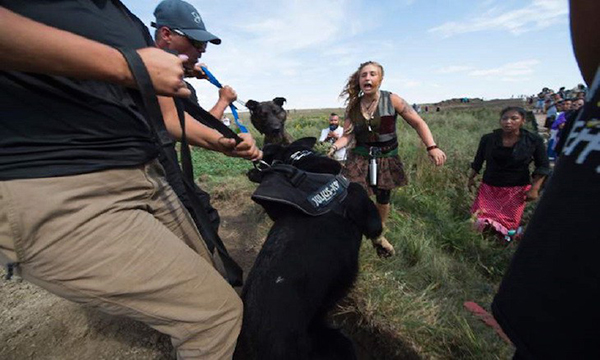 The battle at Standing Rock intensified heading into September 9, the day the federal court was to announce whether or not the construction of the pipeline would continue. Protesters stood up to the pipeline company pigs and their dogs, stopping construction at one point. Photo: caribflame.com
The battle intensified as Friday, September 9, approached. That was the day a federal court was scheduled to announce whether or not the construction of the pipeline would continue. Protesters stood up to the pipeline company pigs and their dogs, stopping construction at one point. Support actions have taken place across the country. According to media spokespeople for the Standing Rock Sioux, press attention has been overwhelming. The battle has reverberated internationally: When President Obama recently traveled to Laos in Southeast Asia, he was grilled on America's treatment of the Standing Rock Sioux and its indigenous peoples. (See "Obama's Bullshit vs. 10 Realities on Past and Present U.S. Crimes Against Native Americans.") Meanwhile, North Dakota Governor Jack Dalrymple had activated the National Guard to be used against protesters.
Then on September 9, the battle took a sudden turn. That afternoon, a federal judge rejected the Sioux's demand that the pipeline construction be halted. Literally moments later, in the context of unprecedented protests and global outrage, the Department of Justice, Department of the Army, and Department of the Interior issued a joint statement. They announced that construction of the pipeline would be temporarily halted on Army Corps of Engineers land bordering and under Lake Oahe (the part of Missouri River next to the Standing Rock reservation, where the Dakota Access pipeline is supposed to cross). They also said that the federal government would meet with Native peoples to discuss giving them more of a voice in future infrastructure projects like the pipeline.
But everything that has led to this explosive confrontation—why the pipeline is being built, and what the Standing Rock Sioux have faced—points to why this step back by the federal government is not to be trusted. And it points to why the struggle must not simply continue but deepen—and be more connected to the revolution it will actually take to stop the genocide of Native peoples and the destruction of the Earth's environment.
Genocide: STILL as American as Apple Pie
What's being done to the Standing Rock Sioux tribe in North Dakota is as American as apple pie.
A capitalist juggernaut of banks, drillers, and corporations, backed by the regulations, laws, and armed force of the state were again marauding over Native peoples. They were again despoiling the lands that Native Americans live on, plundering resources, and carrying out the genocide of Native peoples that has been taking place in one form or another ever since European settlers landed on American shores. And because exploitation and the dispossession of Native peoples are built into the fabric of U.S. capitalism-imperialism, this is not ancient history. It's still going on.
This time it is called the Dakota Access pipeline (DAPL). This pipeline, owned by the Texas conglomerate Energy Transfer Partners, could eventually carry 500,000 barrels of crude oil a day some 1,200 miles from the Bakken oil fields in northwest North Dakota to Illinois (nearly as long as the infamous Keystone XL pipeline).
The Dakota Access pipeline "would snake across our treaty lands and through our ancestral burial grounds," writes the Standing Rock tribal chairman, Dave Archambault II. "Just a half-mile from our reservation boundary, the proposed route crosses the Missouri River, which provides drinking water for millions of Americans and irrigation water for thousands of acres of farming and ranching lands." Some of those crucial historic and ancestral sites—which include irreplaceable Native art and pictographs—were savaged on September 3 by the Dakota Access bulldozers—after the company and the government were told of the sites.
The whole process of planning, approving, and constructing this pipeline drips with Native blood and the historic stench of America's genocide of Native peoples. Over 90 percent of the pipeline is being built on private land—much of which was stolen from the Sioux. The 1868 Treaty of Fort Laramie granted the Greater Sioux all of present-day South Dakota west of the Missouri River, including the Black Hills. But most of that land was stolen back 11 years later after the Great Sioux War.
And the theft has continued since then, including of 56,000 acres taken from the Standing Rock Sioux by the Army Corps of Engineers in 1958. On September 9, sickeningly, one justification the federal court used to refuse to stop the pipeline was that some of the relevant government environmental and historical preservation regulations don't apply to private land.
As if that wasn't bad enough, the original plans didn't call for the pipeline to cross the Missouri near Sioux lands but near Bismarck, the capital of North Dakota. State officials worried that an oil spill could poison the capital city's drinking water. So in a blatant act of environmental racism, they moved the pipeline crossing to within half a mile of the Standing Rock Sioux reservation—land taken from the tribe in 1958.
The Dakota Access project was approved without "meaningful consultation" with the Standing Rock Sioux. "The first draft of the company's assessment of the planned route through our treaty and ancestral lands did not even mention our tribe," states tribal chairman Archambault II. "The U.S. government is wiping out our most important cultural and spiritual areas," LaDonna Brave Bull Allard, the Standing Rock Tribe's Historic Preservation Officer, wrote in YES! Magazine. "And as it erases our footprint from the world, it erases us as a people. These sites must be protected, or our world will end, it is that simple."
Environmental Racism & Genocide
The Dakota Access pipeline has been subject to minimal environmental regulation. A pipeline break and oil spill would threaten drinking and irrigation water supplies and endanger the health of not only the Standing Rock Sioux but millions in the region. This isn't a remote, abstract danger. From 2012 to 2013, there were 300 oil pipeline breaks in North Dakota alone. And since 1995 there have been more than 2,000 significant accidents involving petroleum pipelines across the U.S. This total has increased under Obama, in step with the nearly 60 percent expansion of U.S. oil production and fracking since 2009.
Such an oil spill could have a devastating, even genocidal impact on the Standing Rock Sioux and other peoples. "We are borrowing this land from our grandchildren so we need to take care of our main life source: water," one participant in an April Relay Run in Opposition of Dakota Access Pipeline wrote. "Without clean water, we will cease to survive, thus exterminating our own existence. We are running for our future generations."
Then there's the planetary impact of releasing yet more greenhouse gases from the burning of another 500,000 barrels of oil a day—at a time the environmental crisis is visibly accelerating. This planet needs another oil pipeline like it needs to collide with a massive meteor—whatever the pipeline's pathway. But the compulsion to continue to extract, sell, and burn fossil fuel and control its supply globally is built into the economic workings and the strategic military imperatives of the U.S. imperialist empire—no matter who's president.
This is why drilling and fracking has skyrocketed under the self-proclaimed "environmental president" Barack Obama, whose actual role is commander-in-chief of U.S. imperialism. And this is why he refused to meet with tribal representatives and remained silent for so long on the Dakota Access pipeline—despite the fact that he visited the Standing Rock Sioux reservation in 2014 and promised them, "My administration is determined to partner with tribes."
Standing Up at Standing Rock
Robbing Native peoples, threatening their heritage and lands... plundering the environment... and doing so with government support—in America, all this is routine, business-as-usual. It's how the United States was forged, and it's how it operates today. Then all of a sudden it wasn't... because people—originally a small group of people—refused to put up with it.
The Standing Rock Sioux began opposing Dakota Access when they first learned of it in 2014. They filed lawsuits to stop it. And in April of this year, they set up a camp protesting the pipeline's construction. They were met with hostility, racial profiling, police roadblocks and surveillance. The sheriff and Energy Transfer have called the protest "unlawful." North Dakota's governor, a Trump supporter, has declared a state of emergency for the protest site.
But people stood strong and had right on their side. They reached out to other Native peoples and activists and progressive people more broadly. The word got out. More people came. By August the protest encampment had become the most significant coming together of different Native American tribes in memory. Nearly 2,000 people were camped out.
The action by a determined few had touched a nerve, galvanizing the feelings and fighting spirit of many more. "This is a historic moment for indigenous people," Tara Houska of Honor the Earth said. (Democracy Now!, September 9) "They have come from all over the country to stand here with the Standing Rock Sioux Reservation and to say, 'No more. Enough is enough.' So, to see this moment, I think that people are aware that indigenous people are still here. They're aware that we have treaty rights, that we are no longer accepting any type of environmental injustice of a pipeline being sent through drinking water. You know, this is a moment in which we are standing up together."

The Standing Rock Sioux tribe of North Dakota is battling to stop the construction of the Dakota Access oil pipeline. On September 9, a determined group went to Bismark, ND to protest in front of the state capitol. Photo: AP

Members of The Red Nation and KIVA from New Mexico who traveled over 1,000 miles to join the Standing Rock protest encampment. Courtesy The Red Nation and KIVA.
The battle at Standing Rock has also cast a glaring spotlight on the genocidal history and genocidal realities of the United States today. And it has raised big questions about the legitimacy of the whole thing. The government and some backward fools have been mobilized against Standing Rock. Once again, they're being whipped up behind "the right" of white people to roll over Native people in seeking "prosperity." But the firm stand by a determined few—in the face of daunting odds, reactionary forces, and an initially unfavorable polarization—has in important ways repolarized the terrain. This time, lots of people—white, Native, and other nationalities—are not having this racist, genocidal garbage, and they're putting shit on the line to oppose it.
Support actions have taken place across the country, including Washington, DC, Denver, New York City, San Francisco, Tulsa, and Omaha. Celebrities, including actor and comedian Chris Rock; actors Susan Sarandon, Leonardo DiCaprio, and Shailene Woodley; and cast members of the upcoming movie The Justice League, including Ben Affleck, have spoken out against the pipeline.
There have been more militant, determined protests to shut down the pipeline. On August 23, Native Americans on horseback startled and drove back a line of police. On September 3, people rushed over barricades and stood up to mace and guard dogs—which bit six people, including children—to stop construction and the desecration of Native sites. Right after the federal court ruling the pipeline would continue, a PBS reporter at the protest encampment noted, "There is a minority of people here, at least, who will do everything they possibly can to try to stop this from going forward."
The Rulers Take a Step Back... What the DOJ Announcement Means, and Doesn't Mean
Why did the federal government step in to halt at least part of the pipeline construction? Because they had a serious problem on their hands.
The Standing Rock battle has turned into a national and international cause célèbre. It has thrown a spotlight on the history of America's genocide against Native Americans and how that horrific abuse continues today. Native peoples were coming together, many were being radicalized, and diverse forces were being brought together in opposition to fault line contradictions—the destruction of the environment and the historic oppression and genocide of Native peoples—which this system has no answers for.
This is unfolding at a moment when the very notion of "America's greatness" is being invoked in different ways by both presidential candidates and is being very broadly contested in society. (For example, in the burnings of the U.S. flag at the Democratic and Republican conventions by the communist revolutionaries, and the refusal of San Francisco 49er quarterback Colin Kaepernick and other athletes to stand for the national anthem.) All this has called America's legitimacy into question—at home and around the world, and that makes this a very explosive issue for the powers that be.
The rulers feared the whole situation could become even more explosive and exposing. So they stepped in to defuse the confrontation, buy time, divert the struggle into their killing embrace, and work to preserve the appearance of their system's legitimacy.
What the Obama administration will do in relation to the pipeline is unclear. But the statement from the Departments of Justice, Army, and Interior only stated that construction would be temporarily halted on Army Corps of Engineers land—which makes up roughly three percent of the land the pipeline is being built on—until they can review the permit process. They've made clear that they're simply asking Dakota Access to "voluntarily pause" construction in a 40-mile radius around Lake Oahe and construction on the rest of the pipeline can continue. And their promises to meet with Native peoples and discuss the permit process offer no guarantee whatsoever of any significant change.
Most fundamentally, these are agencies of a ruling class and capitalist state that has broken every treaty it's ever had with Native Americans. It's a setup whose very existence and power has been based on shredding those agreements and stealing the land and resources of indigenous peoples.
A World Without America and Everything It Stands For—Including Genocide!
The rulers hope that temporarily stopping part of the pipeline will mollify people—rather than it being seen as a sign of weakness that inspires people to fight harder. The temporary halt is a sign of the difficulties the rulers face, and now is the time to fight harder. We should appreciate the lessons in what's happened so far at Standing Rock: This IS a country built on slavery, genocide, and unjust war. And calling that out in a bold and determined way can hammer at "cracks in the wall" people are locked down inside of, and change the political and ideological terrain.
The Standing Rock Sioux have stated that their struggle against DAPL will continue. That's important, and this fight must increasingly become part of the movement for an actual revolution. The horrific genocide of Native people formed part of what Karl Marx, with biting and bitter sarcasm, called the "rosy dawn" of the capitalist system. This genocide, now focused in the battle at Standing Rock, continues under that same system in various forms today. Moreover, this crime of theft and slaughter and cultural extermination—foundational as it is to everything this society is about—formed the basis for a whole horrific roster of crimes, which are documented on this website every week in the revcom.us series American Crime.
It will take revolution, a communist revolution which draws forward and leads those whom this system has tried to crush, along with all those who refuse to go along with that and seek a better world, to be part of the overthrow of that system and the establishment of a radically different society to finally end the genocide, exploitation, and environmental devastation capitalism constantly gives rise to, here and all around the world. It will take communist revolution to bring into being a global society in which the seven billion on the planet can live lives worthy of human beings.
Bob Avakian (BA), the leader of the movement for revolution, has written the blueprint and plan for a radically emancipating society that opens the way to a whole new society and which, as part of moving to that, will mobilize people and resources to overcome the effects and legacy of America's terrible history of genocide and oppression of Native peoples. That document is the Constitution for the New Socialist Republic in North America (Draft Proposal). And we urge everyone aching for a different future, everyone seeking alternatives, to read it and deeply engage it (see sidebar). And BA has developed the strategy for an actual revolution—a way to mobilize millions to defeat and dismantle the institutions of force and violence and a strategy through which they could be victorious. A way, at last, to overthrow this system of exploitation and genocide, and bring in a whole new one based on overcoming all that and bringing in totally different values.
If you have been part of those at Standing Rock, or part of the many more who have been moved by it, or are just learning about it now... check out this site. Get into BA. Learn more... and get involved. (Read the Constitution.)
Volunteers Needed... for revcom.us and Revolution
If you like this article, subscribe, donate to and sustain Revolution newspaper.