News Flash—Charlotte, NC: 
Righteous Rebellion Against Police Murder of Keith Lamont Scott
September 21, 2016 | Revolution Newspaper | revcom.us
Photos: @Pooja_Pasupula, taken in Charlotte September 21 at protests against the police murder of Keith Lamont Scott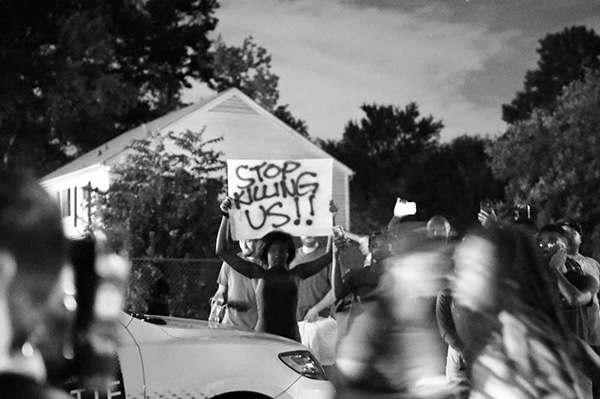 Wednesday night, September 21.  For the second straight night, people in Charlotte, North Carolina are righteously rising up in determined, defiant protest after Keith Lamont Scott, a 43-year-old Black man and father of seven, was murdered by police on Tuesday afternoon.
Tonight, after an evening vigil, people marched to downtown Charlotte, where they've been met by rows of heavily armed riot police trying to prevent them from marching through the heart of the City.  Standoffs and confrontations ensued, but many refused to back down or go home.  According to news reports, around 10 pm, the police ordered everyone, including the media, to leave parts of the "Uptown" section of Charlotte where the Omni Hotel is located, threatening to arrest anyone who didn't comply.  When people refused to leave, the police opened up with tear gas.  There were many arrests. "A helicopter flew over Uptown," the New York Times reported, "and on the streets below, protesters were heard chanting, 'Hands up! Don't shoot!'"
Late tonight, North Carolina Governor Pat McCrory declared a state of emergency, and said he would deploy the National Guard and the State Highway Patrol to Charlotte.  After midnight people could still be heard in the streets chanting, "No justice, no peace."
This is an outrage.  First the system's police violently murder another Black person, then deploy massive armed force to suppress the peoples' righteous anger and protests—all as government officials lecture people about being "peaceful." 
The peoples' protests in Charlotte are totally righteous and justified.  They need to continue and draw even broader and deeper support—from all across the country and world. 
Volunteers Needed... for revcom.us and Revolution
If you like this article, subscribe, donate to and sustain Revolution newspaper.