Reality Check: Trump and Pence—Total Unity When It Comes to Enslaving Women
December 6, 2016 | Revolution Newspaper | revcom.us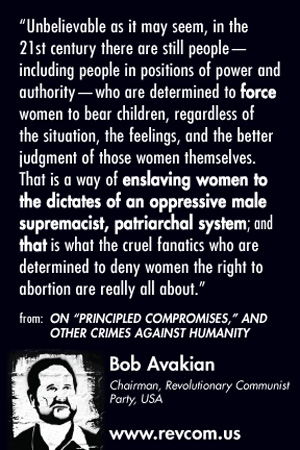 Trump is a walking embodiment of rape culture—crude degradation, vindictive revenge, and sexual violence against women.
Pence is a Christian fascist—no abortion, no birth control, no sex before marriage. He wants to protect anti-LGBT bigotry and views women as property of men.
A contradiction? Not at all. Both see women as property of men. One sees them as sex objects to be used, abused, and discarded. The other sees them as breeders and life-long servants of men. In fact, women are NEITHER.
Women are FULL HUMAN BEINGS. And we must fight with every fiber of our being for them to be treated as such.
Break the Chains!
Unleash the Fury of Women as a Mighty Force for Revolution!
Volunteers Needed... for revcom.us and Revolution
If you like this article, subscribe, donate to and sustain Revolution newspaper.