Inauguration Day Protests Against the
Fascist Trump-Pence Regime Around the Nation
Updated January 22, 2017 | Revolution Newspaper | revcom.us
On Inauguration Day, January 20, protests erupted in DC and around the country, some with hundreds, others with thousands of people, with a determination urgently needed right now. This is very important, a beginning of unprecedented protest, that has begun to change the terms for everyone. It must now go forward, growing in determination and strength. It must STAY IN THE STREETS, and create a political crisis that prevents the fascist regime of Trump-Pence from ruling.
In Washington DC, Refuse Fascism arrived at McPherson Square at 9am with the message "In the name of humanity we REFUSE a fascist America," distributing the flier "There Is an Urgent Need—and There IS Still Time in These Next Few Days—to Prevent This Fascist Regime from Ruling." Agitation from Sunsara Taylor and others emphasized the need to bring forth millions to bring DC to a halt, to create a political crisis that could STOP this regime from consolidating power, and force it out.
The march stepped off with about 300 people and through a very determined march grew to over 4,000, drawing in people who came from all over the country to protest as well as many from DC. As a revcom volunteer put it, there were democrats, feminists, environmentalists, communists, socialists, anarchists, LGBT, muslims, buddhists, atheists, and more. The march moved through different neighborhoods and through downtown. It marched into and through the transportation center Union Station where the chants echoed and drew widespread support, including many joining in. After staging a die-in to signify the carnage that would be unleashed if Trump continues the Nuclear Arms Race. Then the die-in rose up with "Rise up with the people of the world, rise up!" and surged onto Highway 695 which runs through DC, bringing traffic to a halt. The march headed back to McPherson Square with plans to meet the next day.
Other protests also kicked off around DC, including a protest involving hundreds of people took place downtown, where police used pepper spray and attacked the march.
In Chicago, some 2,000 people took to the streets downtown, starting with a 3 pm rally at Daley Plaza, where the "NO!" signs from RefuseFascism.org were everywhere. Six hours later, people were still going throughout downtown, shutting down business as usual. Students from the University of Chicago and University of Illinois walked out and joined the protests. There were many high school students—many Latino youths, mainly from Chicago but also from the suburbs. A group of Latinos came from a public school military academy, and hundreds walked out of a high school in a Mexican neighborhood. There were people of all ages and nationalities—and young and older women planning to also march in the women's march next day. The passers-by and tourists were vocally supportive, some high-fiving leafleters passing out Refuse Fascism's call for people to stay in the streets until the fascist regime is stopped.
As people from the afternoon rally took to the streets, many people joined in and merged with other protesters near Trump Tower. At the height of rush hour, protesters occupied major streets in front of the Trump building, where police tried to pen them in. Radio traffic reports read out loud the banner saying "Trump/Pence regime are illegitimate fascists." The marchers took off in different directions, snarling traffic all over downtown during rush hour. There were multiple roving groups of protesters, making the police scramble, and their constant sirens and flashing blue lights as they tried to cut off groups of protesters called a lot of attention to the fact that something big was going on. The police were vicious at times, attacking people and violently arresting some protesters, as well as running into people with their bikes. In the face of this, there was great resolve to stop Trump. Downtown and shopping area streets were shut down multiple times. One particularly tenacious group made it onto Lake Shore Drive, a major thoroughfare in the city, shutting it down for over 40 minutes as literally hundreds of police on bikes on foot, and in cars with sirens blaring, raced to try and stop them.
In Berkeley, CA, hundreds of Berkeley High School students who walked out marched on to the University of California Berkeley campus to join the rally of 5,000 against Trump.

In Oakland, CA, some 3,000 people marched from UC Berkeley through Oakland streets. One chant: "Ole, ole, ole, ole, Fuck Trump, Fuck Trump!" The International Longshore and Warehouse Union (ILWU) shut down the port for the day.
In San Francisco, CA, protesters started early Friday morning to block the gates of the ICE (the federal immigration agency) offices in San Francisco, calling out Trump-Pence fascist program targeting immigrants as well as women, Muslims and others, and hundreds of anti-Trump protesters marched in financial district
In Los Angeles, thousands of people in a number of different protests marched in the rain against Trump, converging at City Hall. One protestor said, "This is not the same thing as any other time in history where you've had a new president. As a teacher, I feel like we're in a lot of danger here."
In NYC, an event at Whitney Museum as part of the nationwide #J20 Art Strike. Artists, writers and others spoke of their "plans for acts of creative resistance to the toxic political climate surrounding the ascendance" of Donald Trump, and dozens of Refuse Fascism activists protested at Trump Tower.
In Denver, CO, hundreds of people marched through downtown Denver Friday morning, carrying cash-leaking effigies of Trump and signs against his attacks on rights.
In Austin, TX, thousands, including University of Texas and high school students, marched and rallied against Trump, including completely filling and shutting down the Congress Avenue Bridge. In the evening a diverse crowd of thousands rallied and marched for hours through downtown, and there was a rally for LGBTQ rights which drew about 1,000 people at the state capitol building.
In Boston, MA, hundreds of protesters marched and rallied in the downtown area. Anti-Trump slogans were heard in different languages, including English, Spanish, Portuguese, Vietnamese, and Chinese.
In Portland, OR, thousands gathered at Pioneer square to hear speakers addressing climate change, immigration and civil rights. American flags were burned. A march headed toward City Hall.
In Eugene, OR, 100 or more protesters took to the streets.
In Tucson, AZ, protests coalesced at a railway, which was blocked with pallets, and protesters rallied in support. Police pepper sprayed and beat one young protester.
In Columbus, OH, hundreds of students at Ohio State University walked out of classes and rallied on campus. In the city of Columbus, thousands protested.
For reports of protests around the world on Inauguration Day, click HERE
Washington, DC
WATCH: One of the first acts of resistance with #AllofUs against the new Trump administration as he took the oath of office. pic.twitter.com/cWNjnHkYI3

— #AllofUs (@TimeForAllofUs) January 20, 2017
In the middle of the inauguration, six activists from AllofUs stood up, revealing the message "RESIST" across their t-shirts. They said they did this "to show the world, and our fellow Americans, that the resistance starts now."

Taking over Highway I395 (The Beltway) in DC, January 20.

Stopping traffic on the Beltway. Photo: Special to revcom.us

Photo: Special to revcom.us

Sunsara Taylor: Message for the people of the world

People from Black Lives Matter chain themselves to protest Donald Trump, Washington, DC, January 20. (Photo: Sipa via AP)
Chicago
Marching on Michigan Avenue
Students
Berkeley/Oakland
San Francisco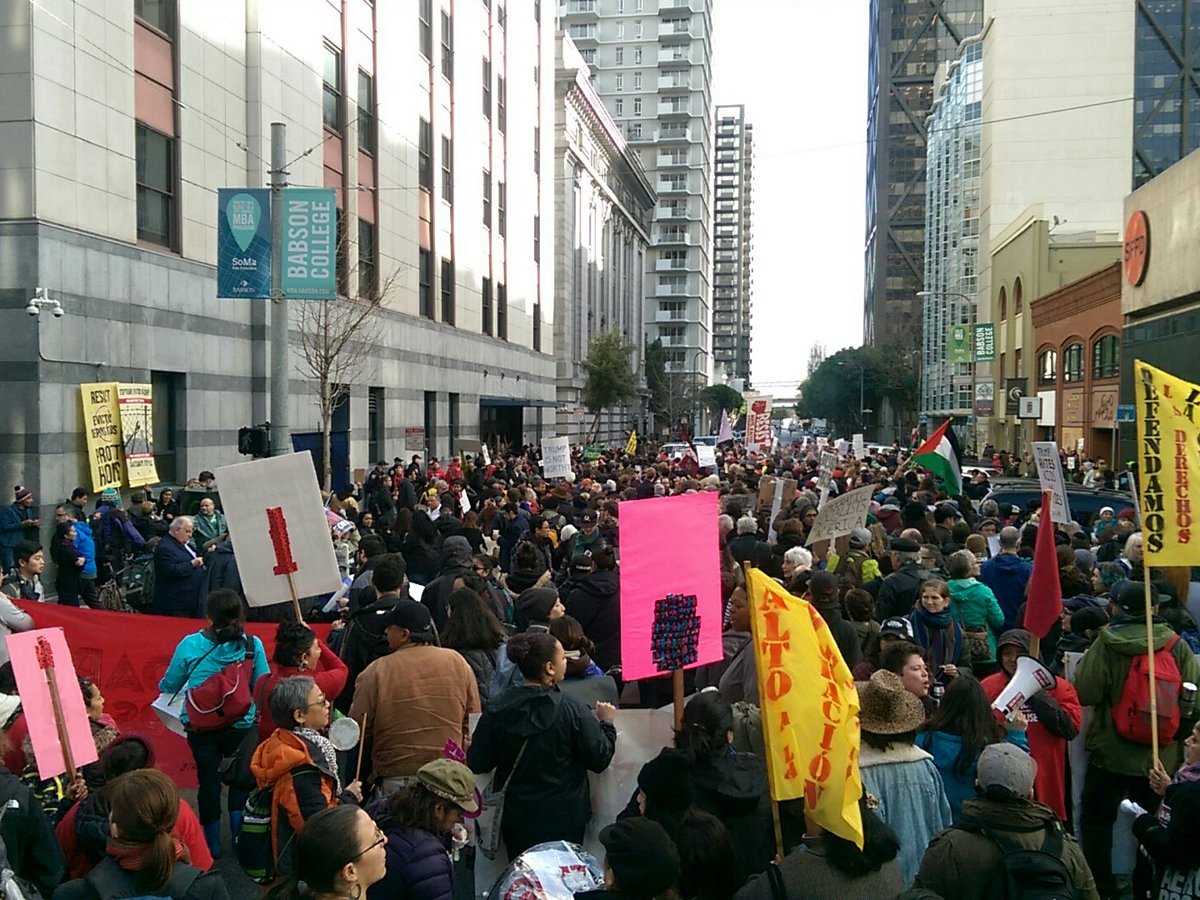 Los Angeles
New York City
Whitney Museum
Refuse Fascism protest outside Trump Tower in NYC
Denver, Colorado
Boston
Eugene, OR
Tucson, AZ
Portland, OR
Austin, Texas
Columbus, Ohio
Hundreds of students at Ohio State University walked out of classes and rallied on campus
Volunteers Needed... for revcom.us and Revolution
If you like this article, subscribe, donate to and sustain Revolution newspaper.