ICE Agents Arrest "DREAMer" After She Speaks at a Press Conference
March 3, 2017 | Revolution Newspaper | revcom.us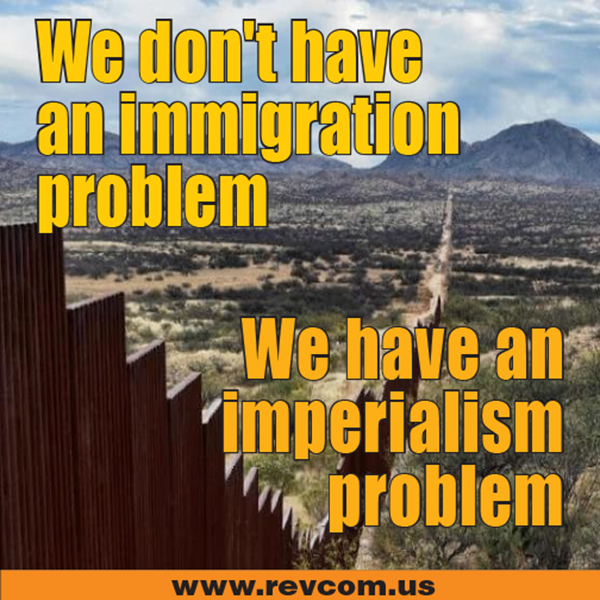 In a vicious act of intimidation and reprisal, Immigration and Customs Enforcement (ICE) agents arrested a 22-year-old DREAMer on March 1, shortly after she spoke at a press conference held by attorneys, churches, and the Mississippi Immigration Rights Alliance in front of city hall in Jackson, Mississippi.* These ICE goons waited till Daniela Vargas and a friend were on their way home, and then pulled them over and arrested Daniela on the side of the road.
Vargas, who came to the U.S. from Argentina when she was seven years old, shared her horrific story of watching her father and brother be arrested by ICE a month ago. According to a report in the Clarion Ledger, Vargas saw her father in handcuffs and was questioned by the agents about his immigration status. She went inside her home, locked the doors, and hid in her bedroom closet. Five hours later, ICE agents smashed down her door supposedly looking for drugs and guns. "They started hollering out my name and pointing guns at me…. During that time, I couldn't even breathe…. I was scared for my life."
At the press conference Vargas spoke out on behalf of all undocumented immigrants: "The path to citizenship is necessary for DACA recipients but also for the other 11 million undocumented people with dreams." Vargas was in the process of renewing her DACA deferment for the third time when she was arrested. 
Not the Only DREAMer to be Targeted by ICE
Daniela Vargas is not the first DREAMer to be arrested by ICE since the Trump/Pence regime unleashed their fascist assault on immigrants. One of Trump's first executive orders banned people of the Muslim religion from traveling into the U.S. from seven predominantly Muslim countries, including people who were legally in the U.S. and happened to be traveling overseas when Trump issued the ban. Then Trump/Pence unleashed their immigration police to carry out a nationwide wave of immigration raids, based on sweeping new guidelines from Homeland Security which made every undocumented immigrant a target.   
Among the first group of immigrants arrested and thrown into detention centers or deported directly was Daniel Ramirez Medina, arrested in Seattle and taken to a detention center in Tacoma, despite qualifying for DACA and having a legal work permit. Medina has no criminal record, but Homeland Security has claimed his arrest was based on a supposed gang affiliation, which he denies.
Bob Avakian, "Why do people come here from all over the world?"
The Orange County Register reported that 22-year-old Jesus Alonso Arreola Robles, who lived in the L.A. area and also qualified for the DACA program, was arrested on February 12. His lawyer, who could neither find Jesus nor talk with him for 10 days—was shocked by the silence of ICE officials and by then discovering that Jesus had been sent to a detention prison in Folkston, Georgia. He said:
I'm an attorney. He's in the United States. He has due process rights. He has a right to counsel. He has a right to be represented. I have a right to have access to my client. I haven't been able to get a live person on the phone that can actually tell me exactly where he is. That's something I haven't seen in my entire career. 
Jesus—who has no criminal record and was riding with a 17-year-old friend near the California border with Mexico when he was arrested—is being accused by immigration officials of trying to "smuggle" someone into the country.
"They told me… there were no second chances with Trump" 
And a 19-year-old Honduran art student, Josue Romero, with a work permit through DACA, was arrested by San Antonio, Texas police February 14 for marijuana possession as he was leaving a park where he'd been skateboarding. Instead of being released on $800 bond as other people usually are, he was arrested by ICE agents and taken to a detention prison. Romero told the Daily Beast that ICE told him he would be deported quickly.  "They told me within the next week I would be flying to Honduras… even when I asked about DACA, they told me there was nothing I could do, that there were no second chances with Trump." 
Romero was released from detention after two days but has been put on supervision and must report to ICE authorities. "I can't describe how I feel. I just want to break down and cry. I was kind of devastated, because I've never known a life outside of San Antonio."
With each of these arrests of DREAMers there is growing alarm among immigrant rights groups and attorneys, as well as the young people themselves who have given all of their ID information to the government in exchange for the temporary protection from deportation of DACA. They are concerned that the Trump/Pence regime is going to "drop the hammer" and turn loose their immigration wolves—with their greatly expanded powers and their DACA lists—to come after all of them. They are alarmed with good reason. In this situation, to "wait and see" what Trump and his core of anti-immigrant, "America First" fascists will do would be a crime, and a disaster. There is no barrier preventing them from ending DACA protections tomorrow if they decide to do so.
The statement by Daniela Vargas before she was arrested is an important place to start: "The path to citizenship is necessary for DACA recipients but also for the other 11 million undocumented people with dreams." As we wrote recently, in "Living in a State of Terror: Millions of People in the Crosshairs of Trump/Pence Regime's War on Immigrants":
The reality is this: We are now living in a country where a whole section of people, in their millions, has suddenly been officially declared criminals. Eleven million—fathers, mothers, children, grandparents, friends, co-workers, and colleagues—all are now being forced to live their lives "on the run." They have all been told they must turn themselves in to the authorities or wait to be captured. They are being compelled to prepare to leave the country they have lived in for years, perhaps their entire lives, and be sent to a country they do not know or were forced to flee.

We cannot keep our own humanity if we don't fight for the humanity of these millions now under immediate attack. We refuse to accept a fascist America!
---
*The term "DREAMer" now refers to someone who qualifies for DACA, a 2012 executive order by Obama that allows undocumented immigrants who came to this country as minors to have their deportation delayed for two years (and the delay can be renewed). DACA also gives them a permit to work legally, enables them to get a social security card, and more. It does NOT give them legal status. For a decade before DACA, a bill called the "Dream Act" was submitted repeatedly in Congress but never passed. It would have provided a pathway to citizenship for this same section of young people if they went to college or enlisted in the military. [back]
Volunteers Needed... for revcom.us and Revolution
If you like this article, subscribe, donate to and sustain Revolution newspaper.