May Day 2017: Tens of Thousands Across the U.S. March Against Trump, in Defense of Immigrants
Updated May 2, 2017 | Revolution Newspaper | revcom.us
In every imperialist country, with the U.S. leading the way, immigrants are demonized and persecuted, and whole peoples are denied their basic humanity and their rights.

From "With the fate of the whole world in the balance, Humanity Needs Revolution and the New Communism!"
The racist vilification, targeting, and persecution of immigrants and refugees have been a leading edge of the Trump/Pence fascist program. On May 1, tens of thousands stepped into the streets in many cities and towns across the U.S. to oppose those assaults, and in opposition to Trump and his regime.
In Los Angeles, the largest of several actions taking place in the city was a march starting at MacArthur Park, in the heart of the Latino immigrant community, and ending at City Hall, with the march stretching block after block. More than 30,000 people converged downtown, according to some news reports.
Thousands turned out in Milwaukee, where, according to one report, they filled the entire 6th Street Viaduct. Among those in the march were students from a couple of local high schools. One of the main demands was for the ouster of Sheriff David Clark, ultra-reactionary upholder of brutalization of Black people and police cooperation with ICE anti-immigrant repression.
More than 4,000 people marched in the rain in Grand Rapids, Michigan, where, according to the New York Times, large sections of the city's Latino community were shut down, with "Bakeries, markets, restaurants and clothing stores ... shuttered for the day out of solidarity or for lack of workers."
More than 5,000 marched in Chicago, and there were marches in other larger cities. People were also out in the streets in smaller communities. According to the New York Times, "In Homestead, Florida, where immigrant farmworkers keep fields of zucchini, beans, cherry tomatoes and okra growing, over 1,000 people marched from a park to City Hall."
There were over a dozen May Day protests and events in the San Francisco Bay Area alone. In San Francisco, hundreds protested at the U.S. Immigration and Customs Enforcement (ICE) headquarters in the morning, as scores of people blocked driveways chanting "No ban, no raids, no walls—sanctuary for all." Later in the day, more than 5,000 joined the "Day Without Immigrants" march, taking over the city's main downtown street, Market Street, for many blocks. Across the Bay, in the largely Latino Fruitvale district in East Oakland, students who walked out of a number of high schools were part of a march of over 3,000 that included a broad range of people of different nationalities, including Black people standing against the attacks on immigrants.
Seventy women at ICE's Northwest Detention Center near Tacoma, Washington, chose May Day to join an ongoing hunger strike by other detainees there. In New York, NYU students left classes demanding the university become a sanctuary for immigrants, and a protest took place at an immigration court. Hundreds of people from across New Jersey rallied at Liberty State Park in Jersey City.
Protests were also held in Philadelphia; Boston; Washington, DC; Raleigh, North Carolina; Jersey City and Newark, New Jersey; Portland, Oregon; Houston, Texas; and many other cities. They included immigrant and civil rights groups, labor organizations, the movement for a $15 minimum wage, faith groups, community organizations, and immigrants from countries around the world.
People working with Refuse Fascism brought "NO! In the Name of Humanity, We REFUSE To Accept a Fascist America!" to many of the demonstrations in the larger cities. And Revolution Clubs had an important presence in marches in Chicago, New York, and other cities.

Philadelphia, PA. Photo: @ericopinion.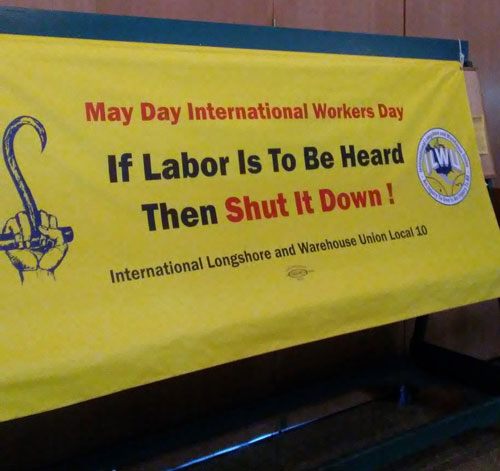 International Longshore and Warehouse Union called for May Day Strike on the West Coast. Photo: @SFRefuseFascism.jpg.

May 1 at Liberty State Park in New Jersey. Immigrant laborers and labor unions attended the rally, focusing on defending the rights of immigrants. Photo: @darianworden.

Revolution Club, New York taking out Bob Avakian's The New Communism, talking with people about the new synthesis, in the midst of the New York gatherings. Photo: Special to revcom.us.

Milwaukee, WI.Thousands came together in Milwaukee from a dozen cities to march on May 1, declaring that society can't function without immigrants, with a sharp edge of anti-Trump sentiment and demanding "Stop the Raids," stop the deportations, and stop tearing apart families. Many local businesses closed in solidarity, and some entire workforces came together. Some local high schools sent large contingents of students, who joyously brought the noise. One popular chant was: "No hate, no fear, immigrants are welcome here!"
The marchers were overwhelmingly Mexican/Spanish-speaking from every age group, with many white progressives and religious forces present. A main demand was the removal/indictment of the hated Sheriff David Clarke, an unapologetic brutalizer and killer of Black people, and second only to former Phoenix, Arizona, Sheriff Arpaio in demonizing immigrants and calling for ICE-ifying the police. People selling Revolución got out 500 copies, while putting a large Refuse Fascism banner in others' hands to carry, as dozens more took up the NO! posters.
Photo: Voices de la Frontera.

Seattle, WA. Several thousand marched especially in defense of immigrants. Photo: @mtaylorcanfield.

Washington, D.C. Photo: La Jornada, Mexico.

Eugene, Oregon

Thousands marched and rallied in downtown Los Angeles on May Day. The focus was to protest the policies of the Trump/Pence regime and call on people to "Resist." One march started at MacArthur Park, in the heart of the immigrant community, and ended at the Grand Park across from City Hall. It was the largest of several marches that took place in Los Angeles on May Day. Separate contingents of labor unions, political organizations, and immigrant rights groups, as well as groups of non-affiliated people, chanted all the way along the march. The mood of the crowd was celebratory for May Day, but also very serious in opposing the attacks on immigrants, Muslims, women, Black and Latino people, and health care. There were signs supporting Los Angeles as a sanctuary city. The prospect of war and the opposition to war were in the mix. The Refuse Fascism contingent was joyous, exuberant, and defiant as they loudly chanted all 2.3 miles. It was led by a person acting as a drum major and dancing through the streets. The NO! signs were seen throughout the march and in many of the contingents. Photo: @mikehudema.

Isabel Cardenas speaks at May Day 2017 in Los Angeles.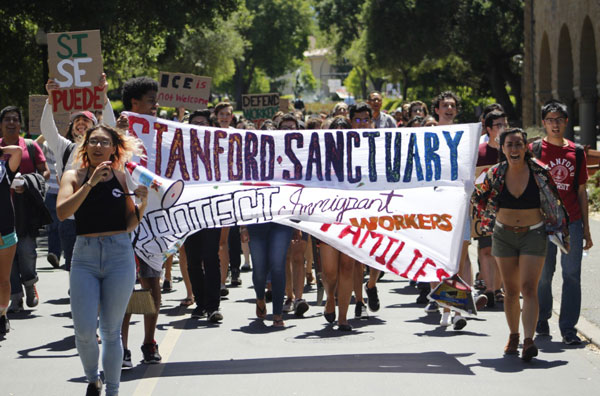 Students marched at Stanford University in California, proclaiming it a "sanctuary" for immigrants. Photo: @chicodechiseme

May First began in the Bay Area at 8 am when about 300 people blocked the gates at the ICE headquarters in San Francisco, saying they would not stand by quietly while our immigrant brothers and sisters are deported. The Longshoremen, with a long militant history of marking May Day, held a Workers March at which Refuse Fascism spoke. In all, over 5,000 people gathered for a "Day Without Immigrants" march, including a large number of immigrants, contingents of labor unions, and different political groups. Many students, including some who walked out of high school, carried signs saying their parents were immigrants. The march was boisterous with Aztec dancers, brass bands, and many homemade signs, including "No Ban, No Wall. If They Build a Wall, We'll Build a Tunnel." There were also signs denouncing police brutality and other issues. A Refuse Fascism contingent galvanized a sentiment that the Trump/Pence regime represents a fascist agenda and needs to be driven out, and the NO! signs could be widely seen throughout the march. The march completely filled Market Street in downtown San Francisco for many, many blocks.

Los Angeles - Refuse Fascism led a contigent as part of the march. Photo: Special to revcom.us.

San Francisco - painting the street "No Ban / No Wall / RESIST". Photo: @Brook Anderson

New York Foley Square. Photo: Special to revcom.us.

More than 5,000 people marched through the streets of Chicago for May Day as part of the Rally for Immigration. The crowd was overwhelmingly made up of Mexican and other Latino people, with a large presence from the Puerto Rican community as well as immigrant rights groups, environmentalists, teachers and other organized labor groups, and more. Many of the high school students carried Mexican flags. Refuse Fascism and the Revolution Club each had very visible contingents. One of the feeder marches met at Cook County Juvenile Detention Center and organizers called it a "protest of the criminalization of young people of color." Many Chicago businesses in Latino neighborhoods closed so their workers could march. One business posted on its Facebook page: "We oppose the criminalization of immigrants! We all have rights that we are going to exercise!" Photo: @BernieCrats
The Revolution Club Chicago impacted people with their banners and agitation. They chanted and agitated throughout the march, challenging people to get into the revolution, become a part of the Revolution Club, and take up the scientific understanding of Bob Avakian, Chairman of the Revolutionary Communist Party. Photo: Special to revcom.us

Oakland, California. Early on May 1, several people were arrested protesting at the office of the Alameda County sheriff, who is cooperating with ICE deportations. Students at many high schools had walkouts (above) and joined the main rally and march of over 1,000 people at 3 pm in the largely Latino Fruitvale district in East Oakland. There were groups representing Mexican, Vietnamese, Chinese, Filipino, and Arab immigrants in the march. The Oakland march also had a significant number of Black people who took part to stand with immigrants. Several groups were organizing migra watches and had a training session at the rally. Photo: Special to revcom.us.

Washington D.C., May 1st. Thousands of immigrants and labor unions marched outside the White House. Photo: AP
Volunteers Needed... for revcom.us and Revolution
If you like this article, subscribe, donate to and sustain Revolution newspaper.