Hundreds Protest Trump's Return to NYC as Fascist President
May 4, 2017 | Revolution Newspaper | revcom.us

Hundreds confront Trump in New York City. Photo: revcom.us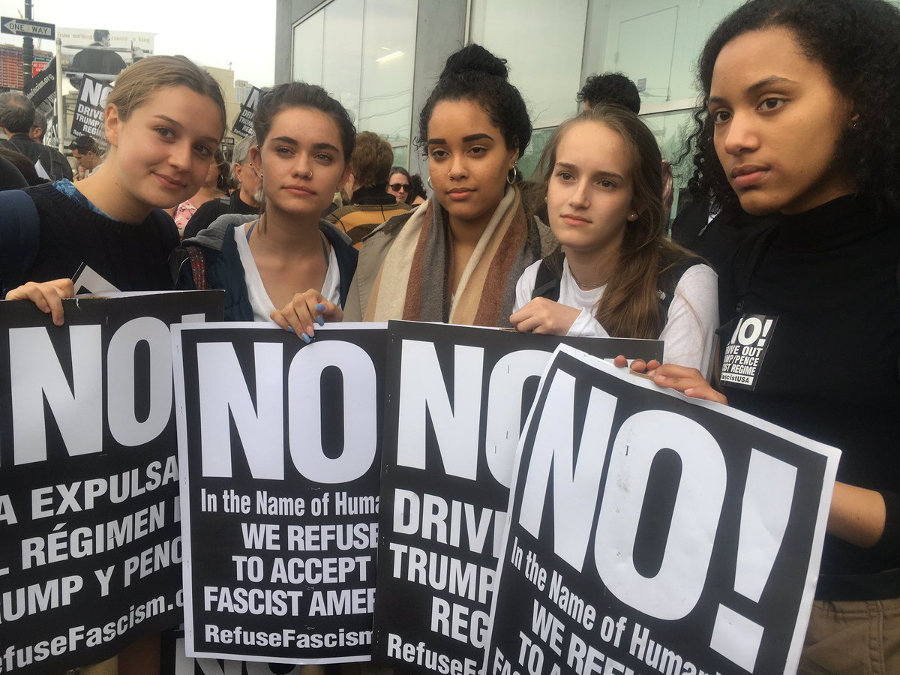 Beacon High School students. Photo: RefuseFascism.org

Construction workers protest Trump. Photo: @MaketheRoadNY

Staten Island ferry banner: #NOTRUMPNYC. Photo:@WorkingFamilies
May 4—On Donald Trump's return to New York City for the first time since becoming president, hundreds came out to express their anger at the Trump/Pence regime's fascist attacks on immigrants, women, health care, the LGBTQ community, and more. The main demonstration was organized across from the Intrepid—a U.S. aircraft carrier that is now a "Sea, Air & Space Museum" on Manhattan's West Side—where Trump gave a speech. The police kept people penned in along the edge of an entire block of the street. Drivers in cars and trucks going by honked their horns in support almost constantly, for hours. One of the main organizers was Rise and Resist, NYC—last month, 26 of their members were arrested inside Trump Tower after dropping a banner to condemn the crimes being carried out against immigrants. A large group from Refuse Fascism was also there, helping to lead chants and with a huge NO! banner and dozens of NO! signs that were taken up by the crowd.
One protester, a U.S. military veteran and daughter of a Honduran immigrant, came with a group called #VetsVsHate, made up of veterans "who won't tolerate the politics of bigotry." Underlining the gravity of the situation, she said, "We're in an era where popular fascism is a global epidemic." There were close to a dozen high school students there from Beacon High School in Manhattan. One of the students said, "These are scary times. As a woman, and as a feminist, I'm afraid for our rights." Another said, talking about the immigrants in their school, "I just want them to know that we're here for you. We fought this long battle for civil rights. We thought we'd changed all these rights we thought we were going to have. And we're not, we're going back in time…. We need to show that we still care, and that our voice isn't lost."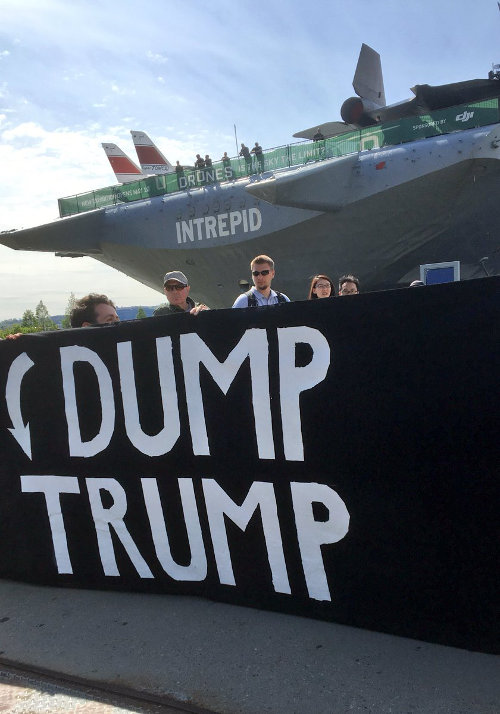 Banner raised where Trump spoke at the Intrepid. Photo:Twitter/@smilyus

Vets protest Trump. Photo: revcom.us

Volunteers Needed... for revcom.us and Revolution
If you like this article, subscribe, donate to and sustain Revolution newspaper.