Bob Avakian on Breaking ALL the Chains
November 20, 2017 | Revolution Newspaper | revcom.us
"Look at all these beautiful children who are female in the world. And in addition to all the other outrages which I have referred to, in terms of children throughout the slums and shantytowns of the Third World, in addition to all the horrors that will be heaped on them—the actual living in garbage and human waste in the hundreds of millions as their fate, laid out before them, yes, even before they are born—there is, on top of this, for those children who are born female, the horror of everything that this will bring simply because they are female in a world of male domination. And this is true not only in the Third World. In 'modern' countries like the U.S. as well, the statistics barely capture it: the millions who will be raped; the millions more who will be routinely demeaned, deceived, degraded, and all too often brutalized by those who are supposed to be their most intimate lovers; the way in which so many women will be shamed, hounded and harassed if they seek to exercise reproductive rights through abortion, or even birth control; the many who will be forced into prostitution and pornography; and all those who—if they do not have that particular fate, and even if they achieve some success in this 'new world' where supposedly there are no barriers for women—will be surrounded on every side, and insulted at every moment, by a society and a culture which degrades women, on the streets, in the schools and workplaces, in the home, on a daily basis and in countless ways."
BAsics 1:10

NYC. Photo: Enbion Micah Aan

Sri Lanka, 2004. Photo: Mukai
"It is a striking fact—which is starkly evident in the U.S. now—that, in comparison to what is done to women, there is no other group in society that is so systematically reviled and defiled in a way that has become acceptable (or widely accepted in any case) as a significant part of 'mainstream' life and culture, as happens in a concentrated way through pornography and the extremely demeaning and degrading images and messages about women it massively and pervasively purveys (with the Internet a major focus and vehicle for this), including pornography's extensive portrayal of sadistic and violent sexual domination of women...
"I began the 'Revolution' talk with 'They're Selling Postcards of the Hanging,' reviewing the ugly history of the lynching of Black people in America and the way in which celebration of this became a cultural phenomenon in the U.S., with the selling of picture postcards of these lynchings a major expression of this—often including smiling and leering crowds of white people surrounding the murdered and mutilated body of a Black man. In a recent exchange, a comrade emphasized this profoundly important and compelling point: Today, the way in which pornography depicts women—the displaying of women in a degraded state for the titillation of viewers—including the grotesque brutality and violence against women which is involved in much of this, is the equivalent of those 'Postcards of the Hanging.' It is a means through which all women are demeaned and degraded."
Bob Avakian, Unresolved Contradictions,
Driving Forces for Revolution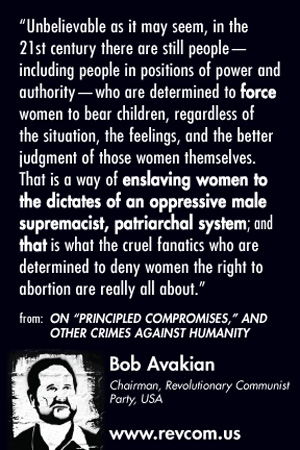 "This brings up one very important factor in all this: the positive side of unresolved contradictions under socialism—the bringing to the fore of driving forces for revolutionary transformation in the socialist stage—forces on the cutting edge of contradictions that are coming to the fore as decisive questions in terms of whether society will be moved forward or dragged backward. A very important aspect of all this is the woman question, the struggle for the complete emancipation of women. This will be a decisive question giving rise to crucial struggle throughout the socialist period.
"Along with this are other divisions and inequalities left over from the old society....Unleashing all these forces [related to these unresolved contradictions in socialist society] to speak out, rally forces, raise criticism, and rise in rebellion can be risky and messy. But such mass upheaval is no less essential under socialism than it is under capitalism. And certainly this is not something communists should fear!"
BAsics 2:25

New Delhi, India, December 2012, rising up against the epidemic of rape.
Photo: AP
"You cannot break all the chains, except one. You cannot say you want to be free of exploitation and oppression, except you want to keep the oppression of women by men. You can't say you want to liberate humanity yet keep one half of the people enslaved to the other half. The oppression of women is completely bound up with the division of society into masters and slaves, exploiters and exploited, and the ending of all such conditions is impossible without the complete liberation of women. All this is why women have a tremendous role to play not only in making revolution but in making sure there is all-the-way revolution. The fury of women can and must be fully unleashed as a mighty force for proletarian revolution."
BAsics 3:22
In contrast to today's world culture, which degrades women as weak or as sex objects, in socialist China during the Cultural Revolution operas and ballets put the masses on stage front and center, with women as physically and ideologically strong central characters.
"This takes us back to the very important point from 'The End of a Stage—The Beginning of a New Stage' about unresolved contradictions under socialism. What is said there is another way of expressing the understanding that the struggle for the complete emancipation of women will be a crucial part of 'the final revolution.' In other words, it will be a crucial component in propelling and driving forward not only the revolutionary struggle to overthrow the rule of capitalism-imperialism but to continue the revolution, within the new, socialist society itself, in order to advance on the road toward the final aim of communism. The point is that, among the unresolved contradictions which will remain in socialist society, and which can be a driving force propelling that revolution forward, the continuing ways in which the emancipation of women will need to be fought for and fought through will be one of the most decisive aspects and expressions of that."
BAsics 2:30
"In many ways, and particularly for men, the woman question and whether you seek to completely abolish or to preserve the existing property and social relations and corresponding ideology that enslave women (or maybe 'just a little bit' of them) is a touchstone question among the oppressed themselves. It is a dividing line between 'wanting in' and really 'wanting out': between fighting to end all oppression and exploitation—and the very division of society into classes—and seeking in the final analysis to get your part in this."
BAsics 5:18
"Marx and Engels said in the Communist Manifesto that the communist revolution represents a radical rupture with traditional property relations and with traditional ideas. And the one is not possible without the other. They are mutually reinforcing, one way or the other.
"If you have a society in which the fundamental role of women is to be breeders of children, how can you have a society in which there is equality between men and women? You cannot. And if you don't attack and uproot the traditions, the morals, and so on, that reinforce that role, how can you transform the relations between men and women and abolish the deep‑seated inequalities that are bound up with the whole division of society into oppressors and oppressed, exploiters and exploited? You cannot."
From "Three Alternative Worlds" supplement in BAsics
Includes "The New Synthesis and the Woman Question: The Emancipation of Women and the Communist Revolution—Further Leaps and Radical Ruptures," Part III of Unresolved Contradictions, Driving Forces for Revolution (2009). (p 18)
Read/Download PDF HERE.
Volunteers Needed... for revcom.us and Revolution
If you like this article, subscribe, donate to and sustain Revolution newspaper.