Refuse Fascism, initial dispatches from Oct 26:
We Began, Taking History Into OUR Hands
#OUTNOW! Goes Nationwide
Fascist Threats Continue in Los Angeles
| revcom.us
Reposted from RefuseFascism.org:
RefuseFascism began a press release on the night of October 26 that summarized the significance of the first day of nationwide OUTNOW! protests:
The #OUTNOW movement, initiated by RefuseFascism.org and aiming to drive out the Trump/Pence regime, spread nationwide in protests held in over a dozen cities this past weekend. The movement was launched last weekend with protests in New York City and Los Angeles, with the New York rally addressed by Cornel West and RefuseFascism.org national spokesperson Andy Zee, who called for five weeks of protest to spark the kind of movement that is taking place in countries around the world from Hong Kong to Chile. The Los Angeles protest went forward last week and rallied again this week in the face of a serious attack by over a dozen fascist thugs armed with flagpoles and potentially lethal bear mace sprayed directly in the face of leaders of RefuseFascism.

This weekend, hundreds marched nationwide to answer the #OUTNOW! call with over 100 in New York, 80 in LA, and scores elsewhere. People spoke and marched with a fierce determination to break with passivity in the face of fascism, to refuse to be lulled by talk of normal procedures and pendulum swings, and to drive this regime out now.
It went on to say that:
In Los Angeles the fascist thugs returned and delivered a chilling message. #OUTNOW! arrived at the site of the rally to find 40 images of the Iraq War veteran and member of the LA Revolution Club and RefuseFascism.org, Bo Login, ominously stapled to trees—evocative and symbolic of lynching.
Since the time of the press release, RefuseFascism learned that in the same location, people found leaflets scattered around that denounced socialism and communism and which were scrawled with the threateningly defaced names of BA (Bob Avakian, the revolutionary leader whose analysis of rising fascism laid the theoretical foundation for many who spearheaded the initiation of RefuseFascism.org), and Andy Zee, a follower of Bob Avakian and co-initiator and leader of RefuseFascism.org. And on Sunday, the day after the protest, the same park was defaced with spray-painted swastikas.
As the RefuseFascism press release states:
This brought home that what is happening and must be stopped is a fascist movement in America in the White House, the Republican Party, in large sections of the judiciary and with a fanatical virulent thuggish movement unleashing violence against the people. In some cities people immediately took up the chant "We Stand With Bo! The Trump/Pence Regime Must Go!
By coming back stronger in the face of last week's attack, the LA chapter of RefuseFascism.org and #OUTNOW has set a good standard. A challenge is now posed to take this even further—both in LA as well as all across the country—turning this vicious attack into a means through which to rally even more people to stand up and join the fight.
The spirit, the conviction of being on the right side of history, and the determination to fight for the mission of #OUTNOW were evident in all the #OUTNOW protests—from those organized by people new to the struggle in small cities and towns as well as in the big cities.
As of Sunday, we know of protests in 13 cities from Boston to Honolulu. In Cleveland, a group of five marched 2.5 miles to meet the rally from Lake Erie—blasting music and chanting and dancing while reaching out to the people. In San Francisco, a group of members of the First Unitarian Universalist Society read the names of the seven children who have died in U.S. immigration custody and pledged to be in the streets demanding "Trump Pence Out Now!" In Boston, the protest ended in a moving visit to the New England Holocaust Memorial, which underscored for everyone the import of what they were doing.
In New York City, an art student gave voice to the sentiments of many when she insisted that no one else is going to do it for us, it is up to the people to drive out the fascists in the White House. She went on, "I'm from Puerto Rico, and this summer I saw what happens when everybody comes out into the streets. I felt that. It was one of the most beautiful things that I have lived in my life, and more than anything I want the same for here. I want to be able to see that in the United States of America."
The #OUTNOW! movement and protests, while nascent and relatively small in size, were notable for the diversity of backgrounds and political viewpoints of the people who spoke with passion and substance on the vicious criminal and fascist character of the regime, and the need to drive it out, NOW. Everywhere, people got the point and were inspired by the chant: "Puerto Rico, Hong Kong show us how, Trump and Pence Out Now!"
Along the march routes, enormous smiles broke out on the faces of passersby, and many cars honked in support. Yet, for all the enthusiastic support, too many people did not yet feel compelled to join in. What is keeping these kinds of people from actively joining into the #OUTNOW movement? To what degree do people not understand the catastrophic danger posed by this regime—or think it "can't happen here"? To what degree do people see this danger, but think there is some other way—besides a massive nonviolent struggle from below—that can stop it? What about fear? To what degree are people simply stuck in thinking about themselves first, or America first? And what will it take to transform all this?
In several places, people got together afterward to begin to wrestle with all this—and to grapple with how to build this movement into the thousands in the next weeks, to be a core of a movement that aims to inspire ultimately millions of people to take up #OUTNOW! from many different perspectives united around the single unifying demand: The Trump/Pence Regime Must Go—NOW! It will be critical for people across the country to join in working together in an ongoing way to understand more fully what is holding others back from joining in this movement and to make advances in transforming this through struggle.
Speaking in front of Trump Tower, where #OUTNOW! protesters young and old held up giant letters that spelled out #OUTNOW!—with a dozen or so screaming Trumpites and fascists, police, and general NY intensity—Andy Zee, national spokesperson of RefuseFascism.org, said to the OUTNOW protesters that they should recognize: "We are taking history into our hands in the name of humanity, and only the power of the people in sustained massive protest can remove this fascist regime. Every attack on those like Bo who stand up against this regime must be met with our heartfelt support and our determination to make this politically backfire on the fascist thugs who would do this, and the Trump/Pence fascist regime that inspires and commands this movement."
Protests will continue next Saturday, November 2, across the country—as well as November 9 and 16. Go here to find (or plan) a protest near you.
Register now for the next #OUTNOW Wednesday Webinar here (or you can tune in via Facebook Live at: Facebook.com/RefuseFascism).
There were protests in over a dozen cities on October 26 demanding Trump/Pence #OUTNOW! People spoke & marched with a fierce determination to break with passivity in the face of fascism.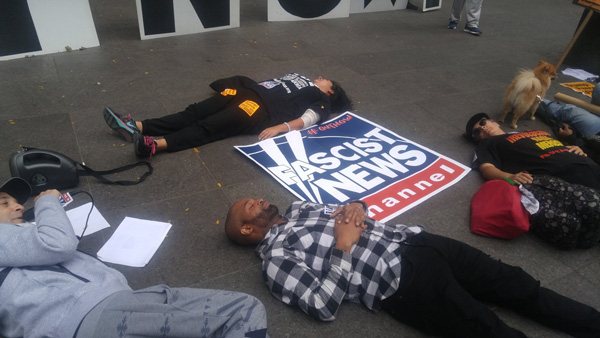 In New York, protesters stopped at Fox Fascist "News" Network, the propaganda organ for the Trump/Pence regime. They exposed the lies told by fascist mouthpieces like Tucker Carlson, Sean Hannity, Lou Dobbs, and Jeanine Pirro, and then did a "lie-in"/die-in.
Los Angeles
San Francisco
Philadelphia
Retired NYC teacher - NYC, Union Square #OUTNOW! pic.twitter.com/xFaLMoW6sS

— Trump/Pence Must Go NOW— #OutNow (@RefuseFascism) October 26, 2019
Luan from the Revolution Club, New York City.
After marching from the Mission, we ended in the Castro where the @LesGayChorusSF performed at the final #OutNow rally.

Lift up your eyes
Don't you despair
Look up ahead
The path is there

I know you're scared
And I'm scared too
But here I am
Right next to you pic.twitter.com/USkltvao0F

— RefuseFascismSF (@SFRefuseFascism) October 27, 2019
Volunteers Needed... for revcom.us and Revolution