Chicago: Scenes from Revolutionary Organizing
Today, Chicago is most famous for one thing: young Black and Latino people murdering each other. Trump made this a campaign theme, and he threatens to "send in the feds"—intensifying the police state that already brutalizes and murders youth and enforces the conditions that give birth to gang violence. His education secretary, DeVos, aims to gut the public schools even harder. She wants to confine Black and Latino children in Christian fundamentalist schools that will turn them into unthinking robots. And this will be the spear point of a whole fascist offensive against people of color. An intensifying genocide.
In April, answering a call for volunteers, people joined with the Party for a plan to radically turn this around. In short, to make Chicago famous for something else: a city where the youth who are being targeted get organized to overthrow the system that targets them. A city where youth caught up in the gang life break with it and become emancipators of humanity.
This means mobilizing youth and others against the oppression coming down but even more, right now, it means struggling with what these youth are caught up in, with how they are seeing the world and their role in that world. The Revolution Club opened a storefront organizing center this spring in one of the neighborhoods where youth are caught up in this. Shortly after it opened, 7 people were killed in 24 hours in this neighborhood—which Carl Dix spoke to in his statement, "Black People Killing Each Other in Chicago, Carl Dix Says: Get Out of This Insanity and Get Into the Revolution." This gives a sense of what urgently cries out to be done—and that this club is there on the front lines, fighting to do it.
The club has taken on the questions that they've run into through polemics—and then boiled the polemics down to stickers.
What follows are some scenes from the first few weeks of organizing.
Meeting the Leader of the Revolution
One of the first things the Revolution Club did was organize a showing of the film REVOLUTION AND RELIGION: The Fight for Emancipation and the Role of Religion, a Dialogue Between Cornel West & Bob Avakian, in a storefront the club had opened in April. Over 40 people packed into the organizing center to hear the dialogue between Bob Avakian (BA) and Cornel West, 15 or so from the surrounding neighborhood and others from around the city—on the basis of really a few days of organizing. One of the older volunteers wrote the following report:
At all points during the Dialogue,* people were really engaged with the film, often audibly engaged with it. There were 3 women in the middle of the audience who were constantly talking back to the screen, in a good way, shouting encouragement and props to both speakers. While I think at least 2 of them were religious, they really ate up BA's tearing at the Bible and the whole religious argument that people need god to be good. The Usain Bolt section really got into people's hearts and took them with it all the way up to its conclusion.

The section where he talked about us needing to live in a world where the horrors of today are gone, going through them one by one had people cheering. People were also way into the sections where he took on women's oppression, the need for people to respond to the looming Ferguson verdict and James Brown.

There were also several people, including the 3 women I mentioned earlier, who really liked his agitation re the Democrats and American savagery overall. One of these women was also audibly moved when he talked about the hell imperialism brings down on workers in Bangladesh. The same people who were moved by BA were also moved by Cornel West, including in sections of his speech where he was strongly putting forward his own views.

Briefly on the Q&A, 2 places where people were audibly moved were when BA responded to the question of why are we still fighting for justice after so many decades and we need help to deal with the way they swept up our children in raids in the projects and the question of what do you say to young people who feel they've done such horrible things they can't be redeemed. It seemed that people got that here was a revolutionary leader who was determined to lead in developing what's needed to get ready and in position to lead people all out in going for revolution with a real chance to win and determined to struggle with people to be able to be part of this revolution. And has scientifically-founded faith that people can do this, but not as they are.

It is really the case that people who were there for substantial parts of the Dialogue did meet the leader of the revolution and almost all of them developed a real respect for him. At least 3 people got the DVD of the Dialogue and a younger person there bought The New Communism.
A week and a half later, the film still reverberates. One woman came by the next day talking about the need to get the youth into science and how the film had given her the most energy she's had in months; a few days later she brought a friend over to find out about this. People have come into the organizing center, and there have been long talks in and out of the center between club members and some of the people who came. Some have drawn closer to the club; and some have marched with and agitated with it in the hood. Leading with BA—putting this revolutionary leader and what he's about in front of people and letting them interact with him—is the key to breaking open this situation and opening up people's thinking. This has to happen all over the city this summer.
* To get the references in this account, go here and watch the Dialogue. [back]
Watch the film HERE
Bob Avakian Through the Years - 1969, 1979, 2003.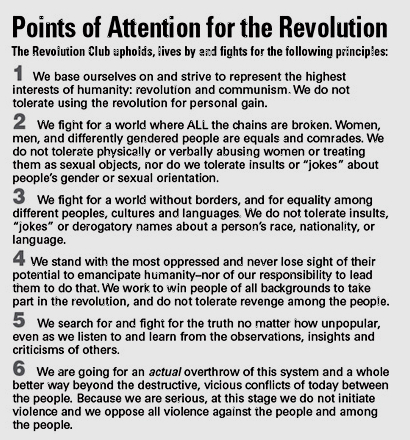 $20,000 is needed immediately to support the work being done in Chicago.
Please share the campaign on social media. Ask 5 people you know to contribute ($10 to $500 ... it all helps). DONATE GENEROUSLY NOW.
A Day in the Hood: Coming Alive Then Running Into Borderlines
From a volunteer:
The Revolution Club went out to a neighborhood to organize people into the movement for revolution. The plan was to march through as a visible disciplined revolutionary force and call on people to get out of the harmful shit that this system has got them caught up in and get with the movement for revolution. As we were getting ready to march, a couple of youth were walking by so a couple of Rev Club members went over to talk to them. We told them we were communists and that we were organizing now for an actual overthrow of this whole system. One responded, "Oh, against the government? Hell, yeah." They spoke bitterness about the fucked up conditions in Chicago and the need for something to be done.
We came back to the point that what we need is an actual revolution because those conditions they were talking about and the problems that go hand in hand with those conditions are created by a system that needs to be and can be gotten rid of, not just in Chicago but all over the world. Our only chance at changing this for the better depends on us understanding what's at the root of these problems. Bob Avakian, the leader of the revolution, has developed the understanding of that system, a strategy to overthrow it, and a program for what should replace it embodied in the Constitution for the New Socialist Republic in North America.
We pulled out a phone to show them the "BA Through the Years" video so they can catch a glimpse of the kind of leadership that exists. They laughed at the way BA went at how people get caught up in the idea that they are "regulating the corner" or thinking that this is "our hood" when the reality is that they don't own or control shit. We told them because of the work this leader has done through the course of several decades, we have a thoroughly scientific method that allows us to get at the root of what's going on and figure out the ways to change it all. What's needed is for them to step into this, to put on a shirt and march with us, to join the Revolution Club, this is where people learn the new synthesis of communism that BA has developed and learn how to apply it to the problems of the revolution.
They had raised before that a lot of people won't change or don't want to hear this, so we told them coming into this is the way that things will change. People are caught up in a lot of shit because they don't see any other way the world could be, but when they see people like them getting with the movement for an actual revolution, if they see them stepping into this and marching with the Revolution Club then that begins to change things on a level of significance that is much greater that what goes on in these few blocks and goes beyond what happens just in Chicago.
Other Revolution Club members had begun to talk to other people who were passing by and at one point decided to bring everyone together to engage with each other. This was right when the two youth we were originally talking to were about to read the six Points of Attention for the Revolution. This turned into a scene where people took turns reading each point out loud and talked about what they thought of the points.
After they read all the points out loud, one of the Revolution Club members asked them which points stood out to them. One person said Point 3, his friend said Points 1 and 4, and then the two other guys who had been brought over both said Point 2, and were kind of excited that they both thought that was important. When asked why, one person said that the disrespect and the different forms the oppression of women takes was wrong, the next guy spoke of the need for equality for gay and differently gendered people. The third person who answered then rethought what he said first and also spoke to point 2 before going on to speak to what was important in Points 1 and 4.
We posed the challenge again to step into this movement and march with the Revolution Club right then and there and spoke to the impact that this could have once again. As people were dividing out around this challenge and it looked like nobody would march, the pigs stopped to fuck with one of the masses. The Revolution Club went over to post up and make sure that the pigs didn't go and just wantonly brutalize one of the people like they're known to do.
The pigs left and we got in line to march and one of the guys we were just talking to fell into our ranks. He seemed unsure and began to fall behind when we started marching, but a Revolution Club member let him know that he's right behind him and that he should march right next to the person on his side.
We marched together, chanting and in formation for a couple of blocks when all of a sudden, the person who had just joined us stepped out and apologized to a club member and explained that he couldn't cross over to where we were going to march. That area was controlled by a different set—he feared getting shot if he went there.
The fact that people who want to step up and be about fighting for a whole new world that moves beyond all the fucked up shit that goes on in the world, feel trapped in a small piece of ground is both heartbreaking and infuriating. This also points to and poses a challenge to revolutionaries, just one more reminder that the world desperately needs change and that it is our responsibility to lead that transformation—and doing it right now.
Back and Forth: "I Get This—But Other People Won't Take It Up"
From a volunteer:
A person working out of a local shop stepped out one day as revolutionaries were out at an intersection in Chicago fighting to bring people into the movement for revolution. He'd seen us out there before and was curious about what we were doing. We told him we were revolutionary communists and that we were out to build a movement for an actual revolution, that people had uprooted their lives and came from different parts of the country because a fascist regime has seized the reins of power and is poised to take the oppression of Black people to horrific new levels, zeroing in on Chicago.
When we met this guy we were building for a film showing of Revolution and Religion... to help introduce the leadership of BA to the masses, and after watching the trailer he said he wanted to pay for a ticket, not for himself but for us to give to anybody that we ran into who seriously wanted to go. He himself couldn't make it, he argued, but he wanted to support what we were doing.
We see this kind of support as positive and significant but more is needed. This support from afar is a lot of how people want to relate to the revolution so we wanted to dig up what was standing in the way of people stepping into this movement. Some of the contradictions he raised were that people are afraid of a showdown with the repressive forces of the state, the youth are caught up in a lot of bad shit and it's hard to get them stop, or even get a hearing.
We've been doing work nearby so we've continued to drop in on this shop, and this guy has taken some things up and thrown in some to build things while continuing to not fully commit to join the Revolution Club. We went through the six Points of Attention for the Revolution with him and he bought a shirt. He called on someone going through the shop to "stand with people" and come out to an upcoming event where an important message from the revolution is going to be given, and he bought The New Communism.
Recently, while in the shop, while we were having some struggle about whether or not we could even get a hearing from people caught up in all this shit that Chicago is too known for, he pointed out someone there who is in the life and called him over. He told us that this was one of those "knuckleheads" that you can't talk to. He called the guy over and pointed to a flyer on the wall and asked him, "What do you think about this?" The response was, "Revolution? I don't know and I don't care nothing about that shit." The guy we were talking to then gestured to us as if saying, "Go ahead."
We took this on by making the point that this is about getting free and asked if that wasn't something he wanted to do. There was a whole back and forth through which it was revealed that both of them felt the same way about the shit going on, "It would be good, but it's so hard to get people to come together." The person we were working with seemed more optimistic after this exchange, in which he threw in at one point by clarifying that we were talking about freeing all people not just Black people, and agreed to help set up some meetings with other people.
Protesting 7th District pigstation for its crimes including arrest of 2 frm RC for bringing msg of rev 2 Good Friday pic.twitter.com/UKVkpydUiz

— revolution club chi (@revclubchi) May 12, 2017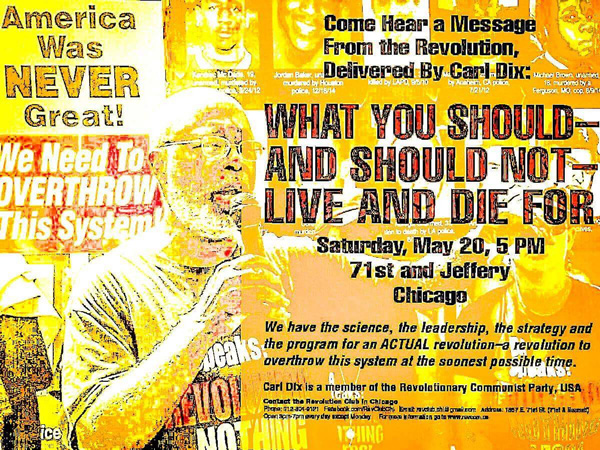 Facebook Event page
Demonstrating at District 7: We Won't Be Backed Down
The Revolution Club and supporters protested in front of the Englewood District 7 police station against the outrageous arrests of two Revolution Club members last month. This protest was in response to the arrests of two Revolution Club members at the Peace Walk led by the Catholic Church. At District 7—otherwise known as a nest of abusers, repressors, and murderers—we delivered a message: we will not be backed off the mission of organizing into the revolution the youth this system has no future for, and every time the police and other enforcers of this system try to suppress this movement, we are going to call forward more forces for revolution and get stronger in the face of it. In addition to the statement given by one of the Revolution Club leaders who had been arrested, two ministers spoke, expressing their appreciation for and support of the Revolution Club, and speaking out against the history of brutality and murder by this police district.
We marched a few blocks down to a busy intersection, gathering on the corner to bring this message to the people and leading a "speak-out" where people who had come to support got on the mic as well as some who had just been passing by. Different people said we need a revolution, with different ideas of what that means. One person said, "We will need a revolution in order to fight the superior forces of this system that are keeping us at a lack and a standstill." Another began by talking about the dilapidated neighborhoods of the South Side and the unfairness of this. He said we need a change, a revolution, and went on to broaden out to the whole history of this country, the enslavement of Africans, the slaughter of Native Americans, followed by Jim Crow, and now people being mass incarcerated. He ended saying it's time for a change.
When the protest was over, some people came to the Revolution Club office to hang out together and to talk about how to organize for the upcoming May 20th march and rally in South Shore, with a message being delivered by Carl Dix, "What you should—and should not—live and die for." At first people were in different groupings talking about different things, and then we brought people together to all talk with each other, which was a key element of bringing forward something new. One big controversy: leadership, why do you need it and what kind do you need. Someone brought up Occupy and said they couldn't get anywhere because they didn't have leadership. We got into the importance of leadership, the role of BA and the leadership he's provided, and the need for people to get into this—but summed up later we could have actually done better by putting the chapter on leadership in BAsics before people and discussing key quotes from there. There's plenty of ways to let people encounter BA and have that, uncut, set the terms.
When we came all together to talk in a bigger group, a man in his 20s spoke movingly about how he sees the club and his role in all this. He said he has seen the Revolution Club not just on the South Side but at demonstrations in other parts of the city and he feels like the Revolution Club represents the way forward. He said he kept hearing people talk about the six Points of Attention for the Revolution and wanted to know what those are. Someone handed him a copy and asked him if he wanted to read it out loud. He did and read through all six, sometimes pausing to think and briefly respond to what he was reading. At the end, he said the most striking to him were Points 2 and 3. On Point 2 he felt strongly that women are being oppressed all over the world and the need to fight to end this oppression. On Point 3 he was struck by the vision of a world without borders, which he described as artificial barriers meant to keep people in and keep people out. The power of these points as representing a whole different way came out; the room listened raptly, and some seemed to hear them in a new way. He said he wanted to think about all of these points more, but spoke powerfully about the attraction he felt toward the revolution.