Download Tweetable jpg.
In This Issue
---
by Bob Avakian
---
---
Eric Garner, murdered by New York City police, July 17, 2014.
---
by Joe Veale
---
---
---
---
---
NEW from Carl Dix: April 14 is a day when business as usual is disrupted to STOP police murder!
Right-click here to download this video to your computer.
---
Download Tweetable jpg.
"There would be no United States as we now know it today without slavery. That is a simple and basic truth."
—Bob Avakian, BAsics 1:1

---
Watch NOW!


Re-broadcast of the November 15 Simulcast
Coming in March!
A High-Quality Full-Length Film of
REVOLUTION AND RELIGION:
The Fight for Emancipation and the Role of Religion;
A Dialogue Between CORNEL WEST & BOB AVAKIAN
Trailer
Right-click this link to download the Trailer to your computer.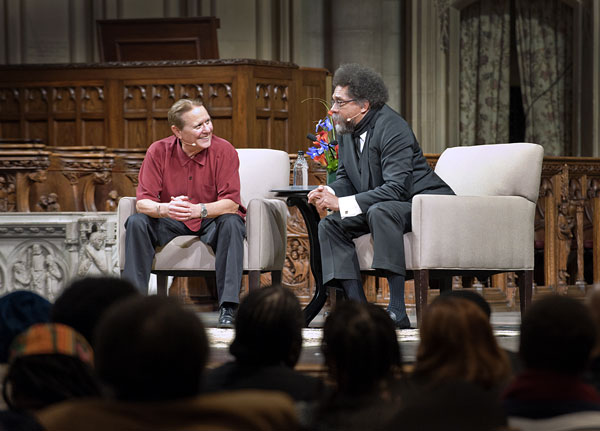 Biographies of Bob Avakian & Cornel West
Also in this issue
Struggle and Resistance to Murder by Police
Updated February 3, 2015
---
Updated February 10, 2015
Review of American Sniper at revcom.us
Of Continuing Interest
---
Excerpts from
Away With All Gods!

by Bob Avakian:
---
---
---
by Lenny Wolff
---
WWW.REVCOM.US/REVOLUTION NEWSPAPER brings alive a scientific analysis of major events in society and the world—why they are happening, how different events and developments relate to each other, how all this relates to the system we live under, where people's interests lie in relation to all this, how revolution is in fact the solution to all this and what the goals of that revolution are, how different viewpoints and programs relate, positively or negatively, to the revolution that is needed, and how people can move, and are moving, to build toward that revolution. Revcom.us/Revolution is the guide, the pivot, the crucial tool in drawing forward, orienting, training, and organizing thousands, and influencing millions—fighting the power, and transforming the people, for revolution—hastening and preparing for the time when we can go for the whole thing, with a real chance to win.
Subscribe to revcom.us | Donate to/Sustain revcom.us | Send your correspondence to revolution.reports@yahoo.com
A Statement from the Revolutionary Communist Party: ON THE STRATEGY FOR REVOLUTION
Updated February 13, 2015

JOIN US!
New York BA Everywhere Fundraising Dinner
Audio Public Service Announcement for the New York dinner
Sunday, February 15, 4:00-7:00 pm, at Unitarian Church of All Souls, 1157 Lexington Avenue @ East 80th Street. Tickets: Sliding scale, $10/$25/$50, children half price. Call for more info: 347-835-8656.
Click here for more cities and info.
Download PDFs of Dinner Invitation:
National version
NYC version
Los Angeles version (zip file)
Reaching Out and Building for the BAE Fundraising Dinners
» Ex-Prisoner on the Dialogue and the Dinner: "Everyone was Feeling It"—People Need to See This.
Read more...
» Building for the BAE Dinner on February 15 – In the Moment! People Who Are Decisive to This Revolution Right in Front of Me."
Read more
---
Updated February 12, 2015
Read more, find protests, download flyer
February 13, 2015
February 13, 2015
---
February 10, 2015
---
From the Editors of Demarcations
January 10, 2015
---
---
Available now as an eBook!
Purchase from your favorite online vendor:
Amazon.com, iTunes, Barnes & Noble, eBooks.com, IPG, Kobo
Order the print edition now.
Publisher: Insight Press
Attention readers: Send in reports on protests, including photos and links to videos, to revcom.us/ Revolution newspaper at revolution.reports@ yahoo.com.
Bob Avakian, "Yes there's a conspiracy, to get the cops off."
BA Speaks:
REVOLUTION— NOTHING LESS!
---
---
Coming Events at Revolution Books