---
Watch NOW!


Re-broadcast of the November 15 Simulcast
Coming March 28!
A High-Quality Full-Length Film of
REVOLUTION AND RELIGION:
The Fight for Emancipation and the Role of Religion;
A Dialogue Between CORNEL WEST & BOB AVAKIAN
Trailer
Right-click this link and choose "save link as" or "save as" to download the Trailer to your computer.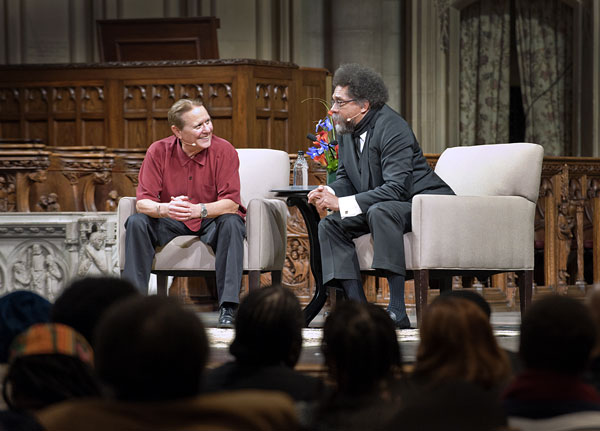 Biographies of Bob Avakian & Cornel West
Copy these posters and distribute everywhere, especially on the campuses.
Black & White version | Color version
Download full poster: PDF for print | JPG of full poster for web | JPG to tweet
"There would be no United States as we now know it today without slavery. That is a simple and basic truth."
—Bob Avakian, BAsics 1:1

Also in this issue
---
---
Click to expand.
Download Tweetable jpg.
Correspondence from Readers
---
---
---

Updated February 3, 2015
---
Updated February 10, 2015
Of Continuing Interest
Excerpts from
Away With All Gods!

by Bob Avakian:
---
---
---
by Lenny Wolff
---
WWW.REVCOM.US/REVOLUTION NEWSPAPER brings alive a scientific analysis of major events in society and the world—why they are happening, how different events and developments relate to each other, how all this relates to the system we live under, where people's interests lie in relation to all this, how revolution is in fact the solution to all this and what the goals of that revolution are, how different viewpoints and programs relate, positively or negatively, to the revolution that is needed, and how people can move, and are moving, to build toward that revolution. Revcom.us/Revolution is the guide, the pivot, the crucial tool in drawing forward, orienting, training, and organizing thousands, and influencing millions—fighting the power, and transforming the people, for revolution—hastening and preparing for the time when we can go for the whole thing, with a real chance to win.
Subscribe to revcom.us | Donate to/Sustain revcom.us | Send your correspondence to revolution.reports@yahoo.com
A Statement from the Revolutionary Communist Party: ON THE STRATEGY FOR REVOLUTION
Updated February 20, 2015
...Look, we've got this leader, who is one of those rare visionary thinkers and leaders who comes to represent and usher in a whole new phase of things in their given field of expertise. In this case he is ushering in a whole new phase of the communist revolution and a whole new conception of the kind of society and world we need to be building for the benefit of humanity. Think of the role played by a Marx, or a Lenin, or a Mao at earlier stages of history. This is the kind of visionary leader we are talking about.
Premiere of the film:
REVOLUTION AND RELIGION
The Fight for Emancipation and the Role of Religion
A Dialogue Between Cornel West & Bob Avakian
Saturday, March 28
New York
4 pm
Schomburg Center for Research in Black Culture
515 Malcolm X Blvd. @ 135th St.
Harlem, New York
Tickets: $25, general admission; $10, low income; $100, premium
For more info and tickets:
Revolution Books
146 W 26th St., NY, NY
212-691-3345
revolutionbooksnyc.org or
BA Everywhere Committee
ba.everywherenyc@gmail.com
347-835-8656
Los Angeles
2 pm (doors open at 1:30 pm)
The Los Angeles Theatre Center (LATC)
514 South Spring St.
Los Angeles, CA 90013
for info:
BA Everywhere
c/o Revolution Books/Libros Revolucion
5726 Hollywood Blvd.
Los Angeles, CA 90028
213-304-9864
Berkeley
1-5 pm
David Brower Center
Goldman Theater
2150 Allston Way
Berkeley, CA
For more info and tickets:
Revolution Books, 2425 Channing Way near Telegraph Ave.
510-848-1196 or
BA Everywhere Committee Berkeley, 510-387-5615
Houston
3 pm
The Encore Theater
4715 Main Street 
Houston, TX 77002
Tickets: $20, general admission; $10, youth & unemployed
For more info and tickets: 832-865-0408
---
From the Editors of Demarcations
January 10, 2015
---
---
Available now as an eBook!
Purchase from your favorite online vendor:
Amazon.com, iTunes, Barnes & Noble, eBooks.com, IPG, Kobo
Order the print edition now.
Publisher: Insight Press
Attention readers: Send in reports on protests, including photos and links to videos, to revcom.us/ Revolution newspaper at revolution.reports@ yahoo.com.
Bob Avakian, "Yes there's a conspiracy, to get the cops off."
BA Speaks:
REVOLUTION— NOTHING LESS!
---
---
Coming Events at Revolution Books