Featured Articles
Week of April 11, 2016
March 23, 2016
April 11, 2016
April 11, 2016
April 11, 2016


The world could be a whole other way. Take a radical step into the future...
April 11, 2016
by Lenny Wolff
April 4, 2016
April 5, 2016
Hear Travis Morales call on people to support the freedom fighters facing a year in jail for protest to shut down Rikers. Revolution Books NYC, April 6.
April 11, 2016
April 11, 2016
BA Everywhere
The work Bob Avakian, "BA," has done creates new possibility at an excruciating time for humanity—nothing less than an opening for a visionary and viable future. BA Everywhere is a major fundraising campaign to make Avakian's work and leadership known in every corner of society.
April 4, 2016
Next Step for the BA Everywhere Campaign: A Movement of House Parties and Film Showings
Statement from D from East Oakland
Tamales for the Revolution!
Click to download and read PDF of new work
Want to Know What the Big Deal Is About BA?
by Bob Avakian
February 9, 2015
Order book here
Also in this issue
March 14, 2016
It is with great sadness that we announce the death of our comrade, Will Reese (Bobby Hill), who died at the end of February after a four-year battle with cancer.
Herb Boyd / April 7, 2016
March 14, 2016
March 7, 2016
March 7, 2016
Rising Up
to Stop Police Terror
Revolution Books...
A Bookstore at the Center of a Movement for Revolution
On April 7, Mary Buser spoke at Revolution Books NYC on her new book Lockdown on Rikers: Shocking Stories of Abuse and Injustice at New York's Notorious Jail. Buser worked as clinical social worker at Rikers' infamous solitary confinement unit, where she saw horrors she'd never imagined.
Excerpts from The Science, The Strategy, The Leadership for an Actual Revolution, and a Radically New Society on the Road to Real Emancipation, by Bob Avakian, were read at a celebration at Revolution Books, NYC, January 20. Introductory remarks were made by Andy Zee.
Carl Dix and Sunsara Taylor
Campus Tour, Winter-Spring 2016—
An Invitation... to Meet the Revolution
Updated April 2, 2016
NEXT STOP NEW JERSEY:
Rutgers University
April 18, 2016, 8-10 pm
Room 302, Ruth Adams Building
Douglass Campus
131 George Street, 3rd Floor
Hosted by Anthropology Club

January 23, 2005
by A.S.K.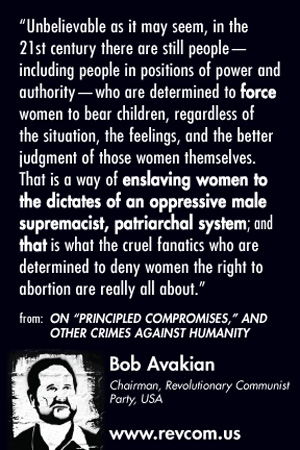 Much more on End Pornography and Patriarchy: the Enslavement and Degradation of Women
Of Continuing Interest
By Bob Avakian, Chairman of the Revolutionary Communist Party, USA
August 4, 2014
August 19, 2012
October 12, 2014
"Putting Forward Our Line—In a Bold, Moving, Compelling Way," by Bob Avakian
Published in two parts in Revolutionary Worker:
» Part 1, #1177, December 1, 2002
» Part 2, #1178, December 8, 2002
by Bob Avakian
Published 2004/2005
Interview with a Former Prisoner
» Part 1: Breaking with the Gang Life, Getting with the REAL Revolution
» Part 2: Science, Revolutionary Theory, and Getting Into Bob Avakian
» Part 3: Don't Risk Your Life Over Stupid Shit—Be Down for Revolution
April 27, 2015
Originally published April 14, 2013
by Bob Avakian, Chairman of the Revolutionary Communist Party, USA
January 23, 2005
WWW.REVCOM.US/REVOLUTION NEWSPAPER brings alive a scientific analysis of major events in society and the world—why they are happening, how different events and developments relate to each other, how all this relates to the system we live under, where people's interests lie in relation to all this, how revolution is in fact the solution to all this and what the goals of that revolution are, how different viewpoints and programs relate, positively or negatively, to the revolution that is needed, and how people can move, and are moving, to build toward that revolution. Revcom.us/Revolution is the guide, the pivot, the crucial tool in drawing forward, orienting, training, and organizing thousands, and influencing millions—fighting the power, and transforming the people, for revolution—hastening and preparing for the time when we can go for the whole thing, with a real chance to win.
Subscribe to revcom.us | Donate to/Sustain revcom.us | Send your correspondence to revolution.reports@yahoo.com
A Statement from the Revolutionary Communist Party: ON THE STRATEGY FOR REVOLUTION


Updated April 16, 2016
Updated April 16, 2016
NEXT STOPS
NEW JERSEY:
Rutgers University
April 18, 2016, 8-10 pm
Room 302, Ruth Adams Building
Douglass Campus
131 George Street, 3rd Floor
Hosted by Anthropology Club
CHICAGO:
Columbia College
April 26, 2016, 4 pm
Ferguson Lecture Hall
600 S. Michigan Ave
University of Chicago
April 27, 6:30-8:30 p.m.
Cox Lounge in Stuart Hall
Open to the public
April 11, 2016
Updated April 16, 2016: New Section Now Available In Spanish!
SCIENCE AND REVOLUTION
On the Importance of Science and the Application of Science to Society, the New Synthesis of Communism and the Leadership of Bob Avakian, An Interview with Ardea Skybreak

All four issues now available in Spanish:
Demarcations: A Journal of Communist Theory and Polemic
March 18, 2016
Read at demarcations-journal.org
Downloadable PDF and JPG formats
March 22, 2016
Attention readers in the New York City area:
Hamilton, an American Musical is the biggest thing to hit Broadway in many years. Issue 432 of Revolution includes a major article on what Alexander Hamilton's life, politics, and role in history actually represented—"Hamilton—or, The Real American Hustle." Let's get this out in a big, bold way to people attending the show! Check here for scheduled performances.
Revolution Club at Rise Up October

Get with the
Revolution Club here
Available now as an eBook!
Order the eBook.
$9.99 retail
Published by Insight Press
Read online:
Part 1: REVOLUTION AND THE STATE
Part 2: BUILDING THE MOVEMENT FOR REVOLUTION
Uploaded June 29, 2015
From the Editors of Demarcations
Updated June 1, 2015
Copy these posters and distribute everywhere, especially on the campuses.
Black & White | Color
Available now as an eBook!
Purchase from these vendors:
Amazon.com, iTunes, Barnes & Noble, eBooks.com, IPG, Kobo
Order the print edition now.
Publisher: Insight Press
Excerpts from the book:
Attention readers: Send in reports on protests, including photos and links to videos, to revcom.us/ Revolution newspaper at revolution.reports@ yahoo.com.
BA Speaks:
REVOLUTION— NOTHING LESS!
Coming Events at Revolution Books