Time To Get Organized for an ACTUAL Revolution
Message from the Central Committee of the Revolutionary Communist Party, USA
The Revolutionary Communist Party IS ORGANIZING NOW TO OVERTHROW THIS SYSTEM AT THE SOONEST POSSIBLE TIME. Preparing to lead an actual revolution to bring about a radically new and better society: the New Socialist Republic in North America.
The  problem: this  system. This system drives refugees and immigrants into exploitation, horror and death. This system wages brutal wars of slaughter. This system destroys the environment. This system locks down generations of Black and Brown youth, brutalizing and incarcerating them and even blowing them away—or else setting them up to fight and kill each other, when they should be fighting the REAL enemy. This system conditions men to disrespect and brutalize women, when the fury of women must be unleashed for revolution. This system—capitalism-imperialism—must be overthrown.
The solution:  REVOLUTION–nothing less! Revolution where millions go up against, defeat and dismantle the system's armed forces of violent suppression. Revolution that sets up a totally new power, with a different economy and different ways people relate to each other.
The goal of this new revolutionary power is communism: a world where people are no longer divided into rich and poor, masters and slaves, rulers and ruled. No longer fighting and slaughtering each other, but working together for the common good. No longer locked in ignorance, but consciously understanding, and changing, the world. No longer destroying the earth, but acting as its caretakers. This is possible, humanity has developed the basis for such a world; it is the system of capitalism that is in the way.
The  leadership: Bob Avakian, BA, the leader of the RCP, has developed scientific theory on a world-class level. At the same time, BA deeply understands and connects with the most oppressed.
BA breaks down why reality is the way it is, and how people can change it for the better. He's learned from the achievements and the shortcomings of past revolutions, and brought forward a much more scientific approach to the big problems facing humanity. This is the new synthesis of communism.
BA has developed answers to why this system can't be reformed... how revolutionary forces could grow from weak to strong, and actually defeat the enemy...how people could then build a new society on the road to emancipating humanity throughout the world ...and how to wage the struggles of today to reach that goal.
Get with the Revolution Club here
BA's leadership is a huge strength for the revolution: to follow, to learn from, to defend.
How  to move  today:  The all-out struggle for power is a serious thing, and it can only be won when the system is in deep crisis and millions are ready to put everything on the line. Today is not yet that time... but today IS the time to urgently prepare for that.
1 Go to www.revcom.us every day.—the lifeline that cuts through events to reveal the need for revolution and how to move now to hasten, and prepare for, that revolution.
2 Join the Revolution Club. Revolution requires organization: the Revolution Club is where you get organized to fight the power today to STOP the horrors of the system, and to transform the people, FOR REVOLUTION.  Revolution requires a scientific approach: the Revolution Club is where you learn BA's new synthesis of communism, and how to apply it to solve the challenges we face.
The Revolution Club moves boldly and it moves wisely, up in the face of the enemy, projecting revolution into every corner of society.
All of this is part of going for a revolution that we, the RCP, have taken the responsibility to lead. There's a whole other way to live and fight and even die to change the world – a strategy to do that and a way, right now, to make that real.
Prepare the ground, prepare the people and prepare the vanguard for the time when millions can be led in the all-out struggle for power
Share this | Download PDF Flyer (11x17", 2-sided, designed to be folded in half with title on outside)
Points of Attention for the Revolution
The Revolution Club upholds, lives by and fights for the following principles:
1 We base ourselves on and strive to represent the highest interests of humanity: revolution and communism. We do not tolerate using the revolution for personal gain.
2 We fight for a world where ALL the chains are broken. Women, men, and differently gendered people are equals and comrades. We do not tolerate physically or verbally abusing women or treating them as sexual objects, nor do we tolerate insults or "jokes" about people's gender or sexual orientation.
3 We fight for a world without borders, and for equality among different peoples, cultures and languages. We do not tolerate insults, "jokes" or derogatory names about a person's race, nationality, or language.
4 We stand with the most oppressed and never lose sight of their potential to emancipate humanity—nor of our responsibility to lead them to do that. We work to win people of all backgrounds to take part in the revolution, and do not tolerate revenge among the people.
5 We search for and fight for the truth no matter how unpopular, even as we listen to and learn from the observations, insights and criticisms of others.
6 We are going for an actual overthrow of this system and a whole better way beyond the destructive, vicious conflicts of today between the people. Because we are serious, at this stage we do not initiate violence and we oppose all violence against the people and among the people.
Want to Know What the Big Deal Is About BA?
Featured Articles
Week of May 16, 2016
May 16, 2016
May 16, 2016
by Sunsara Taylor
May 12, 2016
May 16, 2016
May 16, 2016
May 16, 2016
Reality Check:
Guess What... There is no Illuminati
Theories about the so-called "Illuminati" are made up and just plain wrong. First off, the world is way more complex than that. It's a system, not a small group of people who can somehow predict and manipulate everything.
And the people who really run this system? The capitalist-imperialists? They are a lot more vicious... and in a lot more trouble... than those phony theories even dream of.
Also in this issue
To share any of these quotes with others, click on the quote slide above.
Of Continuing Interest
November 12, 2015
By Bob Avakian, Chairman of the Revolutionary Communist Party, USA
By Bob Avakian, Chairman of the Revolutionary Communist Party, USA
August 4, 2014
August 19, 2012
March 7, 2016
by Lenny Wolff
April 4, 2016
October 12, 2014
"Putting Forward Our Line—In a Bold, Moving, Compelling Way," by Bob Avakian
Published in two parts in Revolutionary Worker:
» Part 1, #1177, December 1, 2002
» Part 2, #1178, December 8, 2002
by Bob Avakian
Published 2004/2005
Interview with a Former Prisoner
» Part 1: Breaking with the Gang Life, Getting with the REAL Revolution
» Part 2: Science, Revolutionary Theory, and Getting Into Bob Avakian
» Part 3: Don't Risk Your Life Over Stupid Shit—Be Down for Revolution
April 27, 2015
Originally published April 14, 2013
by Bob Avakian, Chairman of the Revolutionary Communist Party, USA
January 23, 2005
May 16, 2016
Updated May 16, 2016
May 9, 2016
May 16, 2016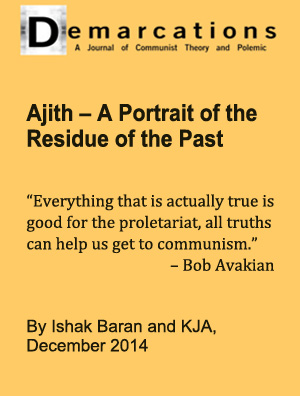 From the International Communist Movement
by Bob Avakian
February 9, 2015
WWW.REVCOM.US/REVOLUTION NEWSPAPER brings alive a scientific analysis of major events in society and the world—why they are happening, how different events and developments relate to each other, how all this relates to the system we live under, where people's interests lie in relation to all this, how revolution is in fact the solution to all this and what the goals of that revolution are, how different viewpoints and programs relate, positively or negatively, to the revolution that is needed, and how people can move, and are moving, to build toward that revolution. Revcom.us/Revolution is the guide, the pivot, the crucial tool in drawing forward, orienting, training, and organizing thousands, and influencing millions—fighting the power, and transforming the people, for revolution—hastening and preparing for the time when we can go for the whole thing, with a real chance to win.
Subscribe to revcom.us | Donate to/Sustain revcom.us | Send your correspondence to revolution.reports@yahoo.com
A Statement from the Revolutionary Communist Party: ON THE STRATEGY FOR REVOLUTION


Updated May 20, 2016
May 20, 2016
3 Things that have to happen in order for there to be real and lasting change for the better:
1) People have to fully confront the actual history of this country and its role in the world up to today, and the terrible consequences of this.
2) People have to dig seriously and scientifically into how this system of capitalism-imperialism actually works, and what this actually causes in the world.
3) People have to look deeply into the solution to all this.
Bob Avakian
May 1st, 2016
Excerpt from the new work by Bob Avakian, The Science, the Strategy, the Leadership for an Actual Revolution, and a Radically New Society on the Road to Real Emancipation
by Bob Avakian,
Chairman, Revolutionary Communist Party, USA, Summer 2015
Updated with links
Available now as an eBook!
Order the eBook.
$9.99 retail
Published by Insight Press
Read online:
Part 1: REVOLUTION AND THE STATE
Part 2: BUILDING THE MOVEMENT FOR REVOLUTION
Copy these posters and distribute everywhere, especially on the campuses.
Black & White | Color
Available now as an eBook!
Purchase from these vendors:
Amazon.com, iTunes, Barnes & Noble, eBooks.com, IPG, Kobo
Order the print edition now.
Publisher: Insight Press
Excerpts from the book:
Attention readers: Send in reports on protests, including photos and links to videos, to revcom.us/ Revolution newspaper at revolution.reports@ yahoo.com.
BA Speaks:
REVOLUTION— NOTHING LESS!
Coming Events at Revolution Books