Grand Jury Decision: Outrage Around the World
Updated November 27, 2014 | Revolution Newspaper | revcom.us
To our readers: In the immediate aftermath of the grand jury's decision not to indict the cop who killed Michael Brown, people's anger flooded into the streets in Ferguson and all across the U.S., in at least 170 protests, and reverberated across the world. The protests are continuing, and there are calls to intensify the struggle. The reports, photos, and videos on this page provide some sense of this huge outpouring. We urge readers to send in (and encourage others to send in) reports, photos, and video links to revcom.us—write to revolution.reports@yahoo.com.
December 1, 2014
Hands up! Walk Out! NO business as usual while police murder Black people, and while the killer of Michael Brown walks free! The case is NOT closed. It is NOT time to "move on to a nationwide discussion"—much less one at the fucking White House!  NO! It is TIME TO STRUGGLE and that's what happened today as students walked out of high school and college campuses around the U.S. Filling the streets, confronting the powers-that-be, and making a powerful statement that Black lives matter.
In the Streets of NYC:
If All You Do Is Watch The News or Social Media, You Have No Idea What's Going On
Revcom.us/Revolution spoke with Sunsara Taylor about her observations on the mood and scene in the midst of the protest in New York City on November 25 against the outrageous grand jury decision not to charge the cop who murdered Michael Brown.
St. Louis Rams Football Players: "Hands Up" in Support of Ferguson Struggle
November 30, 2014
Harlem:
Courageous Speakout Denounces NYPD Crimes, Demands Justice for Mike Brown
November 29—Forty people rallied at the State Office Building in New York's Harlem, and then marched through the streets and on the sidewalk to the NYPD's 28th Precinct, headquarters for countless acts of brutality, police murder and harassment in Harlem over many years, a fountain of violence against the people that spews terror still.
Seattle: Hundreds of Protesters Disrupt Business as Usual at Westlake Center Mall
November 29, 2014
From a reader:
Demands for justice for the murder of unarmed Michael Brown are not over after the grand jury in Ferguson, Missouri, let killer cop Darren Wilson walk free. In Seattle, the October 22nd Coalition to Stop Police Brutality, in coordination with students who have been active around this issue, called for an event that started early on Black Friday afternoon at Westlake Park and continued into the evening. Westlake Park is the main public plaza in Seattle and is where the Occupy movement took place. Looming over it are major department stores and shopping centers, including Westlake Center shopping mall, where Seattle's Christmas tree lighting ceremony was scheduled to take place that evening. It was the busiest shopping day of the year.
"Black Lives Matter Friday," November 28, San Francisco Bay Area
November 29, 2014
From readers:
Here in the Bay Area, outraged, defiant waves of people have poured into the streets since Monday night's grand jury decision to let Ferguson cop Darren Wilson go unindicted for Michael Brown's murder. Friday morning, mass protests continued. The BART (regional subway) system was brought to a two-hour halt by protesters in West Oakland who chained themselves to trains and each other. Meanwhile, another crowd gathered at the Walmart in East Oakland, where "Black Lives Matter Friday" protesters marched with the "Our Walmart" picket line (national campaign against Walmart labor conditions), chanting and at one point taking a noisy march into the aisles of the store itself. Later, this protest continued, moving on to another nearby Walmart.
Cleveland: Marching into Walmart on "Black Lives Matter" Friday
November 29, 2014
From a reader:
Twenty people marched into Walmart in University Heights, Ohio (suburb of Cleveland), through the aisles chanting "Black Lives Matter," "No Justice No Peace, No Racist Police!" and handing out Carl Dix's statement "Wilson Has Walked: AMERIKKKA MUST COME TO A HALT!..." After we left we joined forces with the Walmart protest against low wages.
Entertainers, Artists, and Athletes Speak Out on the Grand Jury Letting Killer Cop Walk Free
November 28, 2014
Immediately after the announcement of the Ferguson grand jury's decision, many well-known entertainers, artists, and athletes reacted with disappointment and anger through tweets and Instagram. The following are some of those that went out immediately, in the wake of the announcement, as thousands were taking to the streets in protest around the country.
Friday, November 28 Actions in Chicago
Updated November 30, 2014
On Friday, November 28, there were a number of different actions in Chicago called by various forces demanding justice for Michael Brown. Here are some of them.
Black Lives Matter Friday – Major St. Louis Mall Disrupted and Shut Down
November 28, 2014
On one of the biggest shopping days of the Christmas season, Black Friday, hundreds of people of all nationalities shut down one of the largest shopping centers in the St. Louis area – The Galleria in Richmond Heights—for a least an hour when police stopped people from coming into the parking lot, disrupted shopping as usual for most of the afternoon–and opened a lot of eyes.  Black Friday was turned into "Black Lives Matter" Friday.
Bay Area Transit Station Shut For 2 Hours: Black Lives Matter!
November 28, 2014
Around 10:30 a.m. Friday, November 28- prime shopping time–a couple dozen protesters entered the West Oakland BART (Bay Areas Rapid Transit) station. Wearing "Black Lives Matter" shirts and hoodies, they chained themselves together, and then to trains running in both directions out of the station.
Detroit: Marching and Blocking Traffic to Demand Justice for Mike Brown
November 28, 2014
From a reader:
November 25—In the late afternoon, various groups called for a "Detroit demonstration to honor Michael Brown: condemn the Failure of the Grand Jury to file charges against Ferguson cop." After a rally in the main downtown park along the river, people took the streets, marching and chanting through downtown to another rally at the courthouse where the cop who killed seven-year-old Aiyana Stanley Jones in 2010 was declared innocent. Leaflets were distributed with Carl Dix's statement "If the murdering pig walks, Amerikkka must be brought to a halt!"
Kent State Black United Students Stage a Walkout and Protest
November 28, 2014
revcom.us/Revolution received the following report from the Public Relations Director of the Black United Students at Kent State:
Approximately 200 Kent State students gathered in the Kent State Student Center to begin a 2-hour long protest following the jury's decision to not indict Michael Brown's shooter Darren Wilson.
"Nothing To Be Thankful For"
Protesters Disrupt Macy's Thanksgiving Day Parade
November 28, 2014
For 90 years the Macy's Thanksgiving Day Parade in NYC has been an annual celebration of genocide against Native Americans ("Thanksgiving") and  a way to hype people up for an orgy of shopping the next day. This year it was disrupted by protesters chanting: "Dead bodies on the floor, Nothing to be thankful for!"
Students from Coast to Coast Protest Grand Jury Decision to Let Mike Brown's Killer Go Free
November 28, 2014
Students held protests on campuses and participated in demonstrations all over the country. Most of the actions were organized on social media, many by Black student groups. The following are reports of some of the campus protests taken from news sources. Revcom.us urges people to send more reports to revolution.reports@yahoo.com.
University of California, Los Angeles. Hundreds of students took part in a demonstration outside Royce Hall on Tuesday. Dozens laid on the ground while others chalk marked around them. One UCLA senior said, "This could be me today, later today, this could be my little cousin, this could be my little brother, this could be my nephew."
Cleveland: Determined to Have No Business as Usual
November 28, 2014
From a reader:
November 25—Close to 300 people protested the grand jury decision of no indictment of Darren Wilson, the pig who murdered Michael Brown in Ferguson. This was also in the wake of recent vigils and protests in Cleveland against the police murders of Tanisha Anderson, a woman who was seeking help, and Tamir Rice, a 12-year-old shot at a city park. Puncture the Silence (affiliated with the Stop Mass Incarceration Network) called for the action, and many groups joined in.
Chicago: Ferguson Protesters Face Vicious Repression by Police and Court
November 27, 2014—7 pm
During a November 26 protest in Chicago against the Ferguson grand jury decision, Grant Newburger and two other revolutionaries stepped into the street carrying a banner saying "Justice for Mike Brown." Grant is a front-line fighter in the struggle against police brutality and the criminalization of a generation. They were set upon by the pigs, who brutalized and arrested them. Grant, who was knocked to the ground from behind by masked police and suffered head and other injuries, was charged with aggravated battery against a police officer, a felony. Another revolutionary, who had her arms jerked behind her, was charged with resisting arrest, a misdemeanor. A third revolutionary was charged with obstructing traffic, also a misdemeanor.
From A World to Win News Service


"From Ferguson to London: No Justice, No Peace!"

November 27, 2014
Close to two thousand people took over the streets of central London Wednesday night [November 26] in anger at what's happened in Ferguson. The protest began in the shadow of the U.S. Embassy. A deep feeling of solidarity with the fighters in Ferguson marked the crowd. Family members of young Black men murdered by "London's finest" spoke movingly of how they felt the pain of the family of Michael Brown—the pain that a mother or sister knows at seeing her son or brother cut down before his life had really even begun.
Over 200 Arrests in LA
Los Angeles: March Through Crenshaw, South Central, and Downtown
November 27, 2015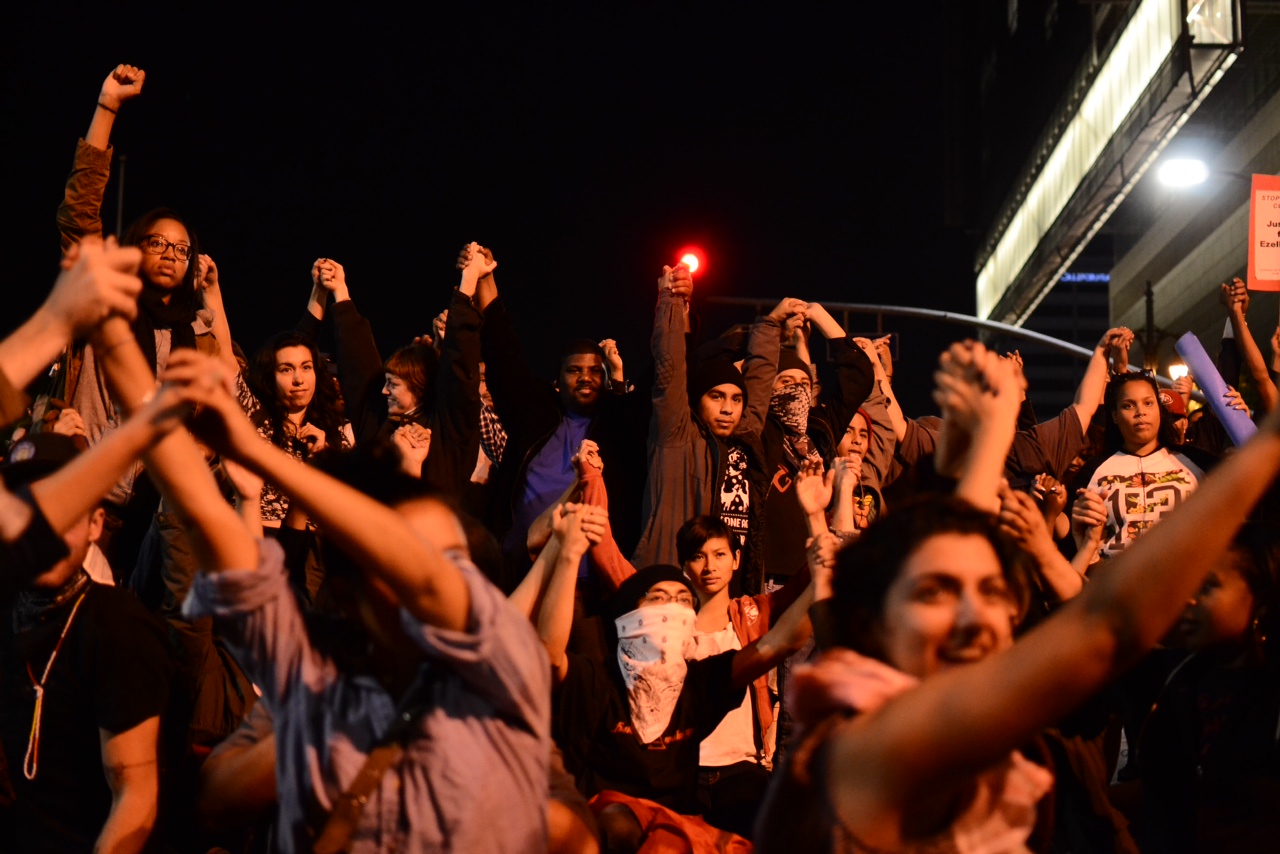 On Tuesday night, November 25, the day after the grand jury decision to let the cop who murdered Mike Brown walk off, a multinational protest of many hundreds of outraged people hit the streets of the Crenshaw District and then went on an eight-mile march through South Central Los Angeles to downtown Los Angeles.
Protest Disrupts Atlanta Hawks Basketball Game
Tuesday night, November 25, demonstrators in Atlanta spoke out against the murder of Mike Brown in downtown Atlanta. A group of demonstrators marched to the National Basketball Association (NBA) Atlanta Hawks game for a speak-out as fans entered the arena. Hundreds of fans wore Justice for Mike Brown (revcom.us) stickers into the game.
Police Attack Demonstration in Downtown St. Louis
by Larry Everest
November 26, 2014—Police violently shut down a mass demonstration in central St. Louis today. After government officials claimed they'd "respect" peoples' right to protest, police today pepper sprayed protesters trying to enter City Hall—supposedly a public building—and then suddenly declared the whole demonstration of 250 an "illegal assembly." Police later claimed it was because someone "made contact" with a security guard
Ferguson and St. Louis—Day After Grand Jury Announcement: People Continue Determined Protests in the Streets
by Larry Everest
November 25—The shocks from the grand jury decision to let Michael Brown's murderer Darren Wilson walk free continued to spark outrage and protest in the Ferguson and the greater St. Louis area.
Shutting down Highway 44—Downtown St. Louis. Around 2 in the afternoon, 300-400 people marched up an exit ramp onto the elevated lanes of Interstate 44 in the heart of downtown St. Louis. Police closed both lanes of the freeway—and it stayed shut until people marched down 40 minutes later. People then briefly closed traffic on the Martin Luther King Bridge to East St. Louis.
Boston: Students and Others in the Streets
November 26—The night of the announcement of the grand jury decision not to indict the cop who killed Michael Brown, a couple of hundred students from Simmons College and other places gathered at Boston City Hall and marched to the state house. An impromptu rally also took place at Boston College that night involving a hundred or more students.
The next day, November 25, there was a speak-out at noon at the Umass Boston campus that pulled in around a hundred students, with a number of students taking the bullhorn in between the raps of the revolutionary communists. Chalk outlines were drawn on the plaza with names of people killed by the police. Students also added "save our children" and "no more." Someone cited Michelle Alexander's book, The New Jim Crow, around the systemic nature of the problem. Someone else proposed an economic boycott. We made a couple of thousand copies of the new Carl Dix statement on the grand jury decision, and people grabbed up bunches to get out in class.
Oakland Day 2:
"This is far from over"
November 26, 2014—A second night of powerful protest resounded through the streets of downtown Oakland Tuesday night, November 25. About 1,000 marched, full of fury at the grand jury's refusal to indict and rejecting the assertion of genocidal white supremacy the decision represents. "Black Lives Matter! Latino Lives Matter! All Lives Matter!" rang through the streets of Oakland.
Houston: Pouring into the Streets, Taking Over Intersections
Tuesday, November 25—People poured into the streets, taking over intersections, confronting police, and marching for more than four hours. People had been called by various forces to gather at McGregor Park at 5 pm the day after the grand jury decision. The park is part of the Black community, but also near two major universities. The crowd quickly swelled to around 300, who marched into a major intersection to block traffic. After blocking the intersection for some time, people marched to the University of Houston campus, where the march eventually grew to 600-700, before taking off into another section of the neighborhood where they passed a major housing project and the historically Black Texas Southern University (TSU). The deeper they went, the more tense and defiant things got. People poured out of their houses to check it out, many grabbed copies of Carl Dix's statement, "AmeriKKKa must come to a halt...", and copies of Revolution newspaper.
Seattle: High School Students Walk Out to Protest Grand Jury Decision
November 25—Students in at least four Seattle area high schools walked out November 25 to protest the refusal by a grand jury in Ferguson, Missouri, to indict Darren Wilson for the murder of Michael Brown. According to the Seattle School District, 1,000 students walked out of Garfield High, 250 from Roosevelt High, and 75 students walked out of West Seattle High School. Students from Garfield joined a march called by the NAACP that converged on the federal courthouse in downtown Seattle. Another walkout was called by students at Cleveland High School for this afternoon.
On the Night of the Outrageous Ferguson Grand Jury Announcement: People Around the Country Take to the Streets
Immediately after the November 24 announcement that the Ferguson grand jury refused to indict the murdering pig Darren Wilson, people took to the streets and acted in other ways across the country to express outrage. Here are initial reports we've received from just a few of the cities, including New York, Los Angeles, Oakland, and Seattle.
Volunteers Needed... for revcom.us and Revolution
If you like this article, subscribe, donate to and sustain Revolution newspaper.