February 18-20 Weekend:
Protests Across the U.S. Against Attacks on Immigrants and for #NotMyPresidentsDay
Updated February 20, 2017 | Revolution Newspaper | revcom.us
On Saturday, February 18, thousands marched in several cities against the Trump/Pence regime's stepped-up attacks on immigrants and refugees. And more anti-Trump protests are planned across the country through this three-day Presidents' Day holiday weekend, including #NotMyPresidentsDay actions in dozens of cities. Revcom.us will update this page over the weekend.
February 20
In dozens of cities across the U.S.—from New York and Washington, DC, to Chicago, Atlanta, Denver, and Los Angeles—thousands marched and rallied for #NotMyPresidentsDay. People came from a broad range of views—and the protests today and through the three-day holiday weekend showed there continues to be a deep reservoir of anger among wide sections of the people at Trump, and opposition to the attacks on immigrants and other outrages being carried out by the fascist regime.
Hey hey ho ho, Donald Trump has got to go! #notmypresidentday NYC. Thanks @bradley_hester #resist pic.twitter.com/k3sZqAt57m

— Doug Davis (@TexasDougie) February 20, 2017
New York City: "Hey hey, ho ho, Donald Trump has got to go!"
#notmypresidentday Peaceful protest outside City Hall in LA. #Resist #dtla pic.twitter.com/xPfInC2XVN

— GayDaysLA 🏳️🌈📆🌴 (@gaydaysLA) February 20, 2017
Los Angeles: "Stand up, fight back!"

Chicago: Rally at Trump Tower. Photo: Twitter/@aaroncynic
#riot #cops tossed #protestors to the ground & arrest others in #Portland #NotMyPresidentDay #resist #NoBanNoWall pic.twitter.com/26paLv2TsU

— US Kare (@USKare27) February 20, 2017
Portland, Oregon: Riot cops attack protesters.
Part of the New Paltz rally involved tearing down a symbolic wall, protesting Trump's plan to build a wall on Mexico's border. pic.twitter.com/FnBt52rXGD

— Ariél Zangla (@ArielAtFreeman) February 20, 2017
New Paltz, New York: Breaking down the "wall."
In New York City, more than 10,000 jammed the streets near the Trump International Hotel. A CNN online report said:
In New York's Columbus Circle, protesters held signs with a simple message—the word "No!" in different languages.
In addition, merchants sold T-shirts reading "Not My President" above smaller text reading "Elected but not chosen."
"In the name of humanity, fascist America—No! No! No! No! No!," they chanted.

Washington, DC: Marching to the White House. Photo: Twitter/@Collinrees
In Washington, DC, thousands marched to the White House. A 69-year-old woman told reporters that the protests against Trump reminded her of the 1960s anti-Vietnam War protests she was involved in, and said: "What I'm seeing ... is the amazing interest of people who have never been activists. This does inspire us."
Hundreds rallied across the river from the Trump Tower in Chicago and at the City Hall in Los Angeles. In Portland, Oregon, riot pigs jumped out of a police van and arrested peaceful protesters. The protest in New Paltz, north of New York City, included the tearing down of a wall of cardboard boxes to symbolize resistance to Trump's border wall. Other cities with protests today included Kansas City, Missouri, St. Louis, Austin, San Jose, and Boston.

Hundreds protest in Kansas City, Missouri. Photo: Twitter/@TonysKansasCity
In London, UK, an estimated 300,000 people protested outside the Parliament to demand that the British government cancel the state visit by Trump planned for later this year.

London, UK: Hundreds of thousands of protesters at the Parliament demand cancellation of Trump state visit. Photo: Twitter/@jamc1878
February 19
Boston
Hundreds of scientists, educators, environmental activists, and others rallied outside the American Academy of Scientists annual meeting in an action to "Stand Up for Science" against the Trump/Pence Regime's attack on the science around climate change and on science and scientists more broadly. It was organized by the National History Museum, ClimateTruth.org, Union of Concerned Scientists, and others. One of the rally organizers told the Washington Post, "I feel that we're in this public relations battle right now, and we need to recast our work as scientists, not as dispassionate data junkies, but as people that care about the world around us." Some of the signs people held read: "Objective Reality Exists," "Poetry Nerds for Science," "Immigrants Make Science Great," and "Scientists: Serving the Common Good."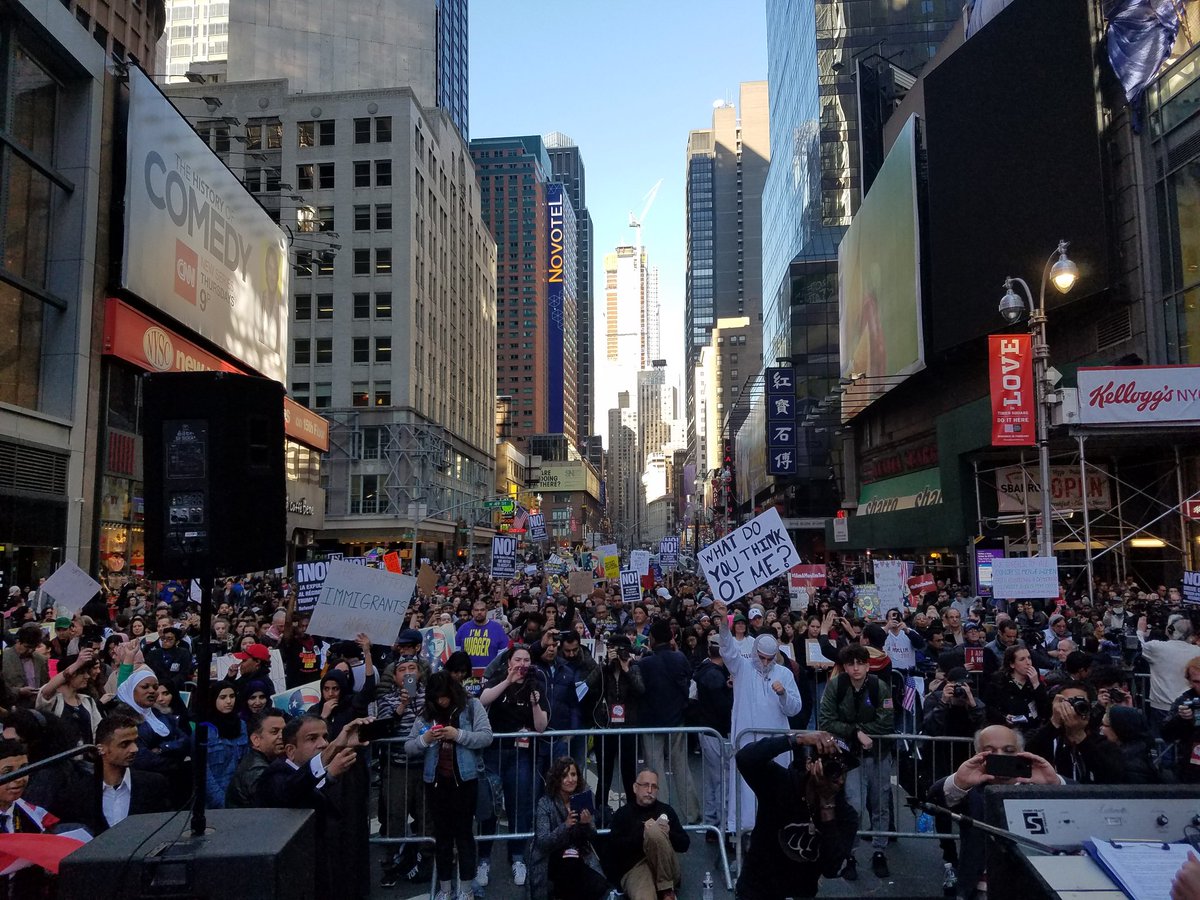 Credit: Twitter/@SteveChoi
New York
Thousands of people packed Times Square for the "I Am a Muslim Too" rally to declare solidarity with those targeted by Trump's anti-Muslim executive order. The rally was called by Imam Shamsi Ali of the Jamaica Muslim Center in New York City; Rabbi Marc Schneier of the Hampton Synagogue and Foundation for Ethnic Understanding; and Russell Simmons, founder of Def Jam. Addressing the crowd, Schneier talked about how the U.S. had turned away a ship carrying more than 900 Jewish refugees, many of whom were later killed in the Holocaust, and said, "Never again!" Among others speaking were actor Susan Sarandon, Linda Sarsour of the Arab American Association, and Rev. N.J. L'Heureux Jr., of the Queens Federation of Churches.
Credit: Twitter/@futureup2us
Chicago
Thousands marched through the downtown Loop in a "Protest to Stop the Trump Agenda," marking one month since the start of the Trump/Pence Regime.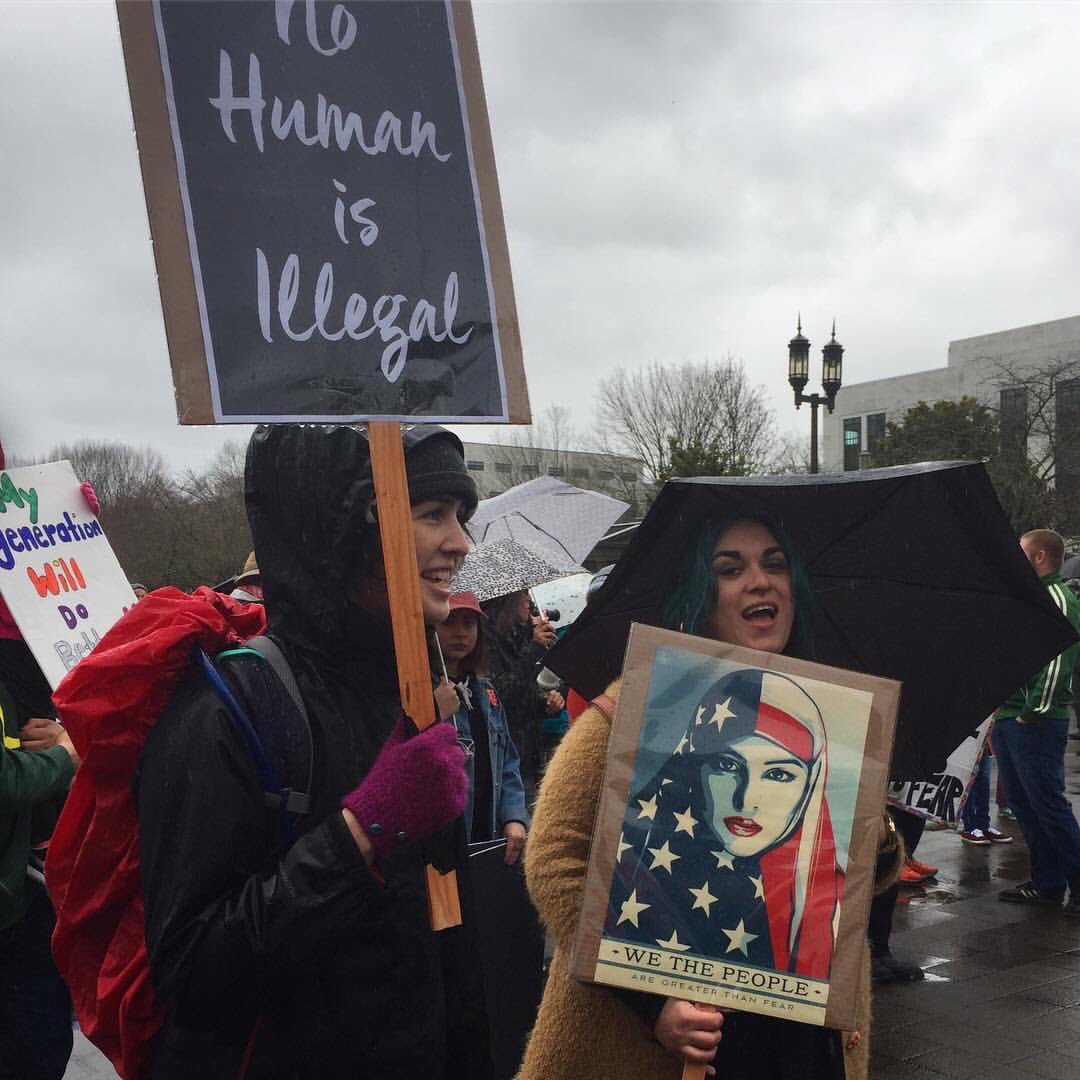 Credit: Twitter/@ACLU_OR
Salem, Oregon
Hundreds marched and rallied on the steps of the state capitol in a "United for Immigrant Rights March and Rally." The organizers' Facebook event page said the action was "to build community, celebrate our immigrant heritage and defiantly pledge to protect immigrants from hateful attacks and policies. Show support and solidarity with your fellow neighbors, family members, colleagues, and friends as we march for justice, dignity, and respect."
February 18
Los Angeles
From a reader:
Thousands of people hit the downtown streets for the "Free the People Immigrant March—Sanctuary for All!" The Facebook events page for the march said, "Our people are under attack and we are increasingly the targets of xenophobia, Islamophobia, racism, sexism, bigotry and hate under the Trump administration." Among the march's demands were an immediate stop to the ICE raids and deportations, and that Los Angeles be declared a "sanctuary city" that "refuses to collaborate with the ICE." This protest was striking in that many people who participated were young (some high school but mostly college students) as well as families. There were immigrant rights organizations and people affiliated with unions, for example, but this was a crowd of people very fresh to political life. There were people from the core areas of Los Angeles, but the majority were from cities outside of the central LA area. There was an organized Refuse Fascism LA group that led chants from within the march and passed out 6,300 of the new updated Refuse Fascism Call to Action and thousands of stickers that read: "STAY In The Streets. STOP Trump/Pence Fascist Regime."
Dallas
More than 1,700 people marched and rallied in downtown to support immigrants and refugees and oppose Trump.
Credit: Twitter/@UR_Ninja.jpg
Minneapolis
About 2,000 marched in support of immigrants and refugees who are under assault from the Trump regime. Among the chants: "Together we stand, together we fall. Together we say, 'No ban, no wall!'"
Volunteers Needed... for revcom.us and Revolution
If you like this article, subscribe, donate to and sustain Revolution newspaper.