---
Permalink: http://revcom.us/a/512/see-and-share-this-talk-en.html
Revolution #528 January 29, 2018
In this Film, Bob Avakian Analyzes the Deep Roots and Driving Forces of Trump/Pence Fascism and What Must Be Done to Stop It.
Watch It Here, and Spread It.
| revcom.us
Be part of bringing the most serious answers to the most urgent questions to tens and hundreds of thousands, and ultimately millions.
This talk from Bob Avakian (BA) provides a scientific understanding of the roots of this fascist regime—in the history of the U.S. and the deeper roots in the system of capitalism-imperialism. He does so with passion, humor, humanity, and a deep sense of history. He cuts into the deepest, most agonizing questions, first in the speech and then in a wide-ranging Questions and Answers.
If more people watched this talk, it could change today's political equation. But far too few have seen this talk, or even know about it. You are needed to be part of changing this.
Donate towards promotion of this film:
Scroll down for the film trailer, videos of the Q&A session following the speech, and clips from the film
---
Click to view the full speech.
The film and all video clips are also available for download HERE
For instructions to download this film click HERE
Questions and Answers with Bob Avakian
NEW: Download, share, and watch each Q&A in a separate clip. To download these clips, click the "v" icon on the bottom right of the clip to get to the Vimeo page, and scroll down to the button for "Download"
---
Trailer and Clips From the Film:
---
Permalink: http://revcom.us/a/528/lets-enlist-those-who-like-bob-avakians-new-talk-to-help-spread-it-en.html
Revolution #528 January 29, 2018
Let's Enlist Those Who Like BA's New Talk to Help Spread It
January 29, 2018 | Revolution Newspaper | revcom.us
Recently, including in this issue, we've run different positive and enthusiastic responses to the filmed talk of Bob Avakian on the Trump/Pence fascist regime and what must be done to stop it. There's nothing like this talk—and if it got out even in the tens of thousands (at first), it could have a huge impact on people's understanding and, therefore, their actions.
Next week we intend to lay out a whole plan to do just that. But even the comments we've been running raise an immediate question: Wouldn't it be important, when people DO respond this way, to enlist them in getting this unique and incredibly important film out far more broadly? It's not always clear from these reports that this is happening. The people responding clearly have social networks—through work, family, neighborhood, and so on. Are we going into with them how important it would be for this film to get out far and wide—the possible impact it could have? Are we actively strategizing with them how to spread this film? Are we giving them the materials—and the ongoing contact, where possible—to assist them in spreading this? Again, we'll be laying out fuller plans next week—but there's no need to wait.
Another thing: Are we going into "A Contended Question" with people to prepare them for what they'll encounter, negative as well as positive? Are we following up with them to see how it's going? Most of all, and what has to be at the foundation of all of this—are we bringing home to them the urgency of getting this analysis out as far as we all can so that we can not only understand the dire situation we're in (which nothing explains like this talk!) but change it?
---
Permalink: http://revcom.us/a/528/comments-on-film-of-ba-talk-en.html
Revolution #528 January 29, 2018
Comments on Film of BA's Talk: "Avakian explains and keeps refocusing your attention to the system that enabled the ascension of this regime"
January 29, 2018 | Revolution Newspaper | revcom.us
From staff of Revolution Books, NYC:
The film of Bob Avakian's talk THE TRUMP/PENCE REGIME MUST GO! In The Name of Humanity, We REFUSE to Accept a Fascist America. A Better World IS Possible was shown this past Sunday at Revolution Books in Harlem, New York City. Ten new people attended—including a librarian from Queens; a ninth-grade public school teacher from the Bronx; two post-doctoral fellows at Columbia University (one from France and the other from England); a young African-American from the neighborhood (living in a homeless shelter) who has hooked up with the Revolution Club; and a young woman from Brazil active in social movements there. We showed the film and followed it with a clip from REVOLUTION—NOTHING LESS! posted on revcom: "Resisting the Brainwash—A Radical Revolt Again a Revolting Culture."
After the showing, we asked people what struck them most about the film, what they got most out of it... and people got right into it. Here are three comments. (The French visiting fellow plans to come by the store to discuss the Constitution for the New Socialist Republic in North America, written by Bob Avakian, which she dove into after the showing.)
Young homeless person: "This is the second time I've watched this film. I never understood the role of religion in enslaving people, and this Christian fascism justifying greed and the degradation of women. We're supposed to put our fate in God's hands, and not face things ourselves but wait for heaven and angels. But breaking with God is so hard."
Teacher: "I have to say what struck me most was how Bob Avakian makes you face and recognize America's past, that you can't get away from slavery and the injustices done to Black people. He explains how we became the nation we are in a way I never experienced before. And that we have to face that history."
Librarian: "One of the problems we have in understanding what's going on, with the terrible direction things have been going in, with Trump and Pence... is that there is so much focus on individuals. But Avakian explains and keeps refocusing your attention on the system that enabled the ascension of this regime."
---
Permalink: http://revcom.us/a/528/defeat-the-racist-immigration-deal-en.html
Revolution #528 January 29, 2018
Points of Orientation:
Defeat the Racist Immigration "Deal": NO to the White Supremacist Ransom Note!
Drive Out the Trump/Pence Fascist Regime! A Better World IS Possible!
January 29, 2018 | Revolution Newspaper | revcom.us
As we go to press, word is that the Trump/Pence regime will announce a deal in which 1.8 million undocumented immigrants who came here as children (many of them known as "Dreamers") will be enabled to stay and have a "path to citizenship" in return for a harsh new set of laws on immigration. These laws are said to include: $25 billion for Trump's border wall; major increase in "internal enforcement"—increased arrests, speeded-up deportations, and stepped-up security at airports and other ports of entry; intensified crackdown on people who overstay their visas; prevention of people who are U.S citizens from bringing non-citizen parents from other countries into the U.S.; the ending of a State Department program to encourage migration from under-represented countries.
This comes on top of weeks of agitation by Trump and the Republicans demonizing immigrants—including calling whole areas of the world "shitholes," and viciously slandering and insulting those who come from those areas.
One: Such a deal is intolerable—in the words of one of those being offered citizenship, "it is a white supremacist ransom note." It will add fuel to the whipping up of an ugly nativist sentiment and white supremacist atmosphere hostile to immigrants and people of color, which is a cornerstone of the Trump/Pence regime's "Make America White Again" program.
Two: The United States lords over a worldwide empire which plunders vast regions of the world. It violently rends the social fabric of those countries and sentences billions of the human beings who live there to dispossession and grinding exploitation, and often to being driven from country to country seeking work and even survival. It has no right to then declare people from those countries to be "illegal" and to hound and persecute them.
Three: The wall being built is both real and symbolic. It is real in the sense that it will actually further militarize the border and make it even more deadly for any who are driven from the hells that the U.S. has created in Central America and Mexico when they risk their lives to escape. And it symbolizes the determination of the U.S. to "lock out" the rest of humanity in the face of the rapidly worsening environmental crisis.
Four: We need a world without borders, without exploitation, and without oppression of any kind. Such a world actually IS possible and the work that's been done by Bob Avakian—the forging of a new communism—shows how it could be achieved. Humanity does not have to go along with the sentence now being imposed on it.
Five: People in this country need to mount the strongest possible fight to DEFEAT this compromise/deal and to make this fight a building block to driving out the whole Trump/Pence fascist regime. This will require going into the streets in determined and defiant nonviolent mass action, as well as other nonviolent expressions of opposition (like wearing armbands or other symbols, etc.) ultimately involving millions, and refusing to go along with the capitulationist "electoral calculus" of the leading Democrats.
Immigrants and the New Socialist Republic in North America
The following is from the Constitution for the New Socialist Republic in North America, which was authored by Bob Avakian and adopted by the Central Committee of the Revolutionary Communist Party, USA.
H. Immigrants, Citizenship and Asylum.
1. Throughout its history and its development into an imperialist power, the United States of America depended on the exploitation, often in extreme conditions, of generations of immigrants, numbering in the many millions, who were driven to the USA as a result of oppression, poverty, war and upheaval. These immigrants—including those from Europe who came to the USA during the latter part of the 19th and the first part of the 20th century, or at least several generations of them—were also subjected to discrimination and demeaning treatment, although after a period of time many of these immigrant groups were integrated into the larger "white European" population in the USA and, on the basis of expansion and conquest by U.S. imperialism, and the spoils acquired in this way, many were able to rise from the ranks of the working class and poorer sections of the population and become a part of the "American middle class," with a more or less privileged position in relation to especially the lower and more exploited sections of the proletariat and the masses of Black and Latino people and others concentrated, and forcibly contained, within the decaying and repressive confines of the inner cities of late imperial America. At the same time, and in a heightening way through the end of the 20th and the first part of the 21st century, as a result of the domination and plunder carried out by U.S. imperialism throughout most of the Third World in particular, and the devastation and massive dislocation that resulted from and accompanied this, great numbers of immigrants from Mexico and elsewhere in Latin America, as well as other parts of the Third World, were driven to the U.S., many of whom were not able to secure legal entry and consequently were forced to live in the shadows and remain vulnerable to extreme exploitation as well as to discrimination and to violence and terror carried out by the state and by mobs encouraged by reactionary policies, actions and statements of the government and government officials. And the ruling forces of the imperialist USA seized on this situation to further tighten control over, and unleash more terror against, these immigrants and to subject many of them to even more extreme exploitation, while whipping up a xenophobic and fascist anti-immigrant atmosphere.
The defeat and dismantling of the imperialist USA and its machinery of violent destruction and repression has radically changed this situation. In this revolutionary struggle, and its victory, large numbers of immigrants, as well as masses of Black people and other oppressed nationalities within the former imperialist USA, played a crucial role, and they can and must continue to play a vital part in the continuing transformation of society, and the world as a whole, as part of the backbone of the New Socialist Republic in North America.
2. At the time of the establishment of the New Socialist Republic in North America, all those residing within the territory of this Republic—with the exception of those who played a leading role in opposing the revolution which brought about the establishment of this Republic, and/or who may have been found guilty of war crimes and/or other crimes against humanity—shall have been accorded citizenship in this Republic, with the rights and responsibilities of citizens, in accordance with this Constitution. And, from that time forward, all those born within the territory of the New Socialist Republic in North America, as well as all those, wherever they are born, who have at least one parent who is a citizen of this Republic, shall be citizens of this Republic.
3. The orientation of the New Socialist Republic in North America is to welcome immigrants from all over the world who have a sincere desire to contribute to the goals and objectives of this Republic, as set forth in this Constitution and in laws and policies which are established and enacted in accordance with this Constitution. From the time of the establishment of the New Socialist Republic in North America, anyone residing outside of the territory of this Republic who wishes to enter its territory, and any such person wishing to become a citizen, or a permanent resident, of this Republic, must follow the relevant laws and procedures which have been established on the basis of this Constitution. Anyone who applies for asylum in this Republic and, through the relevant procedures that have been established for this purpose, is found to have been persecuted, or to have a well-founded fear of persecution, on account of having taken part in just struggles against imperialist and reactionary states or other reactionary forces, or on account of scientific, artistic, or other pursuits which have brought them into conflict with reactionary powers and institutions, shall be afforded asylum in the New Socialist Republic in North America, so long as they pledge to act in compliance with the Constitution of this Republic, and do act accordingly. Provided that they do not engage in any serious violation of the laws of this Republic, people granted asylum have the right to remain within the territory of this Republic for as long as they choose to do so, and shall be accorded the same rights as citizens, with the exception that, so long as they have not become citizens, they may not vote in elections or be elected or appointed to public office. They shall have the right, after a certain period, determined by law, to become citizens of this Republic, with the same rights and responsibilities as all other citizens. The citizenship process, as well as review of the asylum status of all those granted asylum, shall be carried out in accordance with the laws and procedures established for these purposes.
4. Anyone who is discovered to have entered the territory of this Republic without following the relevant laws and procedures, shall be detained and provided with a timely hearing, conducted by the government institution with the relevant responsibility, to determine the reasons for their presence within this Republic. In connection with this process, such persons may apply for asylum or seek residency on some other basis, and these requests will be considered in the light of the basic orientation and principles set forth here. If, however, evidence emerges which would indicate that the person, or persons, in question have entered the territory of this Republic not only by means that are in violation of its laws, but also with the intent to further violate the law in an effort to carry out sabotage or otherwise do harm to this Republic and its people, then criminal proceedings shall be instituted against such a person, or persons, in accordance with laws and legal procedures established on the basis of this Constitution.
---
Permalink: http://revcom.us/a/527/RefuseFascismOrg-first-they-came-for-the-immigrants-en.html
Revolution #528 January 29, 2018
From RefuseFascism.org
FIRST THEY CAME FOR THE MUSLIMS,
THEN THEY CAME FOR THE IMMIGRANTS
Not This Time...
Stand Up Now with the Immigrants
This Nightmare Must End: The Trump/Pence Regime Must Go!
January 26, 2018 | Revolution Newspaper | revcom.us
The gloves are off.  The Trump/Pence Regime has launched an all-out comprehensive and qualitative leap in the implementation of a program of genocidal ethnic cleansing of immigrants – particularly targeting Black and Brown peoples.
This is a monumental horror in its own right, creating terror and untold suffering.  At the same time, it is a major escalation in the consolidation of a fascist America.  From Trump's election campaign to the opening days of the regime, anti-immigrant, xenophobic nationalism has been the battering ram and lynchpin of the Trump/Pence Regime.  Trump's "Wall" is a potent symbol and instrument of terror that concentrates the shattering of old norms and cementing Trump's new order of: America First...Make America Great White Again.
This assault on immigrants must be stopped and the Trump/Pence Regime that is responsible  must be driven from power by the only force that could do this: the united nonviolent mass sustained struggle of hundreds of thousands and millions voting with their feet in the streets.
Now is the time for everyone to come to the defense of those first and most viciously under attack and strengthen the movement to drive the fascist Trump/Pence regime from power.
***********
This comprehensive and qualitative leap in the ethnic cleansing of immigrants is comprised of  these five major moves made in the last two weeks:
Further moves to end DACA protections for 800,000+ Dreamers (immigrants brought to this country as children) while cruelly bargaining their future in exchange for the lives of millions of other immigrants. Ending DACA would destroy the lives of nearly a million young people, shatter their families, and instill even greater terror among all immigrants. The Trump/Pence Regime threatens the sword of deportation over the Dreamers in order to drastically cut legal immigration and institute even more draconian military and vigilante terror against all immigrants.  Heartlessly, they seek to end immigration that reunites families. Meanwhile, the Democratic Party leadership acts like horse traders, only with human lives, collaborating and capitulating.  Any "deal" that trades the security of a section of the Dreamers for heightened terror and ethnic cleansing against other immigrants is not only immoral, it would feed the anti-immigrant juggernaut that would sooner or later come for all immigrants.
Targeted detentions, deportations, and threats of the same against outspoken immigrants rights leaders, including Ravi Ragbir, Jean Montrevil, and Maru Mora-Villalpando. The targeting of courageous leaders is a calculated tactic of the United States political police aimed at breaking the movements of the people. This must not be allowed.  These leaders must be defended and many more must step forward to fight right now.  Also, nine members of No More Deaths, an Arizona group that leaves water in the desert where thousands of immigrants have died, were arrested in recent days.
The looming threat of a major ICE raid in the Bay Area aimed at breaking the sanctuary city/state movement nationally. Reports state that U.S. immigration officials are preparing a major sweep in San Francisco and other Northern California cities aiming to arrest more than 1,500 undocumented people. The goal is not only to destroy the lives of countless immigrants and their families, but also to break any legal opposition from state and city officials anywhere.  This follows vicious coordinated dawn raids on immigrants working at 98 7-Elevens nationwide. Homeland Security said this was a "harbinger" of what is to come.
Ending of Temporary Protective Status (TPS) for 200,000 Salvadorans, 60,000 Haitians, 5,300 Nicaraguans, 1,000 Sudanese, and the threat/likely ending of TPS for 57,000 Hondurans very soon. Over a quarter of a million immigrants will face deportation or life in the terror of the shadows under Trump, families will be shattered, and deportation or "voluntary" departure will send these human beings into conditions of intense deprivation, violence, and in many cases certain death.
The racialization and white supremacy of this anti-immigrant program. This has been clear from the beginning, but took a leap when Trump viciously called for shutting down immigration from the Black and Brown nations of Haiti, El Salvador, and the continent of Africa – calling them "shitholes" – while welcoming more immigrants from (white) countries like Norway. This is a rallying cry to Trump's fascist social base, a signal to the rising white-euro fascist nationalism around the world, and an actual genocidal program being concretely advanced with the full force of the most powerful state in the world.
*****
Is calling this the beginning of genocidal ethnic cleansing of Black and Brown immigrants too extreme?  Look at the numbers.  Look at children torn from parents. People sent to countries where they may face death.  What else do you call the criminal notion that where you were born, the color of your skin, and the language you speak should define whether you are regarded as human or not, whether you live or die?  What else do you call the view that any crime can be committed against those who are deemed "less than human" in the name of protecting the "real (ie: white, native-born) Americans," meanwhile the U.S. can invade, torture, and even nuke other countries at will?
This MUST not be allowed.  It must be actively and effectively resisted in order to prevent the enormous suffering, terror, and advancement of actual genocide and ethnic cleansing against millions of immigrants and their families.
And, this must be resisted in a way that strengthens the movement to drive out the whole fascist Trump/Pence Regime through mass, sustained, nonviolent political protest.
Any attempt to wait it out, or to "save one's fight" for some imagined bigger battle to come, is immoral delusion – it is trading away immigrants and losing one's own humanity, and will put you in a worse place to fight the next attack.  It is imperative for everyone to come to the defense of those first and most viciously under attack. Now is the time for everyone to find the ways to show – in word and deed – that: In the Name of Humanity, We REFUSE to Accept a Fascist America.
Everywhere, people need to meet, to plan and to ACT together – on campuses, among the faith community, by prominent artists and musicians, and all throughout society.  We need symbols of defiance taken up by hundreds of thousands and even millions, and protests, marches, and other acts of political resistance. Over the next weeks the world must see, the powers-that-be must feel, that people in this country will not allow them to take our brothers and sisters.
Refuse Fascism is calling on people to get organized to resist and for diverse organizations to talk to and really work with each other, to build much needed unity to stop this terror.  We, as RefuseFascism.org, invite and urge everyone who is outraged and concerned to reach out to us, strategize with us, and make big plans to STOP this nightmare and get organized to drive out the Trump/Pence Regime.
This Nightmare Must End: The Trump/Pence Regime Must Go!
In the Name of Humanity We REFUSE to Accept a Fascist America!
---
Permalink: http://revcom.us/a/527/resisting-trump-attacks-on-immigrants-en.html
Revolution #528 January 29, 2018
Resisting Trump Regime Attacks on Immigrants: "This is no time for business as usual"
New Coverage March 5, 2018 | Revolution Newspaper | revcom.us
January 22, 2018
In recent months, weeks, and now practically every day, our immigrant brothers and sisters have been going into the streets and into the halls of Congress, risking arrest and deportation to challenge "business as usual," and resist the most vicious, blatant, and criminal assault on the rights, the dignity, the humanity, and the very lives of immigrants in this country in their millions. All of those who are NOT immigrants must stand shoulder to shoulder with these courageous immigrants, pour into the streets and find every other possible way to actively refuse and stand up against this fascist regime's advancing assault on immigrants...
From RefuseFascism.org, A Letter to Chapters:
The Trump/Pence Ethnic Cleansing Attacks on Immigrants and Immigration: Qualitative, Comprehensive, and a Linchpin in Forging a Fascist America— The Trump/Pence Regime Must Go!
February 12, 2018
From RefuseFascism.org:
FIRST THEY CAME FOR THE MUSLIMS, THEN THEY CAME FOR THE IMMIGRANTS
Not This Time...
Stand Up Now with the Immigrants
This Nightmare Must End: The Trump/Pence Regime Must Go!
January 26, 2018
Chicago Clergy's Protest Calls on People to "Stand with the Dreamers"
February 7, 2018
Chicago clergy rally for Dreamers
On Monday, February 5, in 1 degree weather, almost 100 clergy and members of faith communities and organizations gathered at Federal Plaza in downtown Chicago to demand protection for the Dreamers. The call for the rally said, "100 clergy from across the Chicagoland area will join together to call on Congress to protect DREAMers. February 5th marks one month before the March 5th DACA deadline, after which, over 900 DREAMers will lose their protection from deportation and their ability to work in the U.S. every single day."
San Francisco: Protests Target ICE and Their Immigrant Round-Up Plans
February 5, 2018
Projection of "GESTAPO" on the ICE building in San Francisco, January 29
There have been recent reports in the press that ICE is preparing major raids in the San Francisco Bay Area, aimed at hunting down and deporting more than 1,500 immigrants. San Francisco is one of the sanctuary cities—and the Trump/Pence regime has been stepping up threats and moves against those cities and officials responsible for sanctuary policies. In response, Refuse Fascism, immigrant rights groups, religious forces, and others have been protesting at the ICE facility in San Francisco, including blockading the gates and projecting "GESTAPO" on the building.
West Los Angeles: Hundreds March for Dreamers and All Immigrants Under Attack
February 5, 2018
On Saturday, February 3, several hundred people rallied and marched in West Los Angeles in the Keep the Dream Act Alive March. This action called for "organizations [to] join forces and ask for the Dream Act, a permanent solution to protect the more than 800,000 immigrant youth protected by DACA. Every day without a clean Dream Act in Congress an estimated 122 DACA recipients lose their protection from deportation and their ability to work and drive legally in the United States. That's 5 every hour and 851 every week. Millions have categorically rejected Trump's 'DACA Fix' proposal which shamelessly uses young immigrants as the bargaining chips to get $25 billion for the border wall, more enforcement and deportations, destroys family unity, and ends diversity visas. We want a humane, moral, practical solution that protects young immigrants from being arrested, detained, and deported."
Coming in the context of a serious, comprehensive, and escalating assault on immigrant people, this was a welcome action in West LA. There need to be many more of these actions all across the country! Overwhelmingly, those at the march were immigrants, and most of them were young—in their teens and 20s. Many others need to step out now to march and resist in many other ways to act together to stop the Trump/Pence regime's attacks on immigrants.
NYC March to Trump Building on Wall Street Denounces Attack on Haitians and Others: "Donald Trump, Donald Trump, When We're Mad, We're Not Playing"
January 20, 2018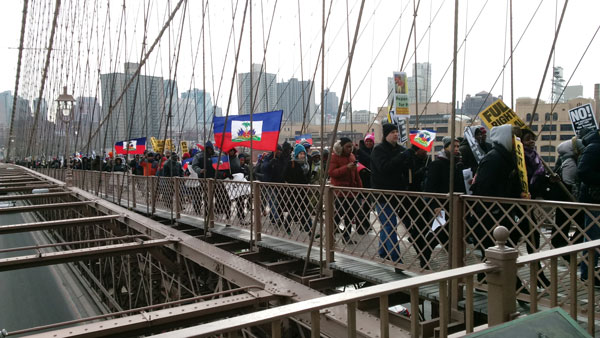 Marching over the Brooklyn Bridge, January 19, 2018
January 19—Hundreds of people, overwhelmingly Haitian immigrants, marched for miles from central Brooklyn, across the Brooklyn Bridge, through lower Manhattan and to the Trump Building on Wall Street, in angry and spirited denunciation of Trump's racist attack on Haiti and African countries as "shitholes." In November last year, the Trump/Pence regime cancelled the Temporary Protected Status (TPS) under which about 60,000 people from Haiti, many who came here after the devastating earthquake eight years ago, had been able to live and work in the United States.
There was a palpable sense of determination among the Haitians (and children of Haitian immigrants) in the march that Trump's assault on them must not stand. Two young women—a Fordham University student and a pediatrician—both said that they were opposed to Trump before, but they took the "shithole" insult "personally" because of their family backgrounds and heritage. Many protesters brought out how the poverty and misery plaguing Haiti today have everything to do with the actual history of domination, invasions, predatory acts, and backing of oppressive regimes by the U.S. and other powers (see the revcom.us article that brings this history alive). And a major theme in the protest was the proud history of Haiti where the first and only successful slave revolution in history took place in 1804.
At points in the march, people broke into exuberant and deeply felt singing of lines in Creole that translate as "Donald Trump, Donald Trump, when we're mad, we don't play." This was to a danceable beat provided by a group of musicians that joined the march with drums and homemade horns.
The organizers of the march, the 1804 Movement for All Immigrants, brought out the common fight of all immigrants and others against Trump. Among the 1804 Movement's demands are "permanent US residency for all holders of TPS" (aside from Haitians, people from El Salvador, Honduras, and Nicaragua, among other countries, have had their TPS revoked or threatened) and "an end to all forms of racial profiling and police terror in the US, above all against black and brown people." Among the chants was a call-and-response saying "Haitians, Mexicans…one fight, one struggle," repeated with naming Salvadorans, Africans, etc. The rally at the Trump Building included Puerto Rican and Filipino activists and Carl Dix, co-initiator of Refuse Fascism and a representative of the Revolutionary Communist Party, along with Haitian activists.
Carl Dix speaks on January 19 during 1804 Movement for All Immigrants protest. "These vile comments by Donald Trump calling countries around the world shitholes have a genocidal logic."
There was a strong presence of activists from Refuse Fascism (which is a part of the 1804 Movement coalition) in the march, with many in the march taking up "No Trump, No KKK, No Fascist USA" and other Refuse Fascism chants. A Haitian woman artist came with a handmade poster showing a photo of a pig with the face of Trump and the words "Guess Who?" Later in the march, her sign had a sticker on it saying "NO! In the Name of Humanity, We REFUSE to Accept a Fascist America!"
On Martin Luther King Day 2018, more than 1,500 immigrants largely from Haiti but also Puerto Rico and the Dominican Republic as well as from Africa rallied in Times Square. The high point of the day was the march of over 500 Haitian immigrants and Haitian Americans to New York City's number one Shithole—Trump Tower. The march was spirited, it was angry, it was rhythmic, and it was beautiful. The night air was filled at times with resounding chants: "FUCK YOU TRUMP!" and "Haitians Are Here to Stay!" There was a sense that people felt this was the last straw. That in the face of Trump's latest white-supremacist outrage—and threat—the people have had enough. Someone described it as: "You fucked with the wrong people!" There was pride and determination—Haitians standing up and liberating themselves and their humanity from the filth that the Shithole-in-Chief had hurled on them.
Dozens of Jewish Clergy and Activists Arrested in Capital Protest for Dreamers
January 21, 2018
Washington, DC, January 17—More than 80 protesters, many of them Jewish clergy, were arrested in an action demanding protection for some 800,000 young immigrants covered under DACA (Deferred Action for Childhood Arrivals). These immigrants, known as Dreamers, are under threat of deportation as soon as March because of the Trump/Pence regime's cancellation of DACA.
Activists from the Religious Action Center of Reform Judaism, Bend the Arc Jewish Action, the Anti-Defamation League, T'ruah and other Jewish organizations sat in concentric circles at the rotunda of the Russell Senate Office Building in a civil disobedience protest, until they were arrested and moved away by police. The activists sang protest songs in Hebrew and English.
A statement from the Religious Action Center of Reform Judaism said in part: "This is no time for business as usual. In the Torah, we are called 36 different ways to love the stranger, the orphan, and the widow. We were strangers in the land of Egypt, and know what it means to be turned away from places we thought of as home."
One of those arrested, Rabbi Sheldon Lewis from Palo Alto, California, said, ""We spoke up for compassion for the Dreamers, especially out of our own core values and experience. Caring for the marginalized is central for our people."
ICE Van Blocked by Defiant Protest in LA
February 19, 2018
February 15—Immigrant rights protestors from several groups joined "Koreatown Popular Assembly" in protest of the ICE raids taking place throughout Los Angles, and the nation.
Refuse Fascism's Michelle Xai rallied the group just prior to the march and subsequent blocking of a Homeland Security van, keeping it from entering the Detention Center in Downtown Los Angeles, California USA.
Hundreds of Students Walk Out of Houston High School to Demand ICE Release Their Classmate
February 16, 2018
Several hundred students walked out of Stephen F. Austin High School in Houston, Texas, February 14, demanding that immigration authorities release Dennis Rivera-Sarmiento, a senior at their school, now in ICE detention.
Immigrant Prisoners and Supporters at Northwest Detention Center in Tacoma on Hunger Strike to Demand End to Inhumane Conditions
February 14, 2018
Immigrants inside ICE's Northwest Detention Center (NWDC) in Tacoma, Washington, are on hunger strike—and people outside are also staging hunger strikes in support! This action is to stand against the ongoing extreme conditions of isolation, uncertainty, and injustice there against the immigrant prisoners. Those inside report they have been beaten and abused in attempts by authorities to stop the strike.
Hundreds Come Out to Support Sanctuary Movement Leader Ravi Ragbir
February 12, 2018
Lawsuit Demands an End to ICE Targeting of Immigrant Rights Movement Leaders
February 12, 2018
From a reader:
ICE to Use License Plates to Track Down Immigrants
"Never Again" Is Now!
February 5, 2018
Michael Slate Interview with Ravi Ragbir, Immigrant Activist Leader:
"There is a warfare against the immigrant community"
February 5, 2018
Hundreds Protest at U.S. Capitol to Demand "Clean" Dream Act
February 7, 2018
Protest in Capitol Building, Washington D.C., February 7 Credit: Twitter/@Altochulo
February 7—Hundreds of immigrants and others from different immigrant rights groups filled the rotunda of the Capitol Building in Washington, DC in a civil disobedience action to demand a "clean" Dream Act—protection for young immigrants covered under DACA (Deferred Action for Childhood Arrivals) and for all immigrants. About 100 protesters were arrested. Trump's cancellation of DACA threatens deportation of hundreds of thousands of young undocumented people ("Dreamers"), who were brought to the U.S. as children. The Trump/Pence regime is now dangling possible legalization for these immigrants years down the line, in return for the border wall and stepped-up immigration enforcement, which will further intensify repression against millions of undocumented and all immigrants—and Democratic leaders may agree to this "deal." The demand for a clean Dream Act opposes such a reactionary "deal." The protesters raised signs reading "OUR LIVES ARE IN DANGER. PASS THE DREAM ACT NOW."
Tacoma, Washington: People's Tribunal Against Persecution of Immigrants
February 5, 2018
Photo: Refuse Fascism Seattle
On Sunday, February 4, there was a People's Tribunal held at the Northwest Detention Center (NWDC) in Tacoma, Washington. It was aimed at the ongoing persecution of immigrants carried out at this institution, with a related important issue at the forefront being the threatened deportation of local immigration activist Maru Mora-Villalpando.
About 200 to 300 people were there, some coming from as far away as Salem, Oregon, and Bellingham, Washington, including college students and other youths.
Harvard Students Protest Top Democrat for Making Immigration "Deal" with Republican-fascists
February 5, 2018
On February 1, around 100 Harvard University students protested against Dick Durbin, one of the top Democratic senators, when he spoke on the campus. Durbin was one of the Democrats who voted in December to end the government shutdown in return for a "promise" from the Republican leadership that the issue of protection for recipients of DACA (Deferred Action for Childhood Arrivals)—undocumented youth who were brought to the U.S. as children—would be taken up at some point. Trump cancelled DACA last year, and hundreds of thousands of "Dreamers" are under threat of deportation. Durbin is co-sponsoring with Republican Senator Lindsey Graham an immigration "reform" bill that would make DACA permanent in return for new attacks on immigrants, like eliminating the visa lottery, and limiting the ability of immigrants to sponsor family members for immigration to the U.S.
According to the Harvard Crimson, protesters carried signs like "We Are Not Your Bargaining Chip" and "The U.S. Government Has Never Protected Us," and chanted slogans like, "Say it loud, say it clear—immigrants are welcome here!" Some demonstrators "infiltrated" the room where Durbin was speaking and held up protest signs as he spoke. The protest was co-sponsored by some 20 student organizations including Act on a Dream, the Harvard-Radcliffe Asian American Women's Association, and the Harvard College Democrats.
Houston DACA March to "Reclaim Our Humanity"
January 19—Tonight in Houston, 80 people marched through the streets of downtown chanting "Save DACA, No Deal!" and "¡Sin papeles, sin miedo!" ("Without papers, without fear"). The DACA March to Reclaim Our Humanity was organized by FIEL (Familias Inmigrantes y Estudiantes en la Lucha). DACA is Deferred Action for Childhood Arrivals, which was canceled by the Trump/Pence regime, putting 800,000 immigrants who were brought into the U.S. without documents at a young age (known as "Dreamers") under threat of deportation.
---
Permalink: http://revcom.us/a/526/january-20-emancipation-of-women-en.html
Revolution #528 January 29, 2018

January 20, 2018 | Revolution Newspaper | revcom.us