No more generations of our youth, here and all around the world, whose life is over, whose fate has been sealed, who have been condemned to an early death or a life of misery and brutality, whom the system has destined for oppression and oblivion even before they are born. I say no more of that.
—BAsics, from the talks and writings of Bob Avakian, 1:13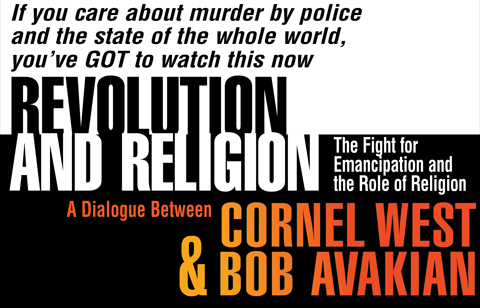 On viewing the film Revolution & Religion
"The film brings you up close inside Cornel West's and Bob Avakian's dialogue: the passion, the audacity, the science, the morality, the revolutionary substance. Two courageous voices modeling a morality that refuses to accept injustice – pouring heart and soul into standing together challenging all of us to fight for a world worthy of humanity."
—Andy Zee, co-director of the film
"It was like there was magic in the air." 
—Ardea Skybreak.
"They are both telling the truth. People from Skid Row need to hear this. I want to see the whole thing... In Skid Row you feel so trapped. People think of people there as drug addicts, but most people there are just down on their luck. There's professionals there, intellectuals, women escaping abuse, people come from all over the country because they think California is better, but end up on Skid Row. They are coming for a better life, but get treated like animals. How can people get out of this madness? You are in a hole and you keep trying to get out, but the system keeps dragging you down. We need a way out!"
—A group of formerly homeless women who had lived on "Skid Row" in LA
"Don't judge a book by its cover
"What struck me as most important was that two people from two different views can actually come together and express theirselves and come to a common agreement, and while disagreeing, that we're all in the movement for the same fight. And it wasn't too much beatin' around the bush, there were actual answers for the questions that we had. I would say to someone who hasn't seen this, don't judge a book by its cover, because you have a history of communism and atheism, don't judge by the cover. You have to first figure out why this is happening and what the solution is to the problem. There's some shit in taking this on you need to hear and listen and learn.
—Young poet from Ferguson

Book version available soon
FEATURED ARTICLES
Baltimore. Photo: AP
May 4, 2015
May 4, 2015
Carl Dix, co-initiator of the Stop Mass Incarceration Movement and representative of the Revolutionary Communist Party speaks in Baltimore, May 2, 2015.
Read transcript / share video here
May 1, Oakland
May 4, 2015
May 4, 2015
Mumia Abu-Jamal
May 4, 2015
by Linn Washington, Jr.
Strive to be strategic commanders of the revolution, not just tactical leaders, and not just strategic philosophers.
by Bob Avakian
February 9, 2015
You Can't Change the World If
You Don't Know the BAsics
Also in this issue
WWW.REVCOM.US/REVOLUTION NEWSPAPER brings alive a scientific analysis of major events in society and the world—why they are happening, how different events and developments relate to each other, how all this relates to the system we live under, where people's interests lie in relation to all this, how revolution is in fact the solution to all this and what the goals of that revolution are, how different viewpoints and programs relate, positively or negatively, to the revolution that is needed, and how people can move, and are moving, to build toward that revolution. Revcom.us/Revolution is the guide, the pivot, the crucial tool in drawing forward, orienting, training, and organizing thousands, and influencing millions—fighting the power, and transforming the people, for revolution—hastening and preparing for the time when we can go for the whole thing, with a real chance to win.
Subscribe to revcom.us | Donate to/Sustain revcom.us | Send your correspondence to revolution.reports@yahoo.com
A Statement from the Revolutionary Communist Party: ON THE STRATEGY FOR REVOLUTION
Updated May 7, 2015
Updated Poster:
May 7, 2015
May 6, 2015
From the Editors of Demarcations
January 10, 2015
Available now as an eBook!
Purchase from your favorite online vendor:
Amazon.com, iTunes, Barnes & Noble, eBooks.com, IPG, Kobo
Order the print edition now.
Publisher: Insight Press
Coming Events at Revolution Books