A blueprint for a vibrant and viable plan for what a new society would actually look like: a far better society.
See Resolution #5 from the Central Committee of the Revolutionary Communist Party.
Click to read here
Order the book here
Want to Know What the Big Deal Is About BA?
Order book here
Also in this issue
March 7, 2016
March 7, 2016
Read more



Tweet this...

Download poster
February 15, 2016
Correspondence from Readers
March 21, 2016
A group of immigrant readers writes about their experiences.
Revolution Books...
A Bookstore at the Center of a Movement for Revolution
At Revolution Books, NYC: Kwame Appiah on W.E.B. Du Bois
On February 24, 2016, philosopher and cultural theorist Kwame Appiah shared insights from his book "Lines of Descent: W.E.B. Du Bois and the Emergence of Identity" at Revolution Books in New York.
Excerpts from THE SCIENCE, THE STRATEGY, THE LEADERSHIP FOR AN ACTUAL REVOLUTION, AND A RADICALLY NEW SOCIETY ON THE ROAD TO REAL EMANCIPATION, by Bob Avakian, were read at a celebration at Revolution Books, NYC, January 20. Introductory remarks were made by Andy Zee.
Carl Dix and Sunsara Taylor
Campus Tour, Winter-Spring 2016—
An Invitation... to Meet the Revolution
Updated February 22, 2016
March 21, 2016
Rising Up
to Stop Police Terror
March 21, 2016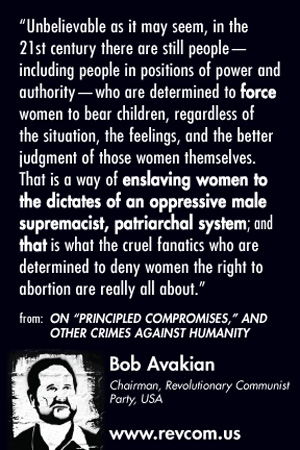 .
Much more on End Pornography and Patriarchy: the Enslavement and Degradation of Women
Of Continuing Interest
By Bob Avakian, Chairman of the Revolutionary Communist Party, USA
August 4, 2014
August 19, 2012
October 12, 2014
"Putting Forward Our Line—In a Bold, Moving, Compelling Way," by Bob Avakian
Published in two parts in Revolutionary Worker:
» Part 1, #1177, December 1, 2002
» Part 2, #1178, December 8, 2002
by Bob Avakian
Published 2004/2005
Interview with a Former Prisoner
» Part 1: Breaking with the Gang Life, Getting with the REAL Revolution
» Part 2: Science, Revolutionary Theory, and Getting Into Bob Avakian
» Part 3: Don't Risk Your Life Over Stupid Shit—Be Down for Revolution
April 27, 2015
Originally published April 14, 2013
by Bob Avakian, Chairman of the Revolutionary Communist Party, USA
January 23, 2005
WWW.REVCOM.US/REVOLUTION NEWSPAPER brings alive a scientific analysis of major events in society and the world—why they are happening, how different events and developments relate to each other, how all this relates to the system we live under, where people's interests lie in relation to all this, how revolution is in fact the solution to all this and what the goals of that revolution are, how different viewpoints and programs relate, positively or negatively, to the revolution that is needed, and how people can move, and are moving, to build toward that revolution. Revcom.us/Revolution is the guide, the pivot, the crucial tool in drawing forward, orienting, training, and organizing thousands, and influencing millions—fighting the power, and transforming the people, for revolution—hastening and preparing for the time when we can go for the whole thing, with a real chance to win.
Subscribe to revcom.us | Donate to/Sustain revcom.us | Send your correspondence to revolution.reports@yahoo.com
A Statement from the Revolutionary Communist Party: ON THE STRATEGY FOR REVOLUTION


Updated March 23, 2016
March 23, 2016
March 23, 2016
March 22, 2016
This article was written at the end of 2014; we are reposting it for readers' background on Obama's trip to Cuba.
Downloadable PDF and JPG formats
March 22, 2016
Attention readers in the New York City area:
Hamilton, an American Musical is the biggest thing to hit Broadway in many years. This issue of Revolution includes a major article on what Alexander Hamilton's life, politics, and role in history actually represented—"Hamilton—or, The Real American Hustle." Let's get this out in a big, bold way to people attending the show! Check here for scheduled performances.
All four issues now available in Spanish:
Demarcations: A Journal of Communist Theory and Polemic
March 18, 2016
Read at demarcations-journal.org
New Sections Now Available In Spanish!
SCIENCE AND REVOLUTION
On the Importance of Science and the Application of Science to Society, the New Synthesis of Communism and the Leadership of Bob Avakian, An Interview with Ardea Skybreak

Revolution Club at Rise Up October

Get with the
Revolution Club here
Available now as an eBook!
Order the eBook.
$9.99 retail
Published by Insight Press
Read online:
Part 1: REVOLUTION AND THE STATE
Part 2: BUILDING THE MOVEMENT FOR REVOLUTION
Uploaded June 29, 2015
From the Editors of Demarcations
Updated June 1, 2015
Copy these posters and distribute everywhere, especially on the campuses.
Black & White | Color
Available now as an eBook!
Purchase from these vendors:
Amazon.com, iTunes, Barnes & Noble, eBooks.com, IPG, Kobo
Order the print edition now.
Publisher: Insight Press
Excerpts from the book:
Attention readers: Send in reports on protests, including photos and links to videos, to revcom.us/ Revolution newspaper at revolution.reports@ yahoo.com.
BA Speaks:
REVOLUTION— NOTHING LESS!
Coming Events at Revolution Books