Native Americans Fight Modern-Day Genocide:
Standing Up at Standing Rock
Updated January 24, 2016 | Revolution Newspaper | revcom.us
FLASH:
On January 24 the Trump-Pence fascist regime signed an executive order to push ahead and finish the Dakota Access Pipeline, and the Keystone XL Pipeline. We will post new developments here. As of this posting, protests are taking place in various cities. It is urgent that the righteous defense of the rights of Native People, and the defense of the environment humanity depends on, not be steamrolled! And it is urgent that this important struggle be part of the defining struggle to STOP the fascist regime of Trump-Pence before it consolidates its power.
The encampment near North Dakota's Standing Rock Sioux reservation, December 4, 2016. Photo: Special to revcom.us
Below is background to this important struggle.
---
December 12, 2016
Over the past week, there have been important developments in the resistance to the Dakota Access Oil Pipeline (DAPL) that threatens the water and tramples treaty rights of the Standing Rock Sioux in the western Dakotas. Revolution reported on how thousands of people, including a contingent of veterans, went to Standing Rock to stand with people threatened with eviction by federal and state officials. Revolution Clubs mobilized around the country and sent a delegation to stand with people there, and connect them with organizing for an actual revolution.
November 28, 2016
There is a showdown looming at Standing Rock Indian Reservation in the Dakotas. Thousands of Native American Indians, along with supporters, have been camping out there. They have been protesting the installation of an oil pipeline that gravely threatens the water that Native people and thousands of others in the area depend on, and violates Indian treaty rights. Hundreds have been arrested and hundreds more have stood up to beatings, macings, high-powered water hoses in sub-freezing weather, and unending harassment and insult.
Now the Army of Corps of Engineers has vowed to arrest anyone who remains in the camp past Monday, December 5.
The Native people cannot be left to face this alone. The environment cannot withstand yet another insult. It is on everyone—every revolutionary, every radical or progressive, everyone with a beating heart and a working conscience—to stand up for the Standing Rock Sioux and the water protectors.
December 5, 2016
The past 24 hours have seen dramatic developments in the battle to stop the Dakota Access Oil Pipeline (DAPL) from endangering the water and violating the treaty rights of the Standing Rock Sioux.
December 3, 2016
The Army of Corps of Engineers, and the governor of North Dakota, have issued threats to arrest anyone who remains in the camp with the Standing Rock Sioux Tribe after Monday, December 5. Revolution correspondents at Standing Rock shared these responses from people they talked to about those threats.
November 28, 2016
December 1, 2016
December 12, 2016
If you are at Standing Rock, write to us. Tell us why you are there, your thoughts on what is happening and why, and what needs to happen.
Write to revolution.reports@yahoo.com.
Stand With Standing Rock!
Solidarity with Standing Rock
From a reader:
Midnight on December 1st, ​Mohawks of Kahnawake, near Montreal, Canada, began a 24 hour blockade of freight trains carrying oil on the Canadian Pacific Railway line. This action was in protest against the Dakota Access Pipeline in North Dakota, and in solidarity with the encampment and protest at Standing Rock. ​This action blocked the trains carrying oil while allowing the commuter trains to pass.
A spokeswoman for the protest​,​ Kahionwinehshon Phillips​,​ stated "We as the Mohawk people have a duty to protect mother earth, and we will continue to defend our mother earth for the coming generations as our ancestors did."
​The protesters at Kahnawake have maintained ​an encampment since late October ​at the base of Mercier Bridge, ​which connects the Montreal borough of LaSalle on the Island of Montreal with the Mohawk reserve of Kahnawake, Quebec​.
...The DAPL [Dakota Access Pipeline] is a 1,200-mile-long pipeline that, when completed, would carry 500,000 barrels of oil a day, extracted through environmentally destructive methods in northwest North Dakota. The burning of that oil would pump more greenhouse gases into the environment, further escalating the global climate crisis. While DAPL hasn't attracted the same level of international attention as the Keystone XL pipeline, which crosses the U.S.-Canada border, DAPL is on the same scale. The pipeline route cuts through land that is historically and culturally important to the Sioux and other Native people. And leaks from the pipeline where it is designed to cross the Missouri River would threaten the water, health, and livelihood of the people at Standing Rock reservation and millions of others in the region.
Starting with a few protesters earlier this year, the defiant struggle of the "water defenders," as many at Standing Rock call themselves, has drawn in hundreds of Native tribes—including ones with longstanding historic conflicts—as well as environmental activists and a wide range of people compelled to take a stand against injustice and oppression. Thousands of people are now part of an encampment near the Standing Rock reservation. Well-known voices, such as Edward Snowden and Susan Sarandon, have come out in support of the anti-DAPL protests, and actor Shailene Woodley was among those arrested at a protest earlier this month. At least 19 city governments have passed resolutions or written letters opposing construction of the pipeline.
The determined actions of the fighters at Standing Rock are posing big questions about the ongoing genocide of indigenous people and the predatory nature of the oil-addicted capitalist-imperialist system. On the other side are not just the capitalists who have billions of dollars invested in the completion of the Dakota Access Pipeline, but the ruling class as a whole who are all committed to what they call U.S. "energy independence." Whatever the conflicts among themselves, they are in agreement on the need, based on their imperialist interests, to increase domestic fuel production in order to gain strategic advantage over rival world powers, as part of maintaining their position as top global oppressor and exploiter.
The situation at Standing Rock has been intensifying... Read entire article
For more on the struggle at Standing Rock, see these revcom.us articles: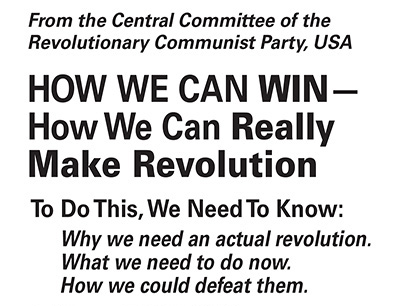 Read the entire HOW WE CAN WIN—How We Can Really Make Revolution HERE
Correspondence from Revcoms at the Standing Rock Indian Reservation:
Editor's note: Revcoms are at the Standing Rock Indian Reservation. They are uniting with this historic struggle and reporting from the ground for Revolution / revcom.us. And they are taking out the reality that this is an illegitimate system that is behind all this and that it needs to be overthrown at the soonest possible time, and connecting people with HOW WE CAN WIN—How We Can Really Make Revolution. Following are correspondence from them on what they are learning, and doing.
Revcoms at Standing Rock, November 30:
From Travis Morales, November 26:
Revcom.us Interview with Standing Rock Youth on November 20 Police Attack:
From Revcoms at Standing Rock, November 23:
From Revcoms at Standing Rock, November 21:
From Revcoms at Standing Rock, November 20:
From Revcoms at Standing Rock, November 16:
Native Americans Fight Modern-Day Genocide:
Interview with Eleanor Bravo:
November 11:
November 8: Report from Revcoms at Standing Rock
Correspondence from Revcoms at Standing Rock:
November 2:
Standing Rock Interview:
Clergy Standing with Standing Rock
October 31:
October 31:
Interview from Standing Rock
October 30:
The scene about an hour ago on Hwy 1806 as policr attempt to force Oceti Sakowin Sioux tribes to allow DAPL on their treaty land. #NoDAPL pic.twitter.com/wG4SXXrKAE

— Unicorn Riot (@UR_Ninja) October 27, 2016
Berserk police indiscriminately mace peaceful Water Protectors!

Berserk Police indiscriminately mace peaceful Water Protectors! This blatant attack was unprovoked - there were young children and elders in this crowd for prayer. #NoDAPL #WaterisLife #MniWiconi Video by Rob Wilson Photography #WearetheMedia SHARE WIDELY!! Call to Action! We need you here NOW at Sacred Stone Camp! DAPL is trying to finish this pipeline now and they are nearing camp! They have to date destroyed 380 sacred sites! If you've thought about coming out - now is the time - we need you!

Posted by Sacred Stone Camp on Saturday, October 22, 2016

The 1868 Treaty of Fort Laramie supposedly guaranteed Native people the right to certain lands. But as oil and minerals were discovered, the lands were grabbed back by the U.S. government.

On Saturday, October 22, 83 people were arrested as 300 protestors stood their ground to block the attempts to build the Dakota Access Pipeline in North Dakota. The proposed pipeline would savage the environment and endanger several nearby Native American reservations and lands.

September 9, more than a thousand people gather at an encampment to protest Dakota Access oil pipeline near North Dakota's Standing Rock Sioux reservation. Photo: AP
The Standing Rock Sioux and thousands of others protesting the building of the Dakota Access Oil Pipeline are fighting to protect the waters of this land and lands held sacred in their culture. They have heroically resisted pepper gas, beatings, and hundreds of arrests. In their determined resistance they have brought to the fore the whole history of broken treaties and genocide against the Native American peoples. The protesters are modeling something very important—collectively taking responsibility for the future of the land and people living on it and making sure it is not destroyed.
Contrast that with the people carousing and acting the fool in Chicago and Cleveland, celebrating a "World" Series in which one team uses a grotesque and cruel caricature of Native Americans as its emblem. Hundreds of fans have worn a racist "Chief Wahoo" costume to the games, and millions of people have watched them on TV... Read entire article
---
This Revolution special issue focuses on the environmental emergency that now faces humanity and Earth's ecosystems. In this issue we show:
the dimensions of the emergency...
the source of its causes in the capitalist system, and the impossibility of that system solving this crisis...
a way out and way forward for humanity—a revolutionary society in which we could actually live as custodians of nature, rather than as its plunderers.
Also available in brochure format (downloadable PDF)

This video was made in 2009 by Cree singer Buffy Sainte-Marie. It is currently circulating on social media. In her native tongue, Keshagesh means "greedy guts." "It's what you call a little puppy who eats his own and then wants everybody else's."
Volunteers Needed... for revcom.us and Revolution
If you like this article, subscribe, donate to and sustain Revolution newspaper.