FEATURED ARTICLES
May 11, 2015
May 11, 2015
May 11, 2015
May 11, 2015
May 11, 2015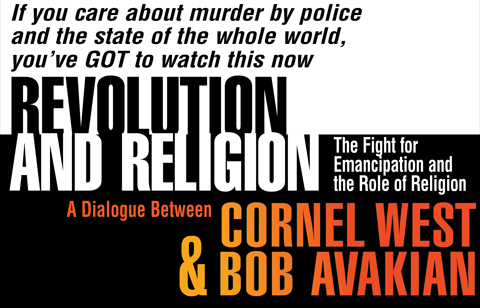 On viewing the film Revolution & Religion
"The film brings you up close inside Cornel West's and Bob Avakian's dialogue: the passion, the audacity, the science, the morality, the revolutionary substance. Two courageous voices modeling a morality that refuses to accept injustice – pouring heart and soul into standing together challenging all of us to fight for a world worthy of humanity."
—Andy Zee, co-director of the film
"It was like there was magic in the air. It was one of the most hopeful things that I've seen in a very long time. I think it was historic in many different dimensions: in terms of the topic that was approached; the people who were involved in it, the two speakers; the moment in time. I felt like I was able to see a great demonstration of morality and conscience applied to dealing with the problems of humanity—that both speakers stood out this way."
—Ardea Skybreak.
"Don't judge a book by its cover
"What struck me as most important was that two people from two different views can actually come together and express theirselves and come to a common agreement, and while disagreeing, that we're all in the movement for the same fight. And it wasn't too much beatin' around the bush, there were actual answers for the questions that we had. I would say to someone who hasn't seen this, don't judge a book by its cover, because you have a history of communism and atheism, don't judge by the cover. You have to first figure out why this is happening and what the solution is to the problem. There's some shit in taking this on you need to hear and listen and learn.
—Young poet from Ferguson

Book version available soon
by Bob Avakian
February 9, 2015
Also in this issue
May 11, 2015
May 11, 2015
Photo: AP
May 11, 2015
May 6, 2015
ENVIRONMENT
May 11, 2015
Read more
GENOCIDAL REALITIES
May 11, 2015
Read more
CORRESPONDENCE
May 11, 2015
May 11, 2015
BALTIMORE
The Reality and the Uprising
May 11, 2015
May 11, 2015
May 11, 2015
May 7, 2015
Read more
May 11, 2015
BURNING QUESTIONS
April 22, 2015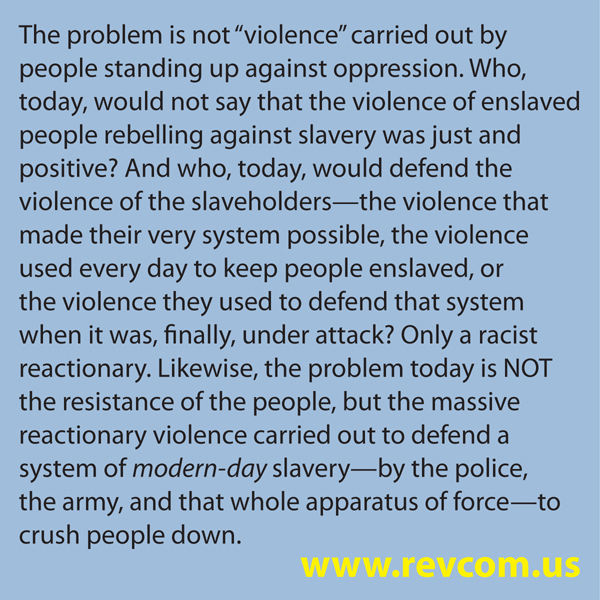 Of Continuing Interest
April 28, 2015
December 29, 2014
April 27, 2015
April 16, 2015
Originally published April 14, 2013
by Bob Avakian, Chairman of the Revolutionary Communist Party, USA
Excerpts from Away With All Gods! by Bob Avakian:

WWW.REVCOM.US/REVOLUTION NEWSPAPER brings alive a scientific analysis of major events in society and the world—why they are happening, how different events and developments relate to each other, how all this relates to the system we live under, where people's interests lie in relation to all this, how revolution is in fact the solution to all this and what the goals of that revolution are, how different viewpoints and programs relate, positively or negatively, to the revolution that is needed, and how people can move, and are moving, to build toward that revolution. Revcom.us/Revolution is the guide, the pivot, the crucial tool in drawing forward, orienting, training, and organizing thousands, and influencing millions—fighting the power, and transforming the people, for revolution—hastening and preparing for the time when we can go for the whole thing, with a real chance to win.
Subscribe to revcom.us | Donate to/Sustain revcom.us | Send your correspondence to revolution.reports@yahoo.com
A Statement from the Revolutionary Communist Party: ON THE STRATEGY FOR REVOLUTION
Updated May 14, 2015
May 14, 2015
May 12, 2015
May 12, 2015
May 11, 2015
April 28, 2015
Updated Poster:
Running with the Rev Club, April 14. Bay Area, CA. Photo: ©Lonny Meyer
Get with the
Revolution Club here
From the Editors of Demarcations
January 10, 2015
Copy these posters and distribute everywhere, especially on the campuses.
Black & White | Color
Available now as an eBook!
Purchase from your favorite online vendor:
Amazon.com, iTunes, Barnes & Noble, eBooks.com, IPG, Kobo
Order the print edition now.
Publisher: Insight Press
Attention readers: Send in reports on protests, including photos and links to videos, to revcom.us/ Revolution newspaper at revolution.reports@ yahoo.com.
BA Speaks:
REVOLUTION— NOTHING LESS!
Coming Events at Revolution Books