Go to LATEST POSTS HERE
Featured
Joey Johnson at the RNC: "We're standing here with the people of the world."
Revolution Books NYC
The political, intellectual, and cultural center for the movement for an actual revolution
Indiegogo crowd funding campaign for Revolution Books!
$25,000 The Time Is Now
Your contribution will fund:   
Thousands of important new books • Bold signage on the street. • A stage for cutting-edge events. • New air-conditioning.
Pigs Kill Again! How Many More Lives Will Be Taken By This System? We Need REVOLUTION—NOTHING LESS!
Trump vs. Clinton:
Criminal Choices of a Criminal System
We Need to Overthrow, Not Vote for, This System!
Bob Avakian:
The leadership we have for an ACTUAL revolution
I want to get into BA...Where do I start?
In the fall of 2012, Bob Avakian gave a series of talks in different cities. This is a film of one of those talks.
"You can't change the world if you don't know the BAsics."
A book of quotations and short essays that speaks powerfully to questions of revolution and human emancipation
Get into Bob Avakian HERE
Get Organized for Revolution
Get With the Revolution Club
Fight the Power, and Transform the People, for Revolution
August 1, 2016
Revolution Club at the RNC & DNC
Money for bail, legal and organizing support needed urgently.
More on the Revolution Club HERE
Also in this Issue
Copy these posters and distribute everywhere, especially on the campuses.
Black & White | Color
WWW.REVCOM.US/REVOLUTION NEWSPAPER brings alive a scientific analysis of major events in society and the world—why they are happening, how different events and developments relate to each other, how all this relates to the system we live under, where people's interests lie in relation to all this, how revolution is in fact the solution to all this and what the goals of that revolution are, how different viewpoints and programs relate, positively or negatively, to the revolution that is needed, and how people can move, and are moving, to build toward that revolution. Revcom.us/Revolution is the guide, the pivot, the crucial tool in drawing forward, orienting, training, and organizing thousands, and influencing millions—fighting the power, and transforming the people, for revolution—hastening and preparing for the time when we can go for the whole thing, with a real chance to win.
Subscribe to revcom.us | Donate to/Sustain revcom.us | Send your correspondence to revolution.reports@yahoo.com
A Statement from the Revolutionary Communist Party: ON THE STRATEGY FOR REVOLUTION
Pre-publication PDF of this major work available here.
Note to our readers: This major work by Bob Avakian was previously posted at revcom.us under the title The Science, The Strategy, The Leadership for an Actual Revolution, And A Radically New Society on the Road to Real Emancipation
Get Into BA

HERE
Updated August 14, 2016
August 14, 2016
August 10, 2016
Revcom.us has made several transitional changes to this website to make it more accessible to first-time viewers. There are more sweeping design changes coming. This is where you, the reader come in. Web and graphic designers—if you would like to work on the most revolutionary website on the planet, please write us at spreadrevolution@gmail.com.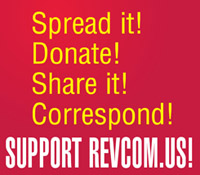 Don't Miss These...