Coming in March!
A High-Quality Full-Length Film of
REVOLUTION AND RELIGION:
The Fight for Emancipation and the Role of Religion;
A Dialogue Between CORNEL WEST & BOB AVAKIAN
Trailer
Watch NOW!


Re-broadcast of the November 15 Simulcast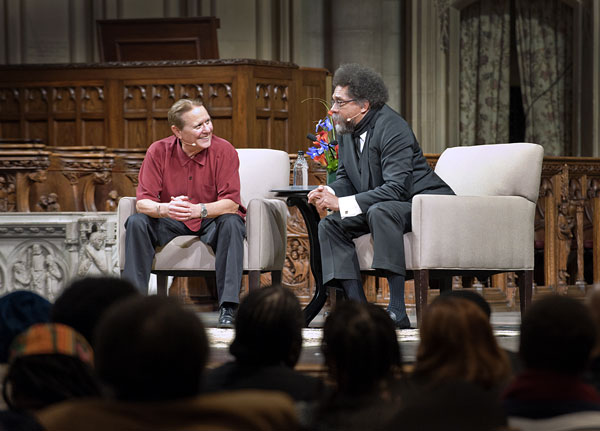 Biographies of Bob Avakian & Cornel West
Download Tweetable jpg.
Read more about the role of revcom.us and Revolution newspaper in making revolution
This fall, people saw the possibility of a radically different world begin to come to life. Make February a pivotal month... to go back on the offensive ... preparing for big leaps in the spring.... Read more

Chicago, Martin Luther King Day 2015. Photo: Special to revcom.us
---
---
Download Tweetable jpg.
---
---
Updated January 27, 2015
---
Updated January 29, 2015
Excerpts from
Away With All Gods!

by Bob Avakian:
Also in this issue
Of Continuing Interest
---
---
---
by Lenny Wolff
---
---
Interview with a Former Prisoner
» Part 1: Breaking with the Gang Life, Getting with the REAL Revolution
» Part 2: Science, Revolutionary Theory, and Getting Into Bob Avakian
» Part 3: Don't Risk Your Life Over Stupid Shit—Be Down for Revolution
---
Updated January 29, 2015

January 29, 2015
---
January 27, 2015
---
---
From the Editors of Demarcations
January 10, 2015
---
---
Available now as an eBook!
Purchase from your favorite online vendor:
Amazon.com, iTunes, Barnes & Noble, eBooks.com, IPG, Kobo
Order the print edition now.
Publisher: Insight Press
Attention readers: Send in reports on protests, including photos and links to videos, to revcom.us/ Revolution newspaper at revolution.reports@ yahoo.com.
Bob Avakian, "Yes there's a conspiracy, to get the cops off."
BA Speaks:
REVOLUTION— NOTHING LESS!
---
January 27 marked the 70th anniversary of the liberation of the German Nazi Auschwitz Concentration Camp. More than one million people, mostly Jews, were killed at Auschwitz as part of the Nazi Holocaust. That Holocaust was the product, in complex ways, of the workings of the system of capitalism-imperialism and does not in any way justify Israel's genocidal ethnic cleansing of Palestine. We encourage readers to read and share the article "Revolution Responds to Question on Nature of Holocaust," part of a special issue of Revolution, The Case of Israel: Bastion of Enlightenment or Enforcer for Imperialism?
---
1/27/2015
---
---
Coming Events at Revolution Books