FEATURED ARTICLES
July 23, 2015
Read more
Download PDF for print

Wall of restaurant in Ferguson, Missouri. Photo: Special to revcom.us.
July 24, 2015
July 29, 2015
Thursday, August 27, 6:30 pm
First Corinthian Baptist Church,
1912 Adam Clayton Powell Jr. Blvd., New York City
Come hear
Cornel West, Carl Dix and Others speaking on
WHAT WE MUST DO TO STOP POLICE TERROR AND MURDER
Get Ready for
Rise Up October: Massive Mobilization to Stop Police Terror & Murder, October 22-24
Download:
Full Edition | Sampler Edition
Order print copies from:
The Bob Avakian Institute
An article from
Break ALL the Chains!
BA Everywhere
The work Bob Avakian, "BA," has done creates new possibility at an excruciating time for humanity—nothing less than an opening for a visionary and viable future. BA Everywhere is a major fundraising campaign to make Avakian's work and leadership known in every corner of society.
August 3, 2015
Download Poster: Color | Black&White
July 13, 2015
July 27, 2015
by Bob Avakian
February 9, 2015
Also in this issue
August 3, 2015
Environment
August 3, 2015
Revolution Club in Baltimore, April 25
Photo: Special to revcom.us
Get with the
Revolution Club here
Updated July 31, 2015
Of Continuing Interest
April 27, 2015
July 6, 2015
Originally published April 14, 2013
by Bob Avakian, Chairman of the Revolutionary Communist Party, USA
Excerpts from Away With All Gods! by Bob Avakian:

August 3, 2015
August 3, 2015
August 3, 2015
Carl Dix Calls Out the LIE that Abortion is "Black Genocide"
For much more on Take Patriarchy by Storm
Re-open Revolution Books New York City
Around the World
August 3, 2015
August 3, 2015
August 3, 2015

WWW.REVCOM.US/REVOLUTION NEWSPAPER brings alive a scientific analysis of major events in society and the world—why they are happening, how different events and developments relate to each other, how all this relates to the system we live under, where people's interests lie in relation to all this, how revolution is in fact the solution to all this and what the goals of that revolution are, how different viewpoints and programs relate, positively or negatively, to the revolution that is needed, and how people can move, and are moving, to build toward that revolution. Revcom.us/Revolution is the guide, the pivot, the crucial tool in drawing forward, orienting, training, and organizing thousands, and influencing millions—fighting the power, and transforming the people, for revolution—hastening and preparing for the time when we can go for the whole thing, with a real chance to win.
Subscribe to revcom.us | Donate to/Sustain revcom.us | Send your correspondence to revolution.reports@yahoo.com
A Statement from the Revolutionary Communist Party: ON THE STRATEGY FOR REVOLUTION


Updated August 8, 2015
Coming Soon!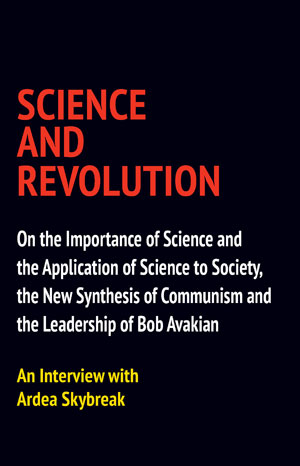 As of late night tonight, protests continue.
August 8, 2015
When You Put On This Shirt You Step Into The Revolution
Get all the news about the August 22 REVOLUTION—NOTHING LESS tshirt day. More...
August 8, 2015
From A World to Win News Service:
August 7, 2015
Watch the People's Hearing now.
August 7, 2015
Updated August 7, 2015 with full video of press conference
August 5, 2015
July 27, 2015
Uploaded June 29, 2015
From the Editors of Demarcations
Updated June 1, 2015
Available now as an eBook!
Purchase from your favorite online vendor:
Amazon.com, iTunes, Barnes & Noble, eBooks.com, IPG, Kobo
$9.99 retail
Published by Insight Press
Available now as an eBook!
Purchase from your favorite online vendor:
Amazon.com, iTunes, Barnes & Noble, eBooks.com, IPG, Kobo
Order the print edition now.
Publisher: Insight Press
Coming Events at Revolution Books