Part 1 of Q&A session
0:00: What do you say to the late night comedians, the Steven Colberts etc, who do some powerful exposure and ridicule but also run the risk of becoming like court jesters and, in this case, contributing to the normalization of fascism?
11:10: If successful in driving out, or forcing Trump to resign, who will step in to take the reins? What happens next? And are these replacements prepared to lead this entire diverse country and its military?
27:13: How is it possible to maintain a movement of that scale for a long period of time?
THE NEW COMMUNISM
by Bob Avakian
ABOUT THE BOOK, ORDER HERE
See excerpts HERE
Updated pre-publication PDF of this major work—now including the appendices—available HERE
Insight Press has announced that in addition to the print book, THE NEW COMMUNISM is now available as an eBook at Amazon, iBooks, Barnes and Noble and other retail and library websites.
The Emancipation of Women: Break ALL the Chains!
The Trump/Pence Regime Must Go!
November 17, 2017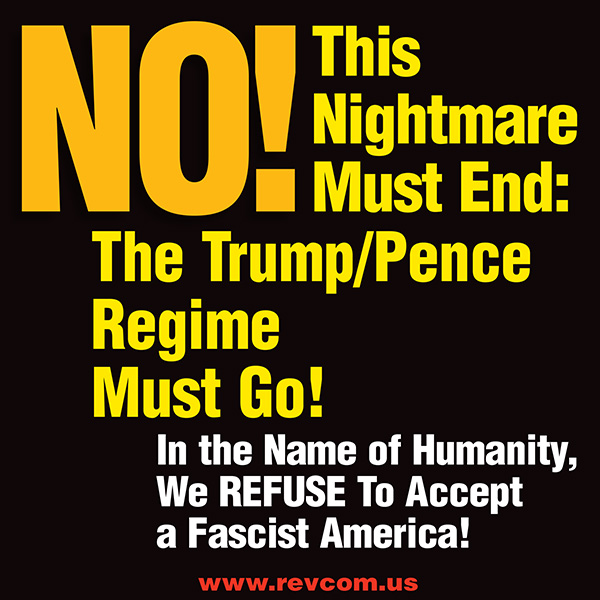 Statements refuting 'civil war' lie spread about Nov 4:
» From Revolutionary Communist Party
» From Refuse Fascism
"For Outstanding Silence, Normalization, and Conciliation with the Fascist Regime"
November 16, 2017
The following is an important talk given by Bob Avakian earlier this summer.
Listen | Read talk
Where Did This Fascism Come From...and How Do We Fight It?
Some Key Works by Bob Avakian
Celebrating—and Learning From—the 100th Anniversary of the October Revolution in Russia
Interview with Raymond Lotta
I Want to Be Part of the Movement for Revolution—What Do I Do?
The "Revolution Project" in Chicago: Fight the Power, and Transform the People, for Revolution