Sparks of Outrage and Protest Against the Fascist Trump-Pence Regime
Updated January 10, 2018 | Revolution Newspaper | revcom.us
A fascist regime that represents an unprecedented danger to humanity has assumed the reins of power in the U.S. Starting right from the inaugural speech and every day since then, the Trump-Pence regime has carried through new outrages—and they surely have more to come. Right now, the different forces in the ruling class are either supporting this enthusiastically or going along with at most a few petty amendments.
As Carl Dix, Sunsara Taylor, and Andy Zee—three people who kicked off refusefascism.org—said in their January 25 letter: "That does NOT mean that the possibility of ousting this regime through truly massive action is over, and that all people can do is work on local projects or hope for some pendulum swing somewhere down the road—while Trump-Pence carry out truly monstrous things and put the whole planet in jeopardy. Far from it. Precisely because this regime is fascist and a qualitative change from the 'normal workings' of this system, and because millions of people—correctly—view this regime as utterly illegitimate, the possibility of crisis erupting at any time is great…."
And they also noted: "So we stand at a new juncture. The regime is in power, and moving quickly. At the same time, millions have registered their opposition and many are looking for a way to fight. Over these next few weeks, revcom.us will be covering the regime and the resistance to it with the same intensity and level of analysis that we have since the election."
There are millions who hate what is represented by this fascist regime, and some of this outrage continues to surface in different kinds of resistance, as seen here on this page. There are also many in different spheres—academia, sciences, arts and entertainment, journalism, and others—who are raising their voices against Trump-Pence and their fascist outrages. See these voices here. It's crucial to grasp that these sparks and voices represent a much bigger and broader anger and opposition to the fascist regime.
We encourage Revolution/revcom.us readers to send us news and reports, pictures, and videos of the ways people are resisting (send to: revolution.reports@yahoo.com).

"This Is Not Normal"
---

Flagburner Gregory "Joey" Johnson speaking in San Francisco, December 10, 2016.
Protest of Dakota Access Pipeline at Standing Rock, December 10, Los Angeles. Photo: Special to revcom.us

Student walkout in Boston, December 5. Photo: Twitter/campuslately

Students from @UNTnews have made it to the circle in #Denton to protest for their #SanctuaryCampus. Waiting for @txwomans now. @wfaachannel8 pic.twitter.com/mgFv9R7pTB

— Alisha Ebrahimji (@AlishaEbrahimji) December 1, 2016
Hundreds of A&M students with homemade placards and banners joined thousands of people to protest neo-Nazi (aka "alt-right") Richard Spencer, December 6. (AP photo)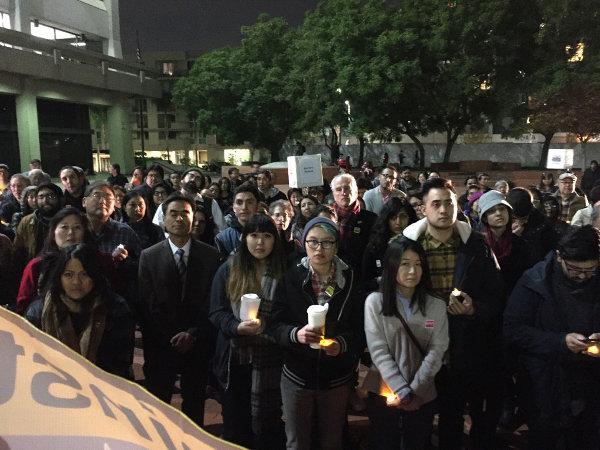 December 7—Japanese American community groups led a protest in the Little Tokyo neighborhood of Los Angeles to oppose Trump's threats against Muslims and immigrants. Photo: Twitter/@josie_huang
Earlier Sparks of Outrage and Protest
~~~~~~~~~~
On Saturday, December 10, in San Francisco, 500 people marched in the rain to deliver the message "This Is Not Normal!" The action was initiated by people who had never organized a protest before. The march involved a broad range: people from the LGBT community, tech workers, students, artists, feminists, and others. The Revolution Club led many chants taken up by the march, like "We will not conciliate! We will not accommodate! We will not collaborate!" and read the statement "In the Name of Humanity, We REFUSE to Accept a Fascist America" from the rally stage. Joey Johnson, revolutionary communist and notorious flag burner, spoke to the huge stakes for humanity in stopping the fascists, and pointed to Trump's threat to jail and strip citizenship from people burning the American flag as one concentration of the fascist program.
On the same day, in Los Angeles, thousands of people from many walks of life converged downtown to demand the complete stop of the Dakota Access Pipeline (DAPL). The DAPL threatens the water source for the Standing Rock Sioux people and sites that are important to their culture, and if completed will add significantly to the the global climate change endangering the planet. More than 600 copies of Revolution newspaper were distributed along the march, and hundreds of people carried posters declaring "In the Name of Humanity, We REFUSE to Accept a Fascist America."
On Monday, December 5, hundreds of Boston high school and college students walked out of classes and rallied at Boston Commons. According to the Boston Globe, the students delivered a list of demands to the Massachusetts governor and the Boston mayor, "to protect minorities and immigrants, support public education, and denounce white nationalists who have been energized by a Trump victory."
Trump has threatened to immediately deport millions of immigrants and cancel Obama's temporary deferrals of deportations of young undocumented people. In response, students across the country are organizing and acting—through walkouts, rallies, and petition campaigns—to demand that their schools become "sanctuary campuses" that protect undocumented immigrants, as well as LGBT people and other who may come under attack from the government as well as fascist mobs. (See "Students Across the County Demand Sanctuary Campuses: Schools Should Be Safe Zones from Fascist Attacks—No Matter What")
On December 6, at Texas A&M University, neo-Nazi leader Richard Spencer's appearance on the campus was met with righteous protest by hundreds of students and hundreds of others from Houston, Austin, and other cities and towns in Texas. This school is known as one of the most conservative state universities in the country—so this raucous protest of thousands was very significant. (See "Thousands Protest Neo-Nazi Richard Spencer at Texas A&M")
On December 7, on the anniversary of the 1941 attack on Pearl Harbor that began the war between U.S. and Japan, a number of Japanese American community organizations in Los Angeles led a protest in the Little Tokyo neighborhood against Trump's attack on immigrants and Muslims. They compared what Trump is saying and threatening to the U.S. government's vilification, mass round-ups, and imprisonment in concentration camps of people of Japanese ancestry during World War 2. There were calls for Little Tokyo to become a sanctuary for those singled out by Trump, and for people to "put their bodies" between those targeted and the authorities. 
The Jewish group IfNotNow, which came together in 2014 to opposes the horrific U.S.-backed Israeli war on Palestinians in the Gaza Strip, has been protesting Richard Bannon, the white-supremacist, anti-Semitic neo-Nazi who is Trump's "chief strategist." On December 8, IfNotNow in New York City posted on their Facebook page: "This morning, we delivered white roses to the Conference of Presidents of Major Jewish Organizations, and demanded that they join our call to #FireBannon. The white rose was used by students from The University of Munich as a symbol of nonviolent resistance to the Nazi regime, and now we claim it as our own—to demonstrate our resistance to state-sponsored hate as the #JewishResistance."
On December 10, 200 people marched around the M&T Bank Stadium in Baltimore to protest Trump who was attending the Army-Navy football game. The Baltimore Sun said that the protesters chanted "No hate, no fear, immigrants are welcome here" and "We reject the president-elect" and held up signs like "Resist" and "Make fascists hide again."
On Friday, December 9, at the annual awards ceremony of the International Documentary Association (IDA) held at the Paramount Theater in Los Angeles, TV writer and producer Norman Lear said from the stage that the country is entering "a very dangerous time" with the election of Trump, which poses "serious obligations": "If, for example, he or his administration in any way threatens the free speech rights of our documentary filmmakers, the IDA and every supporter in this room must—will, I am sure—hunker down together and fight our asses off." According to Hollywood Reporter, "Feelings on this topic were clearly running high all around, as an audience member yelled, 'He's a fascist!' during Lear's speech."
Spurred by the rise of Trump, a website called "Professors Watchlist" has been posting names professors they accuse of "leftist propaganda"—more than 200 names so far. This kind of fascist witch-hunt on campuses will only become more extreme if the Trump regime is allowed to firm up its grip on power. When two professors at Notre Dame university appeared on the list, more than 100 faculty members at the campus took a stand against the witch-hunt with an open letter saying the watch list should add their names in order to reaffirm "our values and recommitting ourselves to the work of teaching students to think clearly, independently and fearlessly." See the "Other Voices Against Trump" page at www.revcom.us for this statement and other voices of resistance, including MIT professors, Cornel West, New York Times columnist Charles Blow, and others.
There are various calls for protests in Washington, DC, as the date for Trump inauguration approaches. On December 10, Shaun King—New York Daily News writer and widely followed social media commentator—sent out a tweet saying: "Many people asking me if people should clog the streets of DC to prevent the inauguration ceremony. On general principle alone, YES." A few days earlier, filmmaker Michael Moore tweeted: "Disrupt the Inauguration. The Majority have spoken—by nearly 2.7 million votes &counting! Silence is not an option."
Update: On December 12, there were protests in a number of cities around the country in response to a "Women and Allies" call to "deliver the message in a unified voice that we are ready to stand against any government action that would serve to erode the rights of women and other vulnerable groups." See "'Women and Allies' Actions Oppose Trump-Pence Attacks."
Volunteers Needed... for revcom.us and Revolution
If you like this article, subscribe, donate to and sustain Revolution newspaper.