Watch the Dialogue NOW!


Re-broadcast of the November 15 Simulcast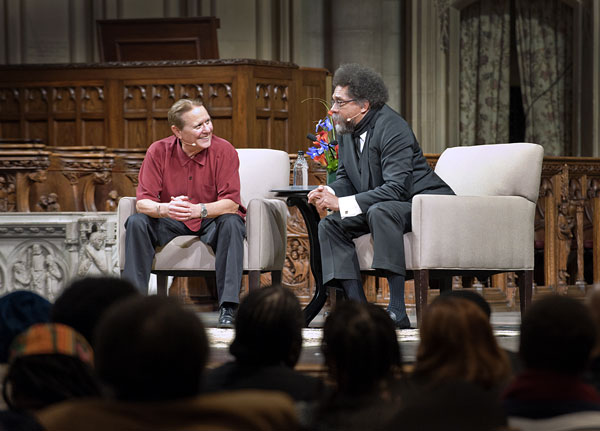 Biographies of Bob Avakian & Cornel West
by Bob Avakian
Comments from people who watched the Dialogue, donate to spread the Dialogue
WHAT WE NEED IS AN ACTUAL REVOLUTION—AND IF YOU ARE SERIOUS ABOUT AN ACTUAL REVOLUTION, YOU HAVE TO GET SERIOUSLY INTO BA.
Download Tweetable jpg.
---
---
The role of the police is not to serve and protect the people. It is to serve and protect the system that rules over the people. To enforce the relations of exploitation and oppression, the conditions of poverty, misery and degradation into which the system has cast people and is determined to keep people in. The law and order the police are about, with all of their brutality and murder, is the law and the order that enforces all this oppression and madness.
BAsics 1:24
Download Tweetable jpg.
The whole point of principle is that you have to fight for it when it is not easy to do. There is no need for principle if the only time it is applied is when it doesn't matter.
BAsics 5:3
---
Photo: AP
---
Break ALL the Chains!
Bob Avakian on the Emancipation of Women and the Communist Revolution
An actual revolution is a lot more than a protest. An actual revolution requires that millions of people get involved, in an organized way, in a determined fight to dismantle this state apparatus and system and replace it with a completely different state apparatus and system, a whole different way of organizing society, with completely different objectives and ways of life for the people. Fighting the power today has to help build and develop and organize the fight for the whole thing, for an actual revolution. Otherwise we'll be protesting the same abuses generations from now!
Share this | Download Tweetable jpg.
Download: PDF for print | JPG for web
This Must Stop Now!
During a period when New York Mayor Bill de Blasio called on people to not protest police brutality and murder (a call echoed by every media outlet in the country): A prosecutor in Houston and a grand jury in Milwaukee refused to bring charges against police who murdered two Black men. And late last night in Berkeley, MO a police officer killed an 18-year-old Black man. Reports are that hundreds of people responded on the spot in outrage. Also, last night, hundreds of people defied the Mayor and protested police brutality in New York City, and Carl Dix and Travis Morales called for protests on New Year's Eve at a press conference that got wide coverage:
Rock in the New Year With Resistance to Police Murder!
NO NEW YEAR UNDER THIS OLD SYSTEM! WE CAN'T BREATHE!
Also in this issue
Of Continuing Interest
---
---
by Lenny Wolff
---
---
Interview with a Former Prisoner
» Part 1: Breaking with the Gang Life, Getting with the REAL Revolution
» Part 2: Science, Revolutionary Theory, and Getting Into Bob Avakian
» Part 3: Don't Risk Your Life Over Stupid Shit—Be Down for Revolution
---
Updated January 3, 2015
Sunsara Taylor & Carl Dix on Confronting the Anti Abortion Woman Haters January 22 & 24, 2015

---
---
December 29, 2014
---
December 30, 2014
---
December 30, 2014
---
---
Available now as an eBook!
Purchase from your favorite online vendor:
Amazon.com, iTunes, Barnes & Nobel, eBooks.com, IPG, Kobo
Order the print edition now.
Publisher: Insight Press
Attention readers: Send in reports on protests, including photos and links to videos, to revcom.us/ Revolution newspaper at revolution.reports@ yahoo.com.
Bob Avakian, "Yes there's a conspiracy, to get the cops off."
BA Speaks:
REVOLUTION— NOTHING LESS!
Updated December 22, 2014
---
Coming Events at Revolution Books