MUST READ BOOK... for everyone who cares about the state of the world...
ORDER INFORMATION HERE
ABOUT THE BOOK HERE
Pre-publication PDF of this major work available here.
Special Holiday Offers from Insight Press
The New Communism, by Bob Avakian, and Science and Revolution, an interview with Ardea Skybreak
And more
Watch the video of the Book Launch here
Featuring: Cornel West/Carl Dix, Moderated by: Andy Zee
See what people from different walks of life are saying about Bob Avakian and THE NEW COMMUNISM

Order SCIENCE AND REVOLUTION HERE
Download the full interview in PDF format HERE
Rise Up... Get Into The Streets... Unite With People Everywhere
to Build Up Resistance in Every Way You Can
Don't Stop: Don't Conciliate... Don't Accommodate...Don't Collaborate
Read more NEW: WATCH and SHARE this video reading of this statement.
Reproduce & Distribute! Leaflets, Posters, Memes HERE
Make copies of this statement and distribute it everywhere.  Take it out at protests and programs. Get it to religious congregations, students and youth, cafes and laundromats, gatherings of every kind. Spread it on social media. Millions need to see and join with others to stop this direction and spreading this statement now will have a crucial impact on this.!  
New developments, progress reports, videos, photos and more
Protests vs Trump: Walking Out of Schools…Going Up Against Fascists and Racists…Speaking Out in Resistance
November 25, 2016
Updated November 21, 2016
Los Angeles, November 12
Stop Capitalism-Imperialism from Destroying Our Planet
November 21, 2016
Global climate change is contributing to more frequent and more severe droughts as seen here in Bangladesh. Credit: Wikicommons
Revcom.us—where you go to scientifically understand and radically change the world
Revcom.us is where you go to get into the revolution. We need to get organized for an actual revolution: and revcom.us is the site where you can learn about and get into this revolution.
Revcom.us is where you got the message "Time to Get Organized for an ACTUAL Revolution" last spring from the Revolutionary Communist Party's Central Committee that went out far and wide all summer. Where you got "HOW WE CAN WIN," the follow-up and companion piece published this October. Where you learn about what the Revolution Clubs are doing 24-7 to make this a reality.
DONATE, THIS #GIVINGTUESDAY, TO REVCOM.US: THE SITE FOR AN ACTUAL REVOLUTION
Seen on the Walls of Your City
Now a Pamphlet!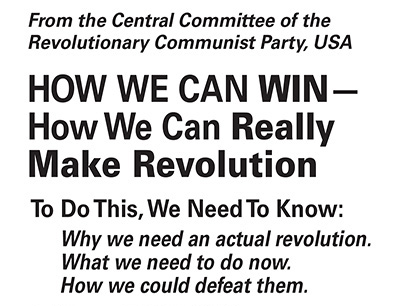 Read the entire HOW WE CAN WIN—How We Can Really Make Revolution HERE
Downloadable PDFs for printing:
Originally posted July 15, 2016
Reposted given continuing relevance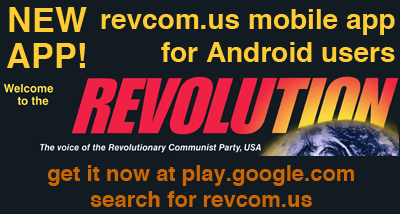 Updated November 26, 2016
November 25, 2016
November 23, 2016
by Travis Morales
November 26, 2016
In a letter to Standing Rock Sioux Tribal Chairman Dave Archambault II, the U.S. Army Corps of Engineers announced the eviction of the Oceti Sakowin encampment just north of the Cannonball River. Thousands of Water Protectors have been camping there to oppose and stop the Dakota Access Pipeline. The Corps of Engineers threatened, "To be clear, this means that no member of the general public, to include Dakota Access pipeline protestors, can be on these Corps' lands.... Any person found to be on the Corps' lands north of the Cannonball River after December 5, 2016, will be considered trespassing and may be subject to prosecution under federal, state, and local laws."
See Also:
Police Attack With Water Cannons and Rubber Bullets–Standing Rock Protesters Refuse to Back Down" and
"Winter Is Here—Water Protectors Aren't Going Anywhere"
Water protectors stand firm against militarized police in October. Photo: Special to revcom.us
More about Standing with Standing Rock HERE
Holiday Discount "Bundles"
From Insight Press
The New Communism, by Bob Avakian (hardcover)
Plus
Science and Revolution, an interview with Ardea Skybreak
$37.00 ($11.95 savings)
The New Communism, by Bob Avakian (paperback)
Plus
Science and Revolution, an interview with Ardea Skybreak
$22.00 ($6.95 savings)
Away With All Gods! by Bob Avakian (paperback)
Plus
The Science of Evolution and the Myth of Creationism
by Ardea Skybreak (paperback)
$37.00 ($12.90 savings)
Get these at: Insight Press
A new print issue of Revolution newspaper—the first after the election of fascist Trump—is out! This issue includes the statement "In the Name of Humanity, We REFUSE To Accept a Fascist America" and other timely and crucial articles and graphics. Tens of thousands of extra copies have been printed, and it's very important that this paper get out very broadly in society right now....
November 18, 2016
Attn all Revolution/revcom.us readers:
• SEND US PHOTOS & VIDEOS of high school walkouts, street protests, and other forms of mass protest by people refusing to accept Trump and a fascist America!
• If you have experience getting out the revcom.us statement "In the Name of Humanity, We REFUSE To Accept a Fascist America," share that experience with us as well.
• Send pix and videos in any form, including dropbox links, to: revolution.reports@yahoo.com
• Spread the word widely: "Go to www.revcom.us!"
Copy these posters and distribute everywhere, especially on the campuses.
Black & White | Color
VOLUNTEER FOR REVCOM.US
» Confront the Actual History of the USA
Contribute to the "American Crime" Series
Updated August 25, 2016
» What it means to be a volunteer for revcom.us
Attention readers: Send in reports on protests, including photos and links to videos, to revcom.us/ Revolution newspaper at revolution.reports@ yahoo.com.