Watch the Dialogue NOW!


Re-broadcast of the November 15 Simulcast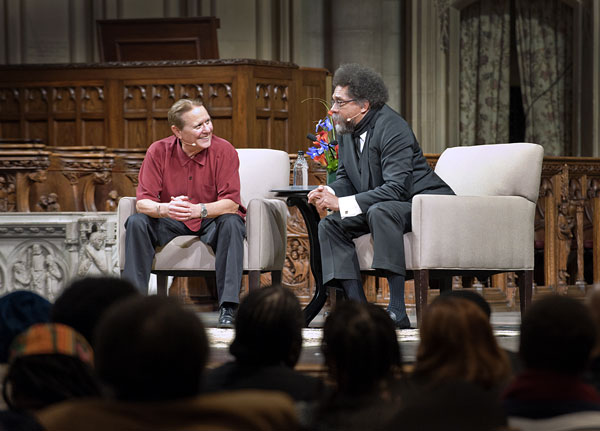 Protests in Wake of Grand Jury Decision Letting Darren Wilson Walk (click for slideshow) (updated 11/29)
Protestors Shut Down I-44 in both directions. St. Louis, MO, 11/24. Photo: AP
---
Michael Brown's Family Expresses Outrage at Grand Jury Announcement
Some claim the deep grief and outrage expressed by Michael Brown's family in the wake of the outrage of his murderer going free was the cause of the rebellion. No. It's Eric Garner. It's Akai Gurley. It's Tamir Rice—a 12-year Black child murdered for playing on a playground. It's the torture of over 80,000 human beings in solitary confinement in the USA and the 2 million plus mass incarcerated in AmeriKKKa's hellish prisons… and so much more.
---
Updated November 30, 2014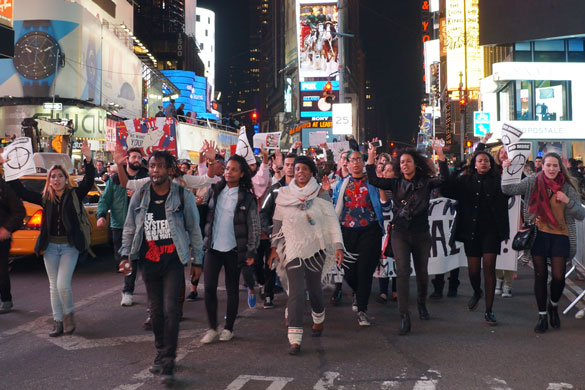 Taking Times Square, NYC, November 25. (Click for slideshow)
by Carl Dix
Everybody must get out into the streets right away to declare in UNMISTAKABLE TERMS that the decision of the grand jury in Staten Island not to indict any of the cops who murdered Eric Garner is INTOLERABLE. This grand jury has allowed another murdering cop to walk free! POLICE MURDER MUST END NOW!
News of protest Updated 12/6 10:00 pm
---
---
---
by Carl Dix
November 25, 2014
---
Haiku
The D.A.'s cold sneers
His mama's angry tears: "This
is America."
—Toby O'Ryan
November 26, 2014
---
by Larry Everest
---
November 25, 2014
---
November 25, 2014
---
November 25, 2014
---
Revcom.us/Revolution spoke with Sunsara Taylor about her observations on the mood and scene in the midst of the protest in New York City on November 25....
---
On Nov 5, families of people killed by the Chicago police joined together for the first time in a powerful expression of pain and outrage—watch video.
---
November 24, 2014
Also in this issue
December 6, 2014
Download PDF for printing and getting out everywhere
---
December 4, 2014
Download a printable Word file.
---
Get out the Revolution newspaper EXTRA edition everywhere!
A special EXTRA edition of Revolution came out this week, in response to the grand jury decision to not indict the cop who killed Michael Brown. We call on revolutionaries and all people who want to see fundamental change to get out this issue far and wide through this weekend, along with the inserted statement from Carl Dix on the murder of Eric Garner. Get bundles from a Revolution Books store or Revolution distributor. Pass this out broadly and then take donations in buckets. Get this into new places. The word of this struggle and the way to go deeper into understanding the problem and learning about—and being part of—the solution must be spread.
---
December 4, 2014
---
Download: Word version for NYC leaflet
---
---
December 4, 2013
---
December 6, 2014
---
---
Bob Avakian, "Yes there's a conspiracy, to get the cops off."
---
December 1, 2014
---
November 28, 2014
---
From UCLA to Columbia, from Madison to Louisiana State, college campuses were rocked by marches, boycotts, die-ins, and dramatic protests in reaction to the Grand Jury's refusal to bring charges against the cop who killed Michael Brown.
Updated Nov 29, 2014
---
Attention readers: Send in reports on protests, including photos and links to videos, to revcom.us/Revolution newspaper at revolution.reports@ yahoo.com.
BA Speaks:
REVOLUTION— NOTHING LESS!
Updated November 17, 2014
---
Coming Events at Revolution Books