READERS: Revolution Newspaper will publish a new print edition on Thursday December 14. If you still have copies of the current print edition, pass them out all over. Not one should go to waste.
In this issue...
December 8, 2016
December 10, 2016
Standing Rock, Flag Burning in the Age of Trump, Trump's Outrages & Mass Resistance, Murder by Police...
Plus BA on "The United Front Under the Leadership of the Proletariat"

LATEST POSTS & BREAKING NEWS HERE
Revcom.us—where you go to scientifically understand and radically change the world
Your donations mean revcom.us can play its critical role at what is truly an historic moment.  
Seen on the Walls of Your City
Now a Pamphlet!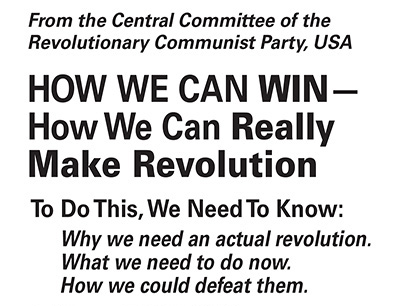 Read the entire HOW WE CAN WIN—How We Can Really Make Revolution HERE
Downloadable PDFs for printing:
Originally posted July 15, 2016
Reposted given continuing relevance
Updated November 30, 2016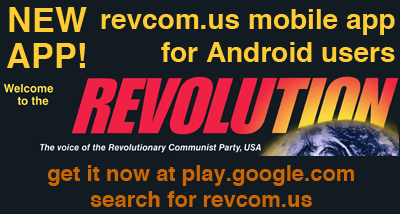 Updated December 8, 2016
December 8, 2016
by Sunsara Taylor
December 8, 2016
December 7, 2016
December 7, 2016
December 7, 2016
December 7, 2016
by Sunsara Taylor
December 7, 2016
December 6, 2016
December 6, 2016
December 5, 2016
Attn all Revolution/revcom.us readers:
• SEND US PHOTOS & VIDEOS of high school walkouts, street protests, and other forms of mass protest by people refusing to accept Trump and a fascist America!
• If you have experience getting out the revcom.us statement "In the Name of Humanity, We REFUSE To Accept a Fascist America," share that experience with us as well.
• Send pix and videos in any form, including dropbox links, to: revolution.reports@yahoo.com
• Spread the word widely: "Go to www.revcom.us!"
Copy these posters and distribute everywhere, especially on the campuses.
Black & White | Color
VOLUNTEER FOR REVCOM.US
» Confront the Actual History of the USA
Contribute to the "American Crime" Series
Updated August 25, 2016
» What it means to be a volunteer for revcom.us
Attention readers: Send in reports on protests, including photos and links to videos, to revcom.us/ Revolution newspaper at revolution.reports@ yahoo.com.