In the Last Month Alone:
Mass Murder, Death, Torture, Roundups, Threats, Terror, Assaults on Basic Rights—The Escalating Fascist Offensive Against Immigrants
| revcom.us
The Trump/Pence regime's fascist offensive against immigrants is advancing rapidly and relentlessly. Here are some of its main assaults in the last month alone.
July 14: Trump unleashes barrage of racist, anti-immigrant tweets directed at four Democratic congresswomen of color—Alexandria Ocasio-Cortez, Ayanna Pressley, Rashida Tlaib, and Ilhan Omar. He demanded the four, all U.S. citizens, "go back to the crime-infested places from which they came." A few days later the chant "send her back" was taken up at a Trump rally.
July 15: Trump/Pence regime announces plan effectively barring Central American and other migrants from seeking asylum at the U.S. border on the grounds they had to first apply in countries they had traveled through. (The rule has been temporarily blocked in federal court.)
July 22:
Immigration and Customs Enforcement (ICE) begins DNA testing on asylum seekers, threatening to separate families if they don't allow it.
Trump/Pence regime expands expedited removals of undocumented immigrants without court hearings—potentially impacting and denying due process to 300,000 people. Such expedited removals were previously used for immigrants in the U.S. two weeks or less, apprehended near the border. Now they're being applied to immigrants anywhere who've been in the U.S. two years or less.
July 23:
Immigration police in Texas release U.S. citizen after holding him for three weeks. The 18-year-old Latino high school student had been going to a soccer tryout and was detained at a Border Patrol checkpoint despite having proof of citizenship. He lost 26 pounds while being held by ICE.
The Office of Refugee Resettlement, part of U.S. Health and Human Services Department, revealed that thousands of migrant children are languishing in border detention and could be imprisoned indefinitely. According to former officials, Trump policies are having a chilling impact on possible sponsors for them.
July 25: Seventh person dies in ICE custody since last October. The 44-year-old Mexican immigrant, Pedro Arriago-Santoya, had been jailed at the Stewart Detention Center in Lumpkin, Georgia. He is the fourth person to die in this prison in the last two years.
July 26:
U.S. and Guatemala sign agreement blocking Honduran and Salvadoran migrants from applying for asylum in the U.S. The agreement, signed after threats by Trump, would force migrants traveling through Guatemala to apply for asylum there instead of at the U.S.-Mexico border.
U.S. Supreme Court allows Trump to bypass congressional authority and use $2.5 billion in military funds to build his border wall.
July 28: A white supremacist, targeting immigrants, massacres three and wounds 15 at Gilroy, California Garlic Festival. The three murdered were 6, 13, and 25 years old.
August 1: Salvadoran migrant dies in Border Patrol custody. The 32-year-old father was being held in New Mexico. He is at least the 15th migrant, including seven children, to die in U.S. custody (ICE, Border Patrol, or other agencies) since September 2018.
August 2-3: Immigrant hunger strikers assaulted in Louisiana ICE Detention Center. Over 100 were teargassed, beaten, and shot with rubber bullets after they launched a hunger strike. Some 30 hunger strikers at another Louisiana facility were pepper sprayed the day before. According to Mother Jones magazine, ICE is now detaining over 54,000 people, an all-time high. This is "up from about 34,000 on an average day in 2016 and well above the 40,520 target Congress set for ICE" as part of a deal struck between the Trump/Pence regime and Congress to reduce detentions as a condition for more funding.
August 3: A white supremacist, echoing Trump rhetoric, targets Latinos and murders 22 at an El Paso Walmart. His fascist manifesto stated he was "defending my country from cultural and ethnic replacement brought on by an invasion."
August 6:
Greek-born immigrant of Iraqi descent dies in Iraq two months after being deported from the U.S. Jimmy Aldaoud, a 41-year-old man with diabetes and mental illness, died from a lack of insulin. He had been brought to the U.S. as an infant, had never been in Iraq, and spoke no Arabic.
ICE agents attempt to raid Brooklyn homeless shelter. They were turned away after failing to produce a warrant.
August 7:
ICE agents arrest 680 immigrants in mass sweep of poultry plants in Mississippi. This was one of the largest immigration raids in U.S. history. Without warning or help, children were left without their parents, traumatized and crying.
Armed Trump supporter arrested outside an El Paso organizing center for immigrant activists.
August 12:
Trump/Pence regime imposes new rule punishing immigrants seeking aid. Officials can now deny green cards and visa applications to any who seek Medicaid, food stamps, housing vouchers, or other legal public funds. Immigrants with lower incomes or less education could be denied permanent status (green card), which is necessary in order to apply for citizenship, on the grounds they may need assistance in the future. The rule is aimed at limiting family-based immigration from non-white countries and could lead to deportations of immigrants with temporary status who are settled in the U.S. but violate the new rules.
Trump's Director of Citizenship and Immigration Services, Ken Cuccinelli, defended the new rule by saying that the Statue of Liberty's message ("Give me your tired, your poor...) was always about those "who can stand on their own two feet and who will not become a public charge," and are "coming from Europe."
August 14:
Trump's ban on Temporary Protected Status (TPS)—impacting hundreds of thousands—now before federal court. Trump's ban on TPS, which was temporarily blocked by the courts last October, is now being heard in a federal court. If the court allows Trump's ban, some 300,000 immigrants from Haiti, El Salvador, Nicaragua, and Syria could be deported and their families torn apart.
Prison guard drives truck into anti-detention protesters in Rhode Island. The protest, organized by the Jewish activist group Never Again Action, was demanding that the ICE concentration camps be closed. Five protesters were hospitalized (two from the truck assault, three from being pepper sprayed by other guards).
August 15: Federal court denies Trump/Pence attempt to deny soap and toothpaste to migrant children. The Trump/Pence regime had argued it was not required to provide basic necessities or safe sanitary conditions to children detained at the border. According to a New York Times report (August 16), the regime may try to "upend" the court ruling and existing regulations with new ones.
The Demonization, Criminalization and Deportations of Immigrants
Share widely on social media

People protest ICE detention of people without immigration papers in the Lebanon, New Hampshire area July 29-August 1. Photo: AP

One of the 680 immigrants arrested by ICE in mass sweep of poultry plants in Mississippi, August 6. Photo: AP

Prison guard drives truck into anti-detention protesters in Rhode Island. The protest, organized by the Jewish activist group Never Again Action, was demanding that the ICE concentration camps be closed. Five protesters were hospitalized. Photo: AP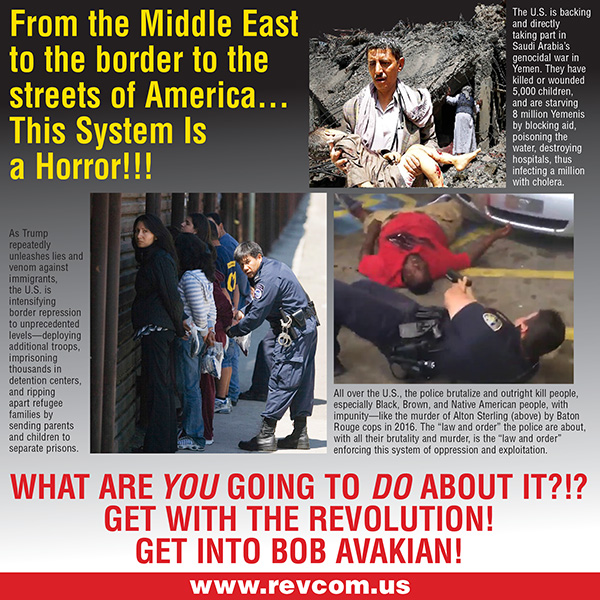 Volunteers Needed... for revcom.us and Revolution