Trump Imposes Anti-Abortion Domestic Gag Rule...
But Don't Worry—the Democrats Have a Strategy!
by Sunsara Taylor
| revcom.us
On August 19, the Trump/Pence regime imposed a domestic gag rule, blocking over $260 million in Title X federal funds from going to Planned Parenthood and other facilities that provide—or even refer patients to outside facilities that provide—abortions. These health care providers will now be starved of the funds needed to provide life-saving cancer screenings, HIV and STD tests, and birth control to millions of women who otherwise could not afford them. And, this gag rule has opened the floodgates to pouring these federal dollars into institutions that refuse to even mention abortion and refuse to provide women with birth control at all! And all this comes at a time of record restrictions on abortion and growing momentum towards its outright criminalization.
With so much at stake, it was only a matter of hours before the party that has branded itself #TheResistance swung into motion.
Nancy Pelosi and the Democrats decried these attempts to force women to have children against their will. "When it comes to the enslavement of half of humanity," she insisted, "there can be no compromise. Every politician behind this fascist assault must be removed from office. And right now, their offices must be occupied and there must be massive street demonstrations making clear that we will not tolerate such a brazen, enslaving assault on the most fundamental rights of women!"
Meanwhile, the Women's March sprang back into action and the streets and state houses across the country were flooded and shut down. As women's fury erupted, it called forth and merged with the pent-up anger of millions throughout society against the Trump/Pence regime's fascist assaults on immigrants, on Black people, on the environment, on civil liberties, on the health of the planet, and on the people of the world. Drawing inspiration from the people of Puerto Rico and Hong Kong, these protesters came back, day after day, declaring their determination to continue until the regime was driven from power. As the stultifying and self-absorbed normalcy of life in America got punctured, millions began to dream of a world without oppression and to debate what it will take to make that real.
Except... as you know, none of that happened.
What actually happened the week of Trump's domestic gag rule is that Trump also moved to detain migrant families indefinitely, accused Jews of disloyalty, rolled back pollution rules, unleashed ICE to tear 600 immigrants from their families in Mississippi, and the streets remained empty and silent.
As for the Democrats, Pelosi issued a paltry tweet patting herself on the back for a completely ineffectual gesture she made back in April against Trump's new Title X rules. Several of the Democrats' circus car of 2020 contenders issued sound-bites. Oh, and the Women's March tweeted a couple articles and asked for donations.
You see, the Democrats' strategy for the fascist war on women is to capitulate to it. They've been at it for decades. They care more about the survival and stability of their system of capitalism-imperialism than they do about stopping the injustices they claim to oppose. And they desperately fear the people going into the streets in a massive and sustained way, because that could set in motion a dynamic that calls their whole system into question.
So, if you dream of a future of emergency rooms filled with women dying from botched illegal abortions, prisons packed with women who miscarried under "suspicious circumstances," and women everywhere forced to bear children against their will, then sit back and keep leaving the "resistance" to the Democrats.
If not, then wake the hell up. The kind of resistance envisioned above—resistance that actually IS resistance and not merely a hashtag to raise money... the kind of resistance so urgently needed—is possible. It is urgent that it NOT remain a fantasy. It is urgent that people—that YOU—join with the call issued by RefuseFascism.org to actually pour into the streets and drive this regime out. There is time, but not a lot of time.
Women are full human beings, not incubators! Whether they will be able to live as such, depends on what we do.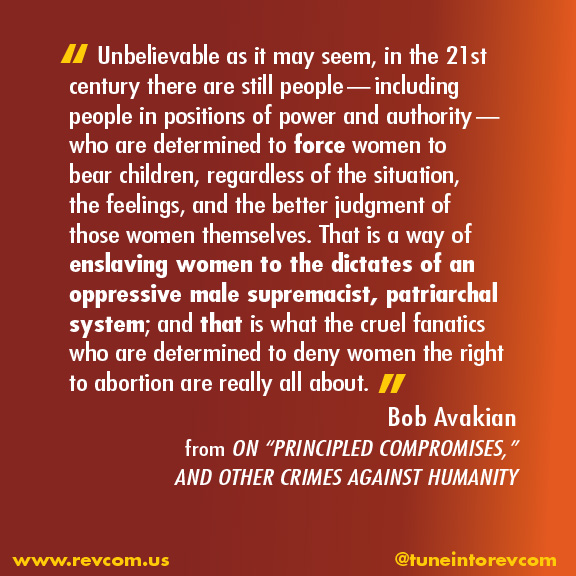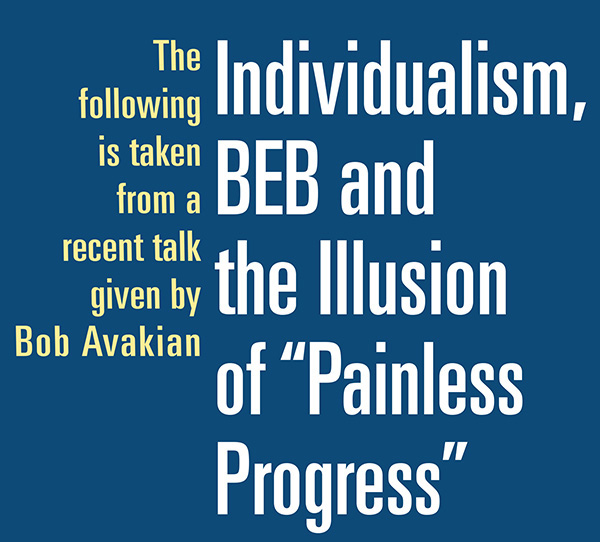 Read more
Share widely on social media
Volunteers Needed... for revcom.us and Revolution