From RefuseFascism.org:
Facebook Censored Our Ad! We Need YOU
| revcom.us
Public hearings to impeach Trump began this week. Trump and Pence have ordered the Republicans to obstruct the hearings. Yet, the Democratic leadership has all but conceded that Trump will not be removed by the Senate.
What can change all of this? WE CAN – the power of the people taking to the streets in sustained non-violent protest raising one simple and unifying demand: Trump/Pence #OUTNOW! and then, continuing week after week growing in numbers and determination until this demand is met.
This is our message to you – and it is the message in our new ad. Join us in the streets in protests around the country to demand: The Trump/Pence Regime Must Go NOW! #OUTNOW!
But FACEBOOK CENSORED OUR AD!
Facebook told us: "This ad isn't running because it uses profanity, implied profanity, or insulting language." (See ad in the sidebar.)
But the only obscenity here is Facebook's censorship!
Seriously, Facebook's CEO Mark Zuckerberg recently testified in Congress that he will allow politicians to put out ads on Facebook filled with outright lies.
Yet, Facebook is censoring our truthful ad aimed at letting people know about the non-violent political protests we are planning to STOP a fascist America.
This must not stand!
Join us in defying this censorship – and in defying the fascist regime in the White House. Here are three things to do right now:
[1] Come out Saturday and bring everyone you can! Find your protest here and below. Gather your friends, your school, place of worship, community, organization, and come out this Saturday. Spread the word.
[2] Watch and spread our censored ad on all your social media platforms.
Click HERE to spread it on Facebook
Click HERE to spread on Instagram
Click HERE to spread it on Twitter
[3] Donate $10 - $25 today to help overcome the censorship and get the word out far and wide. 
Together we can show people in this country and the world that we will not adjust to the injustice and crimes of Trump and Pence. We will protest again and again until this regime is gone.
There's still a chance to stop a regime that imperils humanity and the planet, let's stand together with conviction and courage overcoming fear and uncertainty, to struggle with all we've got to demand: TRUMP/PENCE OUT NOW!
Saturday November 16 #OutNOW Protests:
Atlanta: 2:00 pm Piedmont Park 10th Street near Monroe Dr. Facebook event
Boston: 2:00 pm Copley Square, Dartmouth & Boylston Facebook event
Chicago: 1:00 pm Millennium Park Michigan & Randolph Facebook event
Cleveland: 11:00am Feeder March: Assemble South West corner of W. 65th and Detroit
1:00pm Rally at Market Square, West 25th & Lorain (across from West-side Market)
2:00pm March to the Rapid Stop, protest on the Rapid to Public Square Facebook event
Detroit: 3:00 PM, Grand Circus Park, Detroit Facebook event
Honolulu: 4:30 pm Ala Moana Park, Atkinson/Ala Moana Intersection Facebook event
Houston: 3:00 pm Galleria, Westheimer & Post Oak Road Facebook event
Indianapolis: 11:00 am Hudnut Commons South Capitol Avenue Facebook event
Los Angeles: 2:00 pm MacArthur Park, 7th and Alvarado @ Metro Facebook event
New York City:  1:00 pm Union Square @14th Street Facebook event
2:00 pm Harlem State Office Building 125th & Adam Clayton Powell Facebook event
Philadelphia: 2:00 pm Rittenhouse Square Facebook event
San Francisco:  1:00 pm Castro and Market Facebook event
Santa Ana CA: 1:00 pm 4th Street & Spurgeon, Santa Ana CA Facebook event
Seattle: 2:00 pm Corner of Broadway and Pine, Capitol Hill Facebook event
Washington DC: 2:00 pm Farragut Square; March to White House
Click here to read the Refuse Fascism Call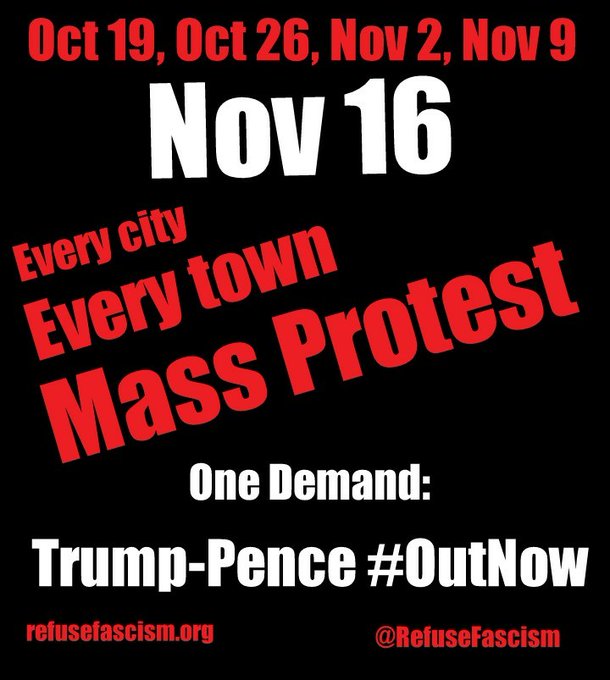 Volunteers Needed... for revcom.us and Revolution