The National Get Organized for an ACTUAL Revolution Tour
Going everywhere to spread this revolution and organizing forces into the revolution
Putting the New Communism and the leadership of Bob Avakian before the world
| Revolution Newspaper | revcom.us
Thousands Raised... Many Thousands to Go... Donors speak out about why they gave
The Get Organized for an Actual Revolution Tour has big plans for stepping out from the Los Angeles area this summer and this is going to require major funds and the participation of many more people, some who are already supportive of the mission of this Tour and hundreds of very new people who are just now finding out and stepping into the revolution in different ways.
Make a donation… become a monthly sustainer… hold a fundraising dinner with friends, coworkers, comrades (see this letter about an internationalist fundraising event). These efforts are the kinds of things many people—and groups of people—who are stepping forward can do, and as you will see when you read the letter on the dinner, these efforts give rise to others taking part in and supporting the Tour. So, let's be creative!
Calling our readers attention to this statement from an Iranian:
"An Internationalist Salute and Call to Donate to the National Revolution Tour
"The timely National Tour is carrying the hope of humanity for a better world on their shoulders and calls on us to join in to make sure this bold initiative can achieve greatness and success. Don't hesitate, donate..." Read the full statement.
• From a Reader from Iran
• Reverend Cecil L. "Chip" Murray
• Isabel Cardenas
• Father Luis Barrios, NYC
• Carol Downer
Read the Mission Statement/Call for the Tour:
"You Think You're Woke...
But You're Sleepwalking Through A Nightmare —
This System Cannot Be Reformed, It Must Be Overthrown!"
The Get Organized for an ACTUAL Revolution Tour
To you who are fed up with this society and "solutions" that are no solution...
There is a way out of this Madness!
"Let's get down to basics: We need a revolution. Anything else, in the final analysis, is bullshit."
Bob Avakian
---
How you can get started and be a part of the movement for revolution
---
If the POINTS OF ATTENTION (POAs) that the Revolution Club lives by and fights for move you:
Follow how the Points of Attention (POAs) are being taken up nationwide on revcom.us. Read about how people like you are thinking about living according to the POAs and getting to a world where this is how everyone lives.
FOLLOW the POA's on social media:
#POA4REV #tuneintorevcom
Featured:
From the Revolution Tour and the Revolution Club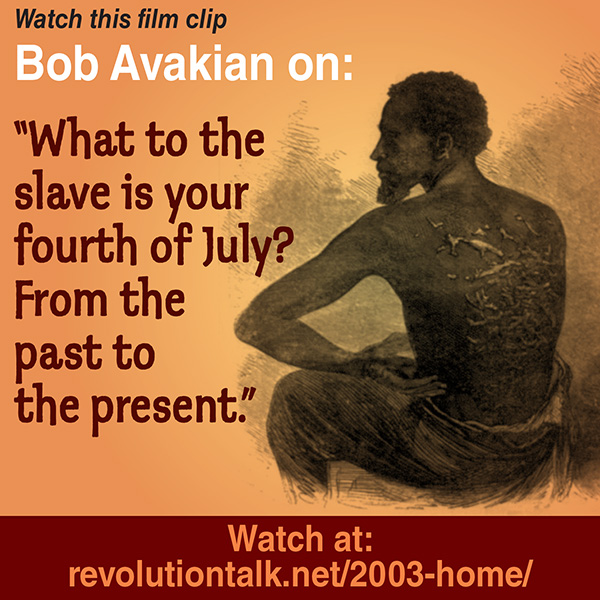 Watch video
On Saturday, June 8
In the streets of South Central Los Angeles
A beginning force for an actual revolution came on the scene
---
From a reader who had come to Los Angeles from out of town on the weekend of June 8-9
---
These 10 points were prepared for a workshop at the June 9 organizing conference held by the National Revolution Tour in Los Angeles. While still a work in progress, people found these to be a helpful outline.
---
June 14 on The Michael Slate Show
Lenny Wolff and Michelle Xai
Revolution Club New Members—Putting On the Shirt
A Message from The Revolution Tour
Get this print issue out far and wide. You can also post the 5-2-6 on social media
Read the entire special issue of Revolution
Read and share the Points of Attention | Download Posters and social media images
Download 5 Stops Posters
More About the Tour
A Speech by Bob Avakian
This speech is in two parts.
Volunteers Needed... for revcom.us and Revolution