Revcom is sharing with our readers excerpts from this new work by Bob Avakian:
Lack of real hope for a better life in this world is a heavy chain weighing down, suffocating, and deeply scarring the masses of humanity, including the youth who are concentrated in the ghettos and barrios of this country as well as its overflowing torture chamber prisons. And the extreme individualism promoted throughout this society, the obsessive focus on "the self," has reinforced the heavy lid on the sights of people, obscuring their ability to recognize the possibility of a radically different and better world, beyond the narrow and confining limits of this system, with all its very real horrors.
Posted December 9, 2019:
The following from Part 2 of Why We Need An Actual Revolution And How We Can Really Make Revolution* remains extremely relevant and important:
The relation between the struggle against this fascist regime and building the revolution is not a "straight road" or a "one-way street":  It must not be approached, by those who understand the need for revolution, as if "first we must build a mass movement to drive out this regime, and then we can turn our attention to working directly for revolution." No. It is crucial to unite and mobilize people, from different perspectives, very broadly, around the demand that this regime must go, but it will be much more difficult to do this on the scale and with the determination that is required to meet this objective if there are not, at the same time, greater and greater numbers of people who have been brought forward around the understanding that it is necessary to put an end not only to this regime but to the system out of whose deep and defining contradictions this regime has arisen, a system which by its very nature has imposed, and will continue to impose, horrific and completely unnecessary suffering on the masses of humanity, until this system itself is abolished. And the more that people are brought forward to be consciously, actively working for revolution, the growing strength and "moral authority" of this revolutionary force will in turn strengthen the resolve of growing numbers of people to drive out this fascist regime now in power, even as many will not be (and some will perhaps never be) won to revolution.
* Why We Need An Actual Revolution And How We Can Really Make Revolution is an important speech by Bob Avakian, given in the summer of 2018. The film and the written text of this speech are available at revcom.us.
Posted December 1, 2019:
I want to speak to the accusation that "You are going to get people killed!"  This is an accusation that has not infrequently been raised especially when we put forward, as we should, not only the need for revolution, but what this means—that it means the overthrow of the existing system through the defeat of its armed enforcers when the conditions for that have been brought into being:  the existence of a revolutionary people in the millions and millions and an acute revolutionary crisis throughout society.  What is our response to this accusation?
People, masses of people all over the world, are already being killed, and are suffering in horrendous ways while they are alive, because of this system—and one of the most painful expressions of this is the way in which huge numbers of people who are already terribly oppressed under this system, and the youth in particular, are being misled into killing each other, either in gang conflicts or in wars in the service of imperialists and other reactionary oppressors! Our goal is clear:
No more generations of our youth, here and all around the world, whose life is over, whose fate has been sealed, who have been condemned to an early death or a life of misery and brutality, whom the system has destined for oppression and oblivion even before they are born.  I say no more of that. [BAsics 1:13]
Our goal is to finally put an end to all this!
As called for in "HOW WE CAN WIN, How We Can Really Make Revolution," we need to be serious and scientific in how we build this revolution—and our strategy and plan for revolution is exactly based on a serious and scientific method and approach.  That is why, among other things, in the Points of Attention for the Revolution, the 6th point makes clear:
We are going for an actual overthrow of this system and a whole better way beyond the destructive, vicious conflicts of today between the people. Because we are serious, at this stage we do not initiate violence and we oppose all violence against the people and among the people.
It is this same method and approach that leads to this clear-cut, scientifically-based conclusion:
In fundamental terms, we have two choices: either, live with all this—and condemn future generations to the same, or worse, if they have a future at all—or, make revolution!
This is the understanding and the orientation that has to be brought forward, and vigorously fought for, among masses of people, and especially the youth, for whom this system really has no decent future—if, again, they have a future at all.
Posted November 11, 2019:
Individualism is a significant factor and "unifying element" in much of the negative trends that play a major role in keeping people from recognizing the reality and depth of the horrors continually brought about by this system—and recognizing the urgent need to act, together with others, to abolish and uproot all this, at its very source. This highlights and heightens the fact that individualism, which is encouraged and expressed in extreme forms in this particular society at this time, is a profound problem that must be confronted and transformed.
Virulent Individualism and Oblivious Individualism
These are two broad categories of individualism, which have some different particular characteristics but also have in common the basic focus on and preoccupation with the self. Virulent individualism is an extremely poisonous variation of this. It's basically the view that "I'm out to get everything I can for myself and fuck everybody else. And if I have to trample on everybody else to get what I want, that's just the way it is and I'm gonna do it the best I can, so I can get everything I want—I want it all and I want it now."
Oblivious individualism is individualism that may not have those particular aggressive characteristics and may not even have a consciously hostile attitude toward other people in general, but involves going along pursuing one's particular interests, aspirations, or "dreams," without paying attention to the larger things that are going on in the world and the effect of this on masses of people throughout the world and indeed on the future of humanity.
As I pointed out in the Dialogue with Cornel West in 2014, the "selfie" is a perfect iconic representation of this whole outlook and this whole culture. It's not that every "selfie" is in and of itself bad, of course. But there is a whole culture around it, even to the point where people go to a beautiful place in nature and what are they preoccupied with?  Taking a "selfie" of themself instead of taking in (and yes, taking photographs of) the vast beauty that's stretched out before them. The important thing, with this outlook, is: "Here I am, look at me." It's the "look at me, look at me, look at me" ethos that is so predominant in both these forms of individualism, even in the one that's not consciously virulent but is nevertheless strikingly oblivious.
I'm not necessarily opposed to people watching some videos or YouTubes of cats playing the violin (and similar things on the internet), but if that kind of thing is your preoccupation—let alone if snark and tearing down other people on the internet is your preoccupation—then, obviously, this is something any decent person should be very concerned about and strongly oppose and struggle sharply against.
Everywhere you turn you hear: "Oh, this is really gonna be good for developing her 'brand'"; "Oh, they really have been very creative in how they've pumped up their 'brand.'" You can't turn around anywhere without hearing the word "brand" used in this kind of way. And this goes along, of course, with the glorification of entre-manure-ialism—which objectively amounts to the attempt to get in on the exploitation of people, becoming part of the overall process resting to a large degree on super-exploitation of masses of people, including children, in the Third World.
Oblivious individualism may seem more benign (or, in simple terms, less "nasty") but it is nonetheless marked by being inexcusably ignorant of, or consciously choosing to ignore, what is happening in the larger world, beyond the self (and the narrow circle around oneself), and the consequences of this for the masses of people in the world, and ultimately for all of humanity—or paying attention to this only as it affects oneself in immediate and narrow terms.
If something makes people uncomfortable—and still more, if it holds out the prospect of sacrifice, necessary sacrifice, on their part—far too many people turn away from it.  As I've pointed out before, there's this whole attitude of approaching reality as if it's a "buffet," or approaching it like a consumer: "Well, that makes me uncomfortable. I'll just leave that to the side. I don't want to look at that because that makes me uncomfortable."
As I pointed out in The New Communism, some people went on one of the college campuses a couple of years ago with a poster of Stolen Lives, people who'd been killed by police (not all of them, by any means, but dozens), and someone came up and starting whining: "I don't like that poster, it makes me feel unsafe." As I commented at the time: Oh, boo-hoo! Let's get out of this boo-hoo shit and start talking about and engaging seriously what's happening to masses of people, one significant part of which is represented by what's on that poster.
One of the most common and problematical forms of this repeated and stubborn insistence on chasing after the illusion of "painless progress," particularly among people who consider themselves somewhat enlightened (or progressive, or "woke," or however they want to put it), is what we very rightly term BEB—Bourgeois Electoral Bullshit—and the phenomenon that people continually confine themselves to the narrow limits of what is presented to them by one section of the ruling class, as embodied in the Democratic Party:  "These are the limits of what I'll consider in terms of possibly bringing about change"—because this is the well-worn rut of what is, at least up to this point, relatively safe in terms of political engagement.
The people who voted for Trump are the kind of people who would have been pro-slavery, had they been around at the time of slavery in the United States. And those who find it acceptable to have the overt white supremacist Trump in the White House are the kind of people who would have ignored or would have openly accepted and justified or rationalized slavery when it existed.
It has to be bluntly said: For the millions, and tens of millions, who say they hate everything Trump stands for and what he is doing but who, after all this time, have still not taken to the streets in sustained mobilization demanding that the Trump/Pence regime must go, this makes them collaborators with this fascist regime and themselves guilty of the egregious crime of tolerating this regime when they still could have the possibility of achieving the demand that it must go, through such mass mobilization! 
To paraphrase Paul Simon: They are squandering their resistance for a pocketful of mumbles—and worse—from the Democratic Party.
It is long past time—and there is still time, but not much time—for this to change, for masses of people to finally take to the streets, and stay in the streets, with the firm resolve that this fascist regime must go!
Posted November 4, 2019:
In the opening section of the book The New Communism ("Introduction and Orientation") I spoke to the bitter reality that the masses of oppressed people are afraid to hope:
Afraid to hope that maybe the world doesn't have to be this way, that maybe there is a way out of this. Afraid to hope, because their hopes have been dashed so many times.
This is a significant factor in why so many turn to religion—because there does not seem to be any hope for an end, in this world, to the terrible suffering and degradation to which they are continually subjected, which is imposed on them by the functioning of this system but which is also obscured and covered over by the very way this system operates and the role of its institutions, functionaries and enforcers, which systematically act to mislead people as to why the world is the way it is and whether and how it could really be changed, whether and in what way it is possible to put an end to all this unnecessary suffering.
Here stands out again the great importance of the scientific method and approach of communism, as this has been further developed through the new communism, and the reality and possibility of radical, emancipating change, in this world.
Confronting reality as it actually is—and as it is changing and developing—and understanding the underlying and driving forces in this, is crucial in order to play a decisive and leading role in bringing about this revolution and ushering in a whole new era in human history, which will shatter and remove forever not only the material chains—the economic, social and political shackles of exploitation and oppression—that enslave people in today's world but also the mental chains, the ways of thinking and the culture, that correspond to and reinforce those material chains.
Religion is always presented as a source of "hope" or of consolation. But is it really a source of hope—or is it, in essence and in its defining aspect, a paralyzing illusion? Religion holds out the concept of consolation for suffering, and looking to another world and otherworldly forces to get some sort of consolation for all the suffering that people are subjected to, and in order to make it through the day. But the question is: Is what people need consolation for the suffering that they're put through under this system, or do they need to rise up and abolish the system which embodies and enforces this suffering, and in so doing eliminate the need for consolation for suffering that they're no longer being put through, the unnecessary suffering they're being put through?
The Christian fundamentalists (including the current Vice President Mike Pence and others in powerful positions in government, the media, and other major institutions) are a driving force for theocratic fascism (tyrannical rule by Dark Ages religious authority). They adhere to and aggressively propagate unthinking allegiance to and application of religious dogma which, when taken literally (as these Christian fascists insist upon), promotes and will lead to all kinds of atrocities and horrors (as can be seen in both the Old and the New Testaments of the Bible—something I analyzed in Away With All Gods!).
There are many religious people whose religious views and sentiments do inspire and drive them to take stands against and to even sacrifice in the struggle against oppression. And this, of course, should be respected and united with. But, at the same time, that does not eliminate the need for sharp struggle in the ideological realm against the outlook that religion purveys and the role that religion plays as a mental shackle on masses of people, in fact working against their acquiring and systematically and consistently applying a scientific approach to understanding reality, and in particular what it is that's causing the suffering that the masses of humanity are being subjected to and what is the solution to that.
Yes, ultimately the struggle has to be carried out in the realm of practice; it has to be carried out in the actual struggle to go up against and ultimately overthrow the system which embodies and enforces all this horrific oppression. But there's a tremendous importance to people, even before they become highly developed theoretically, to get a basic understanding that there is no necessity, there is no permanent necessity, to the existing conditions, and why that is so. This is the source of hope, not on the basis of illusions such as those propagated and perpetuated by religion, but on a scientific basis.
Posted October 21, 2019:
While people do exist as individuals, the terrible suffering of the masses of humanity and the urgent challenges facing humanity as a whole as a result of the escalating destruction of the environment by this system of capitalism-imperialism as well as the possibility of nuclear conflagration that continues to loom as an existential threat over humanity—all this cannot be seriously addressed, let alone actually solved, by each person pursuing their particular individual interests, and in fact people acting in this way constitutes a major obstacle to bringing about the necessary solution.
Another aspect of what is involved here is "world-weary cynicism".... This world-weary pseudo cynicism (or real cynicism, but pseudo world-awareness) is another manifestation of parasitic individualism—excusing your refusal or your failure to do anything about the crimes being committed in your name, and all the horrific things going on in the world, on the basis of: "Yes, I know, but this is just the way it is. And after all, there's nothing really that can be done about it. Anybody who comes forward and claims they're gonna do something about it is just as corrupt as the people who are perpetrating this stuff already, so there's not really anything that can be done." As it has been put, very insightfully, this is a sentiment that could be translated as: "Oh, I'm so glad that it's turned out that the right thing to do is to do nothing at all about these outrages and horrors in the world."
One of the biggest obstacles standing in the way, and weighing people down, is American chauvinism—the disgusting notion that America and Americans are better and more important than everybody else.
With regard to the middle class in this country, although today significant sections of this class are not doing as well as in the past—and some are actually struggling—economically, as the social divide and the income disparities continue to widen to obscene proportions, there is still among them, or among many in the middle class, a persistent and widespread sense of "entitlement" as Americans and an identification of their own interests with what is in fact a system of massive war crimes and crimes against humanity: American capitalist imperialism. And, as noted in THE TRUMP/PENCE REGIME MUST GO!, this poison of American chauvinism also exerts some influence among the most bitterly oppressed, even as this is in sharp conflict with the systematic oppression to which they are subjected in this country under this system.
With the invasions and ongoing wars, the coups, the slaughter of civilians in the hundreds of thousands, the wrecking of countries and the reducing of millions to desperation and starvation at the hands of the imperialists of the USA and their "allies" and craven puppets: Where is the mass outrage and active and determined opposition from people in the USA, in whose name these monstrous crimes are continually committed—including where is it from those who call themselves "progressive" or proclaim themselves "woke"?!
There is a great need for people broadly to break with this American chauvinism. As I have emphasized previously, there are 3 Things that have to happen in order for there to be real and lasting change for the better:
1) People have to fully confront the actual history of this country and its role in the world up to today, and the terrible consequences of this.

2) People have to dig seriously and scientifically into how this system of capitalism-imperialism actually works, and what this actually causes in the world.

3) People have to look deeply into the solution to all this.

 
While it is right and necessary to unite with people broadly in opposing the injustices and outrages committed by those who rule this country, and while this has taken on heightened importance with the coming to power of the Trump/Pence fascist regime, it is a basic truth that without breaking with American chauvinism—without confronting the very real horror of what this country has been, and what it has done, here and all over the world, from its founding to the present—and without coming to deeply hate this, it is not possible, in the final analysis, to retain one's own humanity and act in the highest interests of all humanity.
In direct opposition to the poisonous outlook of American chauvinism, the orientation that must be firmly upheld and fiercely fought for is the basic principle and simple, but profound, truth that "American Lives Are Not More Important Than Other People's Lives" and "Internationalism—The Whole World Comes First," which is contained in BAsics 5:7 and 5:8.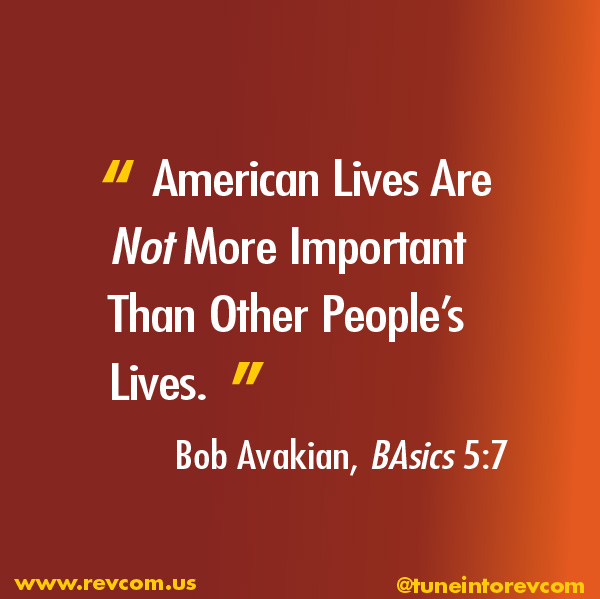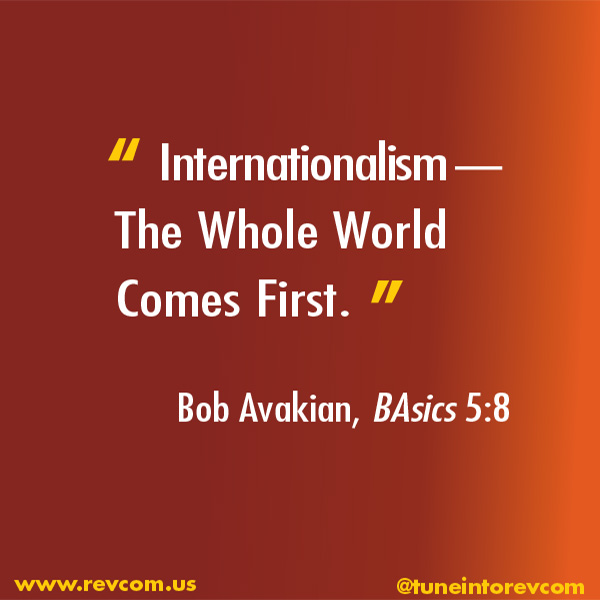 And, as gone into more fully in BAsics:
The interests, objectives, and grand designs of the imperialists are not our interests—they are not the interests of the great majority of people in the U.S. nor of the overwhelming majority of people in the world as a whole. And the difficulties the imperialists have gotten themselves into in pursuit of these interests must be seen, and responded to, not from the point of view of the imperialists and their interests, but from the point of view of the great majority of humanity and the basic and urgent need of humanity for a different and better world, for another way. (BAsics 3:8)
Winning continually greater numbers of people to this fundamental orientation is critical in terms of achieving any positive change, and will be decisive in bringing about the revolution to finally put an end to this monstrous system of capitalism-imperialism.