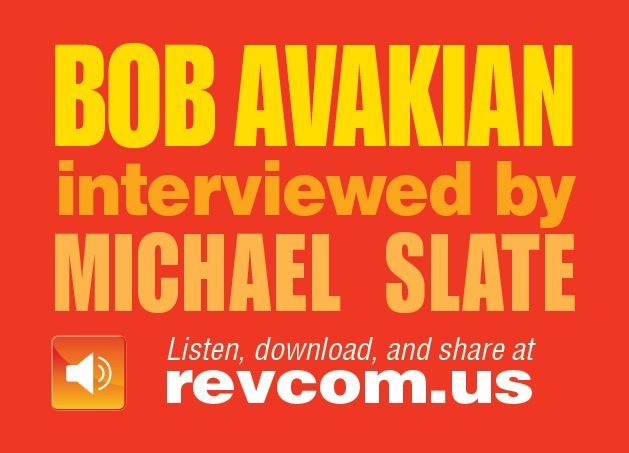 Michael Slate's five-part radio interview with Bob Avakian is online now. The interview ranges widely over the questions that confront humanity in this world of sweatshops, slums, and environmental emergency. But permeating everything in it is the most compelling case that the nothing short of revolution can deal with the immense and unnecessary suffering people face on this planet.
This interview jolts people—to think outside the deadly confines of this system. And it is a crucial resource to find those who are ready, and readying those we meet, to come to the premiere of REVOLUTION—NOTHING LESS! on the best possible basis.
This interview is a tremendously dynamic factor for making the advances we need to make so the premieres of REVOLUTION—NOTHING LESS! are really giant steps for the movement for revolution.
So play the audio everywhere. Get crowds of students listening on their phones, get artists playing it on their tablets, show homeless folks how to hear it on library computers and spread it by email. Let people sort themselves out – between those who can walk away—at least for now—and those who are compelled to listen and engage with real revolution.
Draw people out: help them think about what they are hearing. What are their questions? And how does the interview speak to them? And then return to the interview to dig in more deeply.
Organize listening sessions—formal and on the spot. If you are within reach of a Revolution  Books—join others there to hear the interview, discuss it, and take it out to others.
Part 1, aired January 11, 2013
Play (Stream)     Download (high quality)

Part 2, aired January 18, 2013
Play  (Stream)    Download (high quality)

Part 3, aired January 25, 2013
Play (Stream).    Download (high quality)

Part 4, aired February 1, 2013
Play (Stream)     Download (high quality)

Part 5, aired February 8, 2013
Play (Stream)     Download (high quality)